What's Your Investing Resolution for 2020?
Jan 1, 2020
Editor's note: Dear reader, on behalf of everyone at Equitymaster, the 5 Minute WrapUp team wishes you a very happy and prosperous new year!
---
Some days ago, I met some close friends over dinner.
We had decided to celebrate the New Year leisurely and discreetly instead of joining the mad rush on the eve of the 31st.
And now that I see people scrambling to get passes to extravagant parties and paying through their noses, I'm reassured we did the right thing.
I'm sure that would be fun too. But I'm too miserly and anti-social to find myself jostling with the crowds even on New Year's Eve.
That evening, after dinner, we drove around South Mumbai, soaking ourselves in the sea breeze and the wintery vibe.
We talked about the year gone by...about our personal lives, jobs, politics, climate change, among other things.
We also talked about our financial goals...and the age by which we would like to achieve financial freedom.
We fantasised about our dream countryside homes, having our own vegetable garden, and lots of clean air to fill our lungs. After all, clean air is such a rarity these days.
As we sat talking, the conversations kept swinging from light-hearted leg-pulling to serious brainstorming.
And then, the ultimate New Year question came up:
So, what's your New Year resolution for 2020?
One friend instantly said, 'Oh, come on... Get over these childish obsessions. I don't care about New Year resolutions. They're a waste of time. It's just a superficial craze that withers once the new year hangover is gone.'
I couldn't disagree with her. What really changes other than the dates on the calendar? Every day is new, isn't it?
People make New Year resolutions and then forget about them once the excitement wears off. Or they simply get tired and give up. Then there is a sense of guilt of not accomplishing what they set out to do. And after a while, the New Year becomes a drag.
Same old stories...
Same old complains...
Same old mistakes...
Yet a part of me does believe that New Year resolutions could be useful, if they're well-thought and channelised in the right way.
You could use the New Year to acknowledge and let go of habits and tendencies that didn't serve you well in the past.
So, here are some questions that I would like you to reflect on...
How do you look at your investing journey in 2019?
What do you see as you biggest successes and failures of 2019?
What lessons can you take away from your experience as an investor in 2019?
What's your investing game plan for 2020?
What stocks will be the big money makers in 2020 and beyond?
But before jumping on to making New Year resolutions, it's important to take stock of what happened in the year gone by. I have some very interesting insights for you in the Chart of the Day.
Chart of the Day
Let's look at the Indian stock markets through the rearview mirror.
I'm not going to look at 2019 in isolation because 2019 was mostly an escalation of a trend that started in 2018.
As I've explained on several occasions, the Indian stock markets have witnessed a starkly polarised situation since 2018, after the uninterrupted bull rally of 2017 entered a period of correction.
But while the Sensex recovered from the correction and went on to hitting new life-time highs, the broader markets - predominantly the small and midcap stocks -haven't recovered much.
I have been talking about this trend since a long time. But now, I have even more elaborate data to show you how deep this trend has been.
I pulled out data on 1,638 companies listed on the NSE.
And here's what I found.
Between 29 December 2017 and 30 December 2019, just 246 companies have witnessed gains. Together, these 246 companies added Rs 29.8 trillion worth of market capitalisation.
In other words, 1,392 companies are below the levels they traded at the end of December 2017. Together, these 1,392 companies lost Rs 28.6 trillion worth of market capitalisation.
So, you see the money has literally shifted from one place to another.
Even among the 246 companies that witnessed gains, the major chunk was captured by just a small list of companies.
Look at this table...
| | |
| --- | --- |
| Stocks with Gains (Nos) | 246 |
| Total Gains* (Rs trillion) | 29.8 |
| Gains by Top 5 Stocks (Rs trillion) | 12.2 |
| Gains by Top 10 Stocks (Rs trillion) | 17.7 |
| Gains by Top 30 Stocks (Rs trillion) | 24.2 |
| Gains by Top 50 Stocks (Rs trillion) | 26.3 |
| Gains by Top 100 Stocks (Rs trillion) | 28.9 |
Data Source: Ace Equity
*Change in market capitalisation from 29 Dec 2017 to 30 Dec 2019
Let's see how this looks in a chart...
A Very Small Group of Stocks Captured All the Gains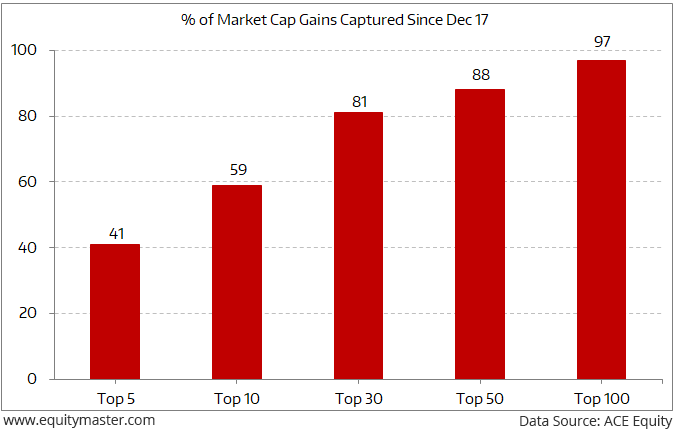 As you can see, the top 5 companies captured 41% of all the gains in market capitalisation over the last two years. In fact, the top 30 stocks captured more than 80% of the gains.
In short, money has been rushing to safety, into large, liquid, bluechips stocks.
It hardly comes as a surprise then that more and more money has been choosing "safety" and flocking into the largest of companies. It indicates that investors are risk-averse.
For many investors, the prolonged agony of seeing their portfolios in the red is a strong enough reason to switch their investing strategy and go where all the big money is going.
After all, we're all wired to find safety in numbers...in doing what most other people do. Then why take a contrarian stand and look like a fool?
But the question is - how long can this trend last?
Will these stocks continue to be safe havens even in 2020? Will they provide the kind of returns that they did since 2018?
I'm not saying you should completely avoid the popular bluechip stocks and that they're set for a correction. Maybe they won't correct for a prolonged period.
But when everyone starts thinking the same way, and investing the same way, you can't expect to make extraordinary gains.
So, if you're really aiming to make outsized gains, then I don't think that's the place to look.
So where should you look?
I would say that you can consider the recommendations made by our Safe Stocks guru, Tanushree Banerjee.
She has picked her top 7 stocks for 2020.
In fact, Tanushree tells me, she has an even better recommendation lined up. She will write to you about it tomorrow.
I wish you a prosperous year ahead!
Warm regards,



Ankit Shah
Editor, Equitymaster Insider
Equitymaster Agora Research Private Limited (Research Analyst)
PS: You have only 2 more days left to claim Richa Agarwal's special report on the top 3 small-cap stocks to profit from the rebound in the market. Get the report here.
Recent Articles