Are Your Bitcoins Suffering from Satyam-itis?
Jan 2, 2018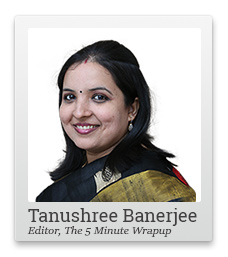 I have been in the investing world for some time. And nothing in that world has ever astonished me more than the bitcoin craze in 2017. I am hoping that all the easily-excited folks out there try to get a more serious opinion on this kind of keyboard money in 2018.
So, in addition to a happy and prosperous new year, I wish you a year of safe wealth-building.
I have no expertise when it comes to bitcoins. Or any other cryptocurrency, for that matter. In fact, the whole idea of cryptocurrencies is not my beat. I would rather stick to safe stocks.
So, don't ask me for an opinion, and I won't give one.
But if you are interested in this idea, DO ask for an opinion. Ask for a sensible, well-informed, well-equipped, reasonable opinion.
If you are looking for something sensible in the mind-bending maze of crypto noise, I want to make sure you're paying attention to the person I would trust when it comes to cryptos. And that is Prasheel Vartak.
But while I'm on the subject, remember that I am not only skeptical about bitcoins. I am also equally careful about stocks.
And there are some stocks out there that could easily compete with bitcoins in their craziness. These stocks are suffering from what I call Satyam-itis.
Satyam-itis: A deadly ailment that promises to wipe out wealth before you know it.
If you are new to the stock markets, here is a story that you need to know.
It was exactly nine years ago, on a fine morning of January 2009, my fellow analysts and I were staring shell-shocked at an email from Ramalinga Raju to the stock market regulator and the board of Satyam Computer Services.
The mail basically detailed every way in which the promoters had cooked the books of the supposedly respected bluechip company.
In the mail, Raju acknowledged....
The gap in the balance sheet has arisen purely on account of inflated profits over a period of last several years. What started as a marginal gap between actual operating profit and the one reflected in the books of accounts continued to grow over the years. It has attained unimaginable proportions as the size of the company operations grew significantly.
And finally came his main confession...
It was like riding a tiger, not knowing how to get off without being eaten.
I suspect there are other promoters out there right now, fearing getting eaten, but somehow still buying time...
Meanwhile, their businesses and their stocks continue to grab headlines.
Stocks that fetched 1,000% plus returns in a few months in 2017 make for ludicrous newspaper headlines. And most readers bite their tongue about having missed out on them.
But amongst the stocks that fetched bitcoin-like returns in 2017, there are several that show symptoms of Satyam-itis...
...Obtuse financial statements, lack of business consistency, repeated "restructuring", fancy earnings guidance and a maze of related party transactions that must raise the red flag...
Instead, ignorance about them have led readers to believe that such stocks could compete with bitcoins.
But every few years there is an Enron or a Satyam that teaches new investors some very old lessons...when it comes to the markets, put safety-first.
So, whether it's your stocks or your bitcoins - make sure they aren't suffering from Satyam-itis.
Editor's Note: If you are one of those who wants to get a handle on Bitcoin this year...stay tuned, we are gearing up to bring you everything you need to know...
Employment Generation Remains Abysmal
Tackling unemployment has remained one of the biggest economic challenges for successive governments. So, while the Modi-led government has unveiled a number of breakthrough reforms such as notebandi, GST and the Insolvency and Bankruptcy Act, poor growth in job creation remains its biggest sore point.
As per the latest quarterly report by the Labour Ministry, new jobs in the organised sector grew by a measly 2% amounting to 0.42 million in FY17. In correlation, this caters to only 50% of the 0.8 million workers added to the labour force each year. It is noteworthy that the organised sector covers establishments employing 10 or more persons as identified by the Economic Census (2013-14), and accounts for a share of 1.4% of the 58.5 million establishments.
And, out of the 0.4 million jobs created in FY17, a lion's share of 47.4% were in the manufacturing sector. Education and Health showed up as big employment generators having shares of 16.5% and 15.9%, respectively in overall new jobs. However, sectors such as construction and accommodation and restaurant witnessed a decline in employment during the year.
New Jobs Grow at a Snail's Pace
The redeeming factor was that a majority 87% of the new jobs created were by employers with self-employment constituting only 12.7% of the over 0.4 million jobs added in FY17. But, this is hardly a consolation considering that automation and artificial intelligence are set to curtail a number of traditional jobs. Therefore, unless the government takes adequate steps in skilling the youth on a war footing, the demographic dividend can soon turn into a demographic disaster for India.
Merger & Acquisitions on a Roll
As per a report by Assocham, 2017 was the year of mergers and acquisitions (M&A). M&A transactions in India soared 70% to 944 during the year. At US$ 46.5 billion, the transactions were valued 170 % higher as compared to 2016. Sectors such as healthcare, telecom, energy, real estate, media & entertainment, banking, insurance, oil, cement, and consumer products remained in the M&A activity spotlight.
Assocham has projected M&A activity to remain robust in 2018 with a number of stressed corporate assets, particularly in real estate and steel, being referred to the National Company Law Tribunal under the Insolvency and Bankruptcy Code. With several of these assets on offer at mouth-watering valuations, the industry body has projected M&A worth US $ 50 billion in 2018.
What the Markets Looked Like Today
Indian equity markets opened the day on a firm note. At the time of writing, BSE Sensex was trading higher by 100 points and NSE Nifty was higher by 42 points. Both the midcap and smallcap indices are trading up by 0.4% and 0.5%, respectively. Stocks from power and pharma are among the gainers.
Investment Mantra of the Day
"The Stock Market is designed to transfer money from the Active to the Patient." - Warren Buffett
Recent Articles