How Falling Crude Prices Will Give a Boost to This Stock
Jan 2, 2019
Two members of a criminal gang - Ramesh and Suresh are arrested and imprisoned.
Each of them is in solitary confinement. This means there is no means of communicating with the other.
They are suspected of committing a crime and are being interrogated in separate rooms. Both, Ramesh and Suresh want to minimize their jail sentences.
Each prisoner is given the opportunity to: either betray the other by testifying that the other committed the crime, or to cooperate with the other by remaining silent.
The offer made to them is:
If they each betray the other, each of them serves 3 years in prison.
If Ramesh betrays Suresh but Suresh remains silent, Ramesh will be set free and Suresh will serve 5 years in prison (and vice versa).
If Ramesh and Suresh both remain silent, both of them will only serve 1 year in prison.
Should they keep quiet or betray their partner?
--- Advertisement ---


How to Become a "Safe Stocks Millionaire"… (7 Stocks To Help You Get Started!)

There has always been a belief among people that one has to do something out of the ordinary or invest in high risk instruments to get rich in the stock market. But that is far from the truth.

Research Analyst and Co-Head of research, Tanushree Banerjee will show you how one could potentially make a lot of money with minimal risk, investing in some of the market's biggest and best stocks.

And to help you get started quickly, Tanushree's latest special report includes 7 stocks that are looking very attractive right now.

However, these stocks will not remain in the buy zone forever.

So hurry, click here to get the full details now!
------------------------------
The best scenario for both of them would be to remain silent and serve 1 year in prison. But they have no way of knowing what the other is thinking.
I've just described the prisoner's dilemma, a staple of Game Theory.
It shows us that two individuals may not co-operate even if it is in their best interest to do so.
Apply this situation to a real-life scenario.
Add in geopolitics and the messiness of the real world.
And you get a classic story of betrayal.
The Story of OPEC's Game Theory
The Organisation of Petroleum Exporting Countries (OPEC) met last month.
The aim of this meeting was to have consensus regarding cutting production of crude oil.
After the meeting, crude oil fell 3%.
This is because OPEC and its allies ended a meeting without announcing a decision to cut crude output.
Later, OPEC and Russia reached a deal to cut production by 1.2 million barrels per day in an attempt to boost prices.
But the cuts won't happen until next month and production has been at or near record highs in the United States, Russia, and Saudi Arabia.
The market wasn't convinced and crude oil prices continued to fall.
This has helped the finances of the government and the rupee to stabilise.
This is what I had wrote to you in my article earlier:
Will they (OPEC) agree to cut production?

This is a catch-22 situation.

If OPEC cuts output to support prices, it will only revive its biggest enemy - the US shale oil industry.

If they decide to maintain the production, as they did in late 2014, oil prices will get crushed.
OPEC members could have cut the output to counter the effect of rising non-OPEC production. But this would have required giving up increasing amounts of market share and revenue.
With this decision, the OPEC suffers from an intriguing aspect of Game Theory.
Here, all countries want to see production cuts to support the oil price. But rarely does a country want to cut themselves for loss of revenues.
Everyone acts out of self-interest. Members end up in a worse scenario than if they collaborated.
People and nations are often jealous of each other.
They often reduce their profits if it means making their competitors worse off. A good example is the telecom industry in India.
But from India's perspective, this is good news.
Imagine the scenario two months back...
The 'macros' weren't looking great. Crude oil prices were climbing up. The rupee was falling against the dollar.
But since the start of November, oil prices have been on a falling spree.
If this trend continues, crude oil prices may stay low for a long time.
Both crude oil prices and currency movements have reversed their trend recently, offering some fiscal relief to the government.
Not to mention, low crude prices help the economy in keeping input costs low. This is because crude oil is used as a raw material by a lot of companies.
For example, the tyre company we recommended in Smart Money Secrets will certainly benefit from the fall in crude oil price due to an increase in its operating margin.
The stock has corrected by more than 35% from its 52-week high. But its fundamentals remain as strong as ever. This provides a great opportunity.
So what do you think of this example of Game Theory in real life?
Drop us a line. Leave a comment. We love to hear from you.
--- Advertisement ---


Try Our Proven Bluechip Service At 50% Off

74% or more than 7 out of every 10 recommendations from our bluechip service, StockSelect, from 2002-2018 have hit their mark.

And now, you can get this proven service at more than 50% off!

However, this offer will be available for a short time only. So don't delay.

Click here for full details now!
------------------------------
Chart of the Day
There is an interesting development that is taking place in the shipping industry.
Since our Smart Money Secrets recommendation of July 2018, the Baltic Dirty Tanker index shot up 2x. Similarly, the Baltic Clean Tanker index increased 62% during the same period.
The Baltic indices track how much it costs to move materials by sea. Just look at how they have moved recently.
Baltic Indices Up Since Our Smart Money Secrets Recommendation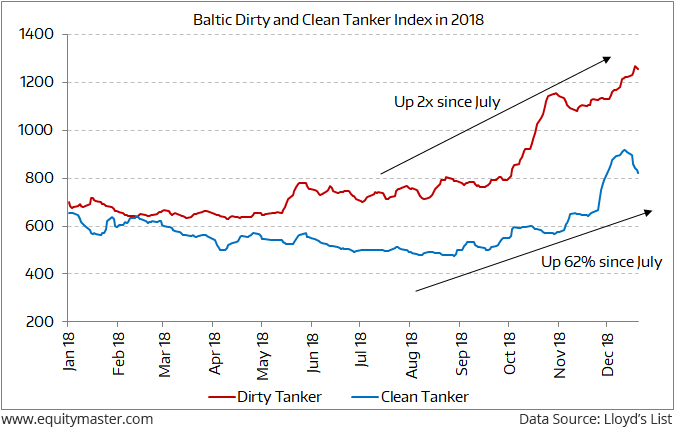 The Baltic Dirty Tanker Index, tracks rates for transporting crude oil. while the Baltic Clean Tanker Index, tracks rates for transporting petroleum products.
The Baltic indices are considered to be leading indicators of global economic health.
This is because most world trade, still happens over the sea and by ships.
I believe, the Baltic indices may moderate in the short-term. But this would be a sign of stagnating growth in the shipping fleet.
This, would in turn, lead to higher charter rates in the tanker segment.
Certainly, this would benefit the overall shipping industry.
But it would benefit our recommendation in particular because the company derives more than 70% of its revenue from the tanker segment.
Regards,


Sarvajeet Bodas (Research Analyst)
Co-editor, Smart Money Secrets
PS: Sarvajeet Bodas and Radhika Pandit, Co-editors of Smart Money Secrets, are getting ready to recommend their next stock. Subscribers will receive the full details of this company in the recommendation report. If you haven't subscribed to Smart Money Secrets yet... you can do so here.
Recent Articles