Check if Your Prediction for the Next Decade Favours this Stock
Jan 2, 2020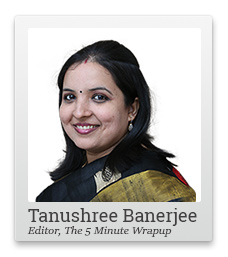 Every new year begins with predictions.
Some are for the next few days and months. Some for the year. And very few for the decade.
Yours truly recently made few such predictions about non-Sensex bluechips and a sector that could rebound in 2020.
But I am far more comfortable making much longer-term predictions. Like the Sensex 40,000 prediction I made in 2016. Or the Sensex 100,000 prediction I made in 2018.
Some predictions are life changing. When they come from investing legends and are eventually proven right, they literally become the mantra.
Have you heard of longbets.org?
It is where Warren Buffett made an iconic prediction in 2008. He predicted that the US equity benchmark S&P 500 index will outperform a portfolio of hedge funds over 10 years. This is after accounting for fees, costs, and expenses.
Needless to say, he was proven right.
Since then, index funds and ETFs have become the most popular long-term investing tools world over.
What's my prediction for the next decade?
Well, I believe India will have the largest chunk of digital consumers in ten years.
And why do I say this?
I have three key reasons to support my prediction:
India will have the largest number of youth prepared to consume through digital means (KPMG estimates predict 1 bn internet users and 839 m smartphone users by 2030).
Consumption through digital means will be the most cost effective in India than anywhere else in the world.
Companies world over will find it very profitable to cater to Indian consumers through digital means.
Now, when I say digital, I do not just mean using smartphones or the internet.
I mean, the extremely futuristic tasks that could be achieved with the help of artificial intelligence (AI) and internet of things (IoT), will be made possible for Indian consumers.
And I have already discovered at least a few Indian companies will be at the forefront of India's digital revolution decade.
--- Advertisement ---

FREE Report: 7 Overlooked Multibagger Opportunities amidst the Coronavirus Scare...

Our Senior Research Analyst and Co-Head of Research, Tanushree Banerjee, has identified 7 stocks set to climb sharply in the coming years riding on a rare economic phenomenon in progress right now.

These 7 stocks are being overlooked right now amidst the Coronavirus Scare.

But Tanushree believes they could rise and enable one to potentially build wealth lasting generations from them in the coming years.

And the best part - till 11:59pm TOMORROW only...you can get Tanushree's special report with details of these 7 stocks virtually FREE.

To find out how, just click here...
------------------------------
They could be manufacturing devices enabled with IoT, to transform our everyday lives. Or providing services with AI that preempt our needs and difficulties.
Or it could be a company that simply helps other companies add value to their products and services with the help of AI and IoT. Doing this could help the company reach out to millions of customers. Many more that it could ever cater directly to.
If my next decade prediction were to come true, it would favour this kind of stock more than any other.
Incidentally, I have come across a stock that fits in perfectly with my next decade prediction.
Of course, such stocks could be the rarest of rare.
But I believe the opportunity is so big that such a business can have the potential to make crorepatis out of ordinary investors.
Read more about this great money-making opportunity here.
And let me know what kind of businesses do you think could be the crorepati makers of the next decade.
Warm regards,

Tanushree Banerjee
Editor, The 5 Minute WrapUp
Equitymaster Agora Research Private Limited (Research Analyst)
PS: To know more about my one crorepati stock pick for 2020 and beyond...please watch the video here.
Recent Articles