Our First Bluechip Stock Recommendation in Smart Money Secrets
Jan 9, 2019
In Smart Money Secrets, we track many high-quality companies.
The super investors of India are betting on them.
Unfortunately, we can't recommend all of them.
Why?
The main issue is the valuations of the stocks. Generally, these companies trade at premium valuations.
They have strong brands, market leadership, a great runway for growth, robust financials, and management quality.
Mr Market usually values these stocks richly but...
Sometimes, Mr Market gives you an opportunity to buy these high-quality companies at reasonable valuations.
There could be many reasons for this.
It could be due to macro factors such as slowing economic growth, changes in interest rates, government regulations, political stability, international trade wars, etc.
It could also be related to company-specific events (poor growth, labour strike, weak results etc.) or industry-specific factors.
--- Advertisement ---


13 Stocks to Buy in 2019…

Sarvajeet and Radhika, co-editors of Smart Money Secrets, track down the investments of 40+ of India's most successful investors, and share the best of these stocks with their subscribers…

They have identified 13 stocks (which you could consider buying right now) – for huge potential profits.

Click here to see how these stocks are identified – and how you could get access to these 13 stocks.
------------------------------
When this happens, Mr Market feels the heat and start quoting lower prices. He sees nothing but trouble ahead for the business.
But from the long-term perspective, this is the perfect time to enter.
That brings me to our latest recommendation...
On Monday, we recommended a bluechip stock.
For a long time, this stock was on our shortlist. But we couldn't recommend it because the valuations were too high.
But with the recent correction in the stock price, it's finally available at reasonable valuations.
Why this stock?
Well, I believe the company is a perfect example of focus, execution, and long-term vision.
The power of focus is well known. Whether in sports, business or even at an individual level.
In business and in life, less is more.
It may seem counterintuitive. But focusing on fewer things will help you grow faster. This is what happens in most cases, if not all.
Noted Harvard professor and the foremost authority on competitive strategy, Michael Porter, says,
'The essence of strategy is choosing what NOT to do.'
Imagine a company with several business operations versus a company focusing on one specific business line or a specific strategy.
In the first case, the management's focus will be divided among several operations.
A lack of focus would lead to the management devoting time, energy, and money to multiple strategies at the same time.
This would lead to none of them being executed well. This, in turn, is likely to increase the likelihood of failure.
In the latter case, the company has a focused strategy. It concentrates on a narrow segment and within that segment, it seeks to achieve either a cost advantage or differentiation.
This kind of focus leads to strong execution.
For instance, the company that we recommended on Monday clocked a growth of 17% and 43% in the topline and bottomline respectively in the last 10 years. More about this in today's chart of the day.
For any successful business, the maximum impact - in terms of growth and returns on capital - depends upon a few critical activities that matter the most. Certainly, this company knows its game very well.
--- Advertisement ---


What Makes Our Bluechip Service An Absolute 'Must-Have'…

74% or more than 7 out of every 10 recommendations from our bluechip service from 2002-2018 have hit their mark.

And our bluechip recommendations have generated double, triple and even four-digit gains in the long run.

That's what makes our bluechip service an absolute 'must-have'. And now, you can try it risk-free for 30 days.

Click here for full details now!
------------------------------
Last but not least, the quality of the management.
Over the last 10 years, the man at the helm has completely transformed the business through his sharp focus and long-term vision.
I know it's a bit sooner than our usual monthly publication date but I'm super excited about this stock and I did not want subscribers to wait.
We will publish the detailed update on the stock in the Smart Money Secrets report later this month.
But you don't need to wait for that. Find out all about the stock here.
And if you haven't signed up for Smart Money Secrets yet, you can do so here.
Chart of the Day
Sharp focus and strong execution shows up in the financial performance.
Over the last ten years, the company has done a remarkable job. Whether it's sales growth, profitability or return on capital.
Just look at today's chart.
Sharp Focus + Strong Execution = Robust Financials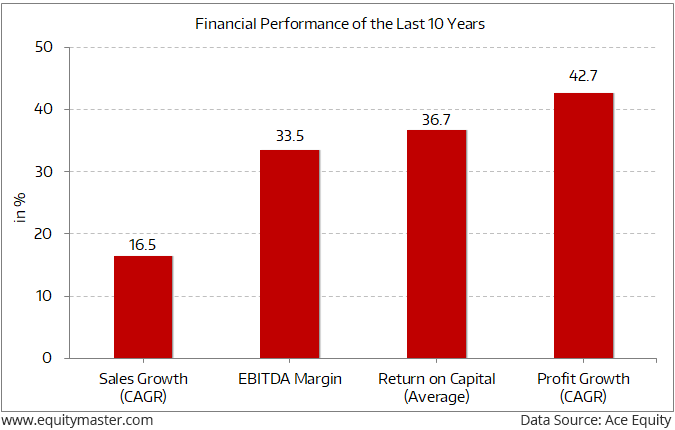 But this was about the past. What about the future?
With a strong brand, new products lined-up, and an untapped market opportunity, the company is all set to post strong growth in the coming years.
Also, the management's strong execution capabilities give us confidence to recommend the stock for the long-term.
Regards,


Sarvajeet Bodas (Research Analyst)
Co-editor, Smart Money Secrets
PS: Sarvajeet Bodas and Radhika Pandit, co-editors of Smart Money Secrets, have just recommended a great stock. They will publish the full report later this month. But you don't need to wait. You can find out all about the stock here.
Recent Articles