You Can Ignore 'Budget News' if You Keep a Watch on These 3 Ideas
Jan 10, 2020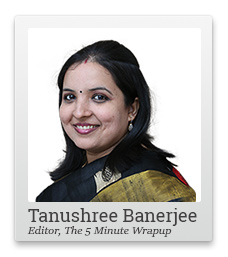 They say a picture speaks a thousand words.
I realised this two days ago, when my daughter asked me why there was a picture of many important people with Prime Minister Modi, in the newspaper.
She wanted to know if it was an important day.
The picture was of PM Modi meeting top corporate honchos. It felt like the media literally blew the bugle of the countdown to the Budget.
And yes, as I told my daughter, it is an important day. At least that is what the media, and corporate India will say.
Most investors will also believe it.
In fact, many people you talk to about the market, are probably waiting for the Budget to decide if they want to invest money in the stock market...or not.
So, over the next three weeks, you will be bombarded with stories of what can happen in the Budget...and its pros and cons.
Corporates will demand relief in the form of tax sops.
Economic 'experts' will extol various reforms.
The media will tell us the economy will go down the drain if reforms are not done NOW.
The Budget jingoism will keep the market on its toes for next few weeks...and your daily newspaper will provide you with confusing information.
This is what I think, dear reader...
The last Budget to make any meaningful impact on India's economy and the market was two decades back in 1991.
That's when the economy opened up. India embraced capitalism.
Unfortunately, investors await that sense of a deja vu every year.
And the markets gyrate to these expectations and sentiments.
Here's a chart showing the market's moves one month before and after the Budget. We published this 3 years ago but it's just as relevant today.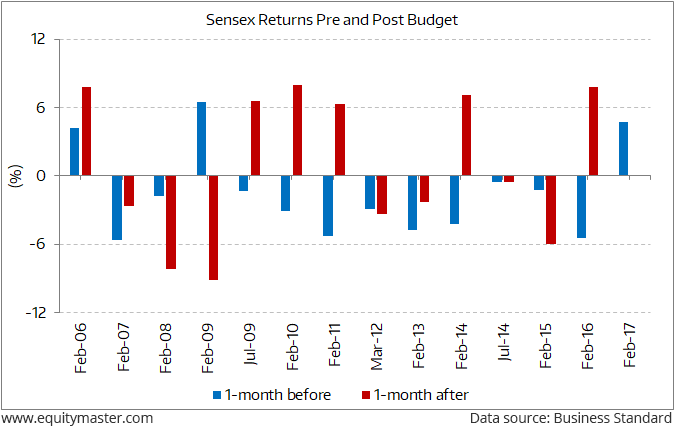 The stock market's gains and losses, a month pre and post Budget, have been in the range of -10% to 10% over the past decade. There's no reason to believe it will be any different this time.
My point is this...
Even a 10% move in either direction won't make a difference to your long-term portfolio of safe stocks.
--- Advertisement ---
Nearly 2,000 People Paid for This... But You Can Have Free Access for 1 Year

A short while ago Rahul Shah launched his latest recommendation service, Double Income.

Through this service, Rahul offers a way for subscribers to potentially double their regular monthly income in the long run.

For instance, if you make Rs 100,000 a month...you could potentially take it to Rs 200,000 in the long run.

Or if you make Rs 200,000 now...you could potentially take it to Rs 400,000 in the long run.

Nearly 2,000 of our readers have already subscribed to Double Income...and the number is climbing.

But as one of our valued readers, we wanted you to have the opportunity to get access to Rahul Shah's Double Income – virtually free for 1 whole year.

You'll find the details here.
------------------------------
So, avoid the temptation of participating in any 'countdown' to the Budget. Rather, prepare your portfolio for the opportunities that no one is talking about.
How?
Here are 3 ideas you need to track...
Keep a watch on non-Sensex bluechips

2019 was the year of being skeptical about betting on Davids, and leaning on Goliaths. Davids being the smallcaps and fundamentally weak companies. Goliaths being the bluechips and companies with strong fundamentals.

If corporate earnings don't pick up soon, the Goliaths may continue to win in 2020 and beyond.

However, it may not just be the Sensex bluechips. Rather, like I explained in this video, the non-Sensex bluechips could become start performers.

Consider these stocks for your portfolio.
Keep a watch on Rebirth of India megatrends shaping India

Remember the #10YearChallenge that went viral on the social media exactly a year back?

Well, it's time to evaluate India's #10YearChallenge. That will tell you how your investing fortunes is shaping up.

I started doing this for StockSelect subscribers a year back and since then, my Rebirth of India project has taken off.

I identified 50 megatrends shaping India's economy now and over the decade. My mission is to unearth the best long-term investing opportunities for you the Indian investor.

If you haven't been doing so already, keep a watch on the 50 Rebirth of India megatrends. I sure am.

And stay tuned for my updates on the potential Rebirth of India wealth compounders.
Keep cash ready for once-in-a-decade opportunities

There's a myth in the market that cash-in-hand is only a means to diversify risk.

Dispel this myth.

Having cash in hand can be very profitable.

As the world's richest investor Warren Buffett says, cash is like gunpowder. You can use it to strike at the most appropriate time.

And the most opportune time in the markets may not be pre and post Budget.

Your opportunity to buy the multibaggers of the next decade will come unannounced. So, make sure you keep some gunpowder ready to make the most of it.
Warm regards,

Tanushree Banerjee
Editor, The 5 Minute WrapUp
Equitymaster Agora Research Private Limited (Research Analyst)
PS: On Tuesday, 21 January, India' #1 trader, Vijay Bhambwani, will reveal a highly profitable, time-tested strategy, to make instant income from the market. Join Vijay at the Instant Income Summit. Register for free here.
Recent Articles