Get Ready! The 2020 IPO Season is About to Start...
Jan 14, 2020
One of the most awaited IPOs of 2020 - SBI Cards and Payment Services - is all set to hit the market!
SBI cards is a subsidiary of State Bank of India (SBI). The IPO is most likely to hit the primary markets later this month.
And the market is certainly enthusiastic!
It seems to me the demand for this IPO is huge. If the issue gets oversubscribed, many investors may not get their allotment of shares.
If you're thinking of applying for the SBI Cards IPO and are worried about this issue... I assure you, there is a solution.
In fact, there is an ultra-cheap and effective way to deal with this challenge and to significantly increase your chances of getting shares allotted to you.
Many of my subscribers at Insider have already followed my recommendation. They positioned themselves to take advantage of a special window which can increase their chances getting their allotment of shares.
But I must be clear, this special window is about to close shortly.
The Best Time to Make Money in IPOs
When Warren Buffett was asked about his opinion on IPOs, here's what he once famously said:
An IPO is like a negotiated transaction - the seller chooses when to come public - and it's unlikely to be a time that's favorable to you. So, by scanning 100 IPOs, you're way less likely to find anything interesting than scanning an average group of 100 stocks.
Buffett is absolutely right.
The promoters will always try to go public when the markets are likely to offer them the best price for their company's shares.
This is why we see a flood of IPOs in bull markets.
In bearish market conditions, IPOs tend to run dry. Sellers are not sure about the demand for their offering and the price the market would pay.
As a result, we see very few IPOs during bearish market conditions.
2019 was one such year. We didn't see much activity.
IPOs raised about Rs 123.62 bn in 2019. That's sharply lower than Rs 309.59 bn IPOs collected in 2018.
In fact, about 47 companies looking to raise over Rs 510 bn let their approvals lapse. There were only 16 IPOs on the BSE main board last year. They were mostly small to mid-sized IPOs. We didn't see any mega IPOs in 2019.
Sterling and Wilson Solar was the biggest IPO with a ticket size of Rs 31.25 bn. Most of the rest were in the range of Rs 5-10 bn.
But just as bull markets are a great time for selling shareholders, bearish markets are great times for potential buyers.
This is exactly what happened in 2019. The market conditions were not great.
So, most of the companies that came to the primary markets with an IPO were good quality companies. The pricing of the IPOs was reasonable.
In case of IRCTC... the IPO was rather attractively priced.
So despite the tepid market conditions, most of the IPOs gave positive listing day gains. In fact, some even delivered high double-digit and triple-digit gains if you held them post listing.
Will IPO Investors Make Money in 2020?
We will find out soon!
SBI Cards will be the first 'big' IPO to hit the primary markets in 2020.
Actually, it's not big.
It's a mega IPO.
As per media reports, the issue size could be about Rs 9,000-9,600.
Now such mega IPOs suck out a lot of liquidity from the markets.
In the past, mega IPOs have often marked market tops and have been followed by market corrections.
So, I'm going to closely watch the SBI Cards IPO not only as a potential recommendation but also as a factor that will set the tone for the IPO market as well as the secondary markets.
Riding the Financialisation and Digitalisation Megatrend
Two of the biggest megatrends that my colleagues and I have been very bullish on are financialisation and digitalisation.
Our research revealed that over the last few years, household savings of Indians have been increasingly finding their way into financial assets such as equities, mutual funds, bonds, and debentures.
Moreover, a combination of technological advancements, cheap internet, consumer preferences, initiatives by the Modi government and regulators have all been the catalysts of the digitalisation megatrend.
SBI Cards is certainly a direct play on these two megatrends. It has the second largest (18%) market share in the credit card industry.
Could SBI Cards be a winning opportunity for IPO investors? I'm going to analyse it closely and recommend to my subscribers at Equitymaster Insider if they should consider applying for it or avoiding it.
But wait!
This is not the only IPO that rides the financialisation and digitalisation megatrends.
There's one more...
Chart of the Day
Recently, NSE-backed Computer Age Management Services (CAMS) filed a draft red herring prospectus with the market regulator.
CAMS is the largest registrar and transfer agent (RTA) for mutual funds in India.
And the Indian mutual fund industry is a high growth sector.
The assets under management (AUM) of mutual funds in India grew at a compounded annual growth rate (CAGR) of 17.4% from Rs 1.1 trillion in March 2000 to Rs 23.8 trillion in March 2019.
In fact, the growth rate over the last five years has been even higher. Today's chart shows the trend in mutual fund AUMs since FY14.
Over the last five years, mutual fund AUMs have nearly tripled, growing at 23.5% CAGR.
Mutual Fund AUM Tripled in Just 5 years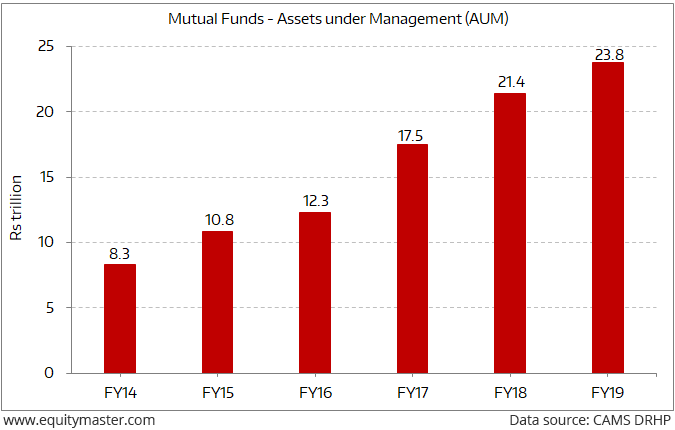 Being the largest registrar and transfer agent for mutual funds, CAMS is a direct beneficiary of the twin megatrends of financialisation and digitalisation.
I'm going to closely watch this IPO and you should too.
Warm regards,

Ankit Shah
Editor, Equitymaster Insider
Equitymaster Agora Research Private Limited (Research Analyst)
PS: On Tuesday, 21 January, India' #1 trader - Vijay Bhambwani - will reveal a highly profitable, time-tested strategy, to make instant income from the market. Join Vijay at the Instant Income Summit. Register for free here.
Recent Articles