What the Infosys Results Tell Us About the Next Infosys
Jan 15, 2020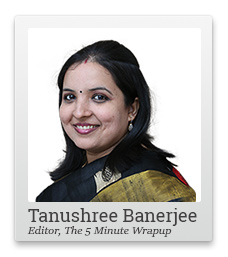 The mood in the room resembled that of a rocket launch at ISRO.
We were at our work desk an hour earlier than usual. My colleague's fingers worked feverishly on the keyboard.
Our production team was on standby to upload content that is vital for our subscribers: Infosys' quarterly results. Typically, it's the first result of the quarter and released before market hours.
A few years ago, any research analyst would tell you, the Infosys results were the most happening days of the year!
I would've said the same.
The Infosys result was not an ordinary event. It was then a bellwether like no other. Its profits would literally lift the market mood.
The reverse was also true. If the company's earnings guidance was not up to expectations, the market would fall.
There was good reason for this.
Infosys did not just survive the dotcom bust. It created phenomenal wealth for shareholders ever since.
And thanks to its weightage on the index, the direction of Infosys' profits signaled the direction of the Sensex.
This was the trend for years. Infosys kept outdoing itself in terms of profitability and creating stock market wealth.
Everyone was in search for the next Infosys.
But as India's IT sector lost shine, Infosys too lost some glory.
It was no longer the first or earliest to declare quarterly results. Nor were the results awaited by the markets with bated breath.
The corporate governance issues at the company has turned away many discerning investors.
One thing is amply clear: The next Infosys is not going to be Infosys.
--- Advertisement ---
Access Ends After 11:59pm Tonight

After 11:59pm tonight, we are closing access to our Great Indian Wealth Project research.

This includes Tanushree's special reports and a comprehensive wealth building guide as mentioned below.

– First Stock to Potentially Accumulate Rs 7 Crore Long-term Wealth
– 2 High Growth Stocks for a Millionaire's Portfolio
– Eight Steps to Your Eight Figure Fortune

You could have claimed these resources (worth Rs 7,850) virtually FREE at our Great Indian Wealth Project special event.

But for some reason you couldn't make it to the event.

This is your final chance. Because we are closing access to these resources after 11:59pm tonight.

Don't miss it.

Get Our Complete Research on the Great Indian Wealth Project Virtually FREE
(This link will become inactive after 11:59pm tonight)
------------------------------
The latest results announced by Infosys last weekend did make front page news. The company reported healthy 23.5% profits. The stock moved up smartly.
But it was hardly enough to move the markets.
Most investors aren't really digging into Infosys results to search for the next multibagger. However, the results do offer us an important cue.
Infosys is making a dramatic shift from its reliance on bread-and butter IT services such as multi-year support contracts. It has attributed its healthy profits to the focus on digital technologies.
The company is already feeling the pressure from some of its smaller peers. They are far ahead in terms of their digital capabilities. Even the attempt to catch up with them is showing a benign result on Infosys' bottomline.
So, this is what you need to take away from the Infosys result: The multibaggers of the next decade will very different from the ones of the past.
I talked about one potential multibagger stock my latest webinar.
I believe that Infosys' latest results offer a strong indication of what the next crorepati stock could be like.
More to come...
Warm regards,

Tanushree Banerjee
Editor, The 5 Minute WrapUp
Equitymaster Agora Research Private Limited (Research Analyst)
PS: On Tuesday, 21 January, India' #1 trader - Vijay Bhambwani - will reveal a highly profitable, time-tested strategy, to make instant income from the market. Join Vijay at the Instant Income Summit. Register for free here.
Recent Articles