Beware of the Wrong Bestseller... In Books and Markets
Jan 16, 2018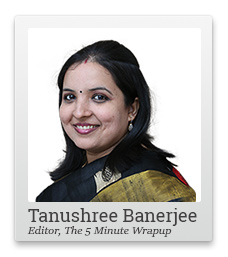 On a recent Friday, after dinner, Randall Hansen logged into Amazon and found something he had never expected. His book, published ten years ago, had become a bestseller overnight!
The book, which explores civilian perspectives on the allied bombing of Germany during the second world war, was on the site's bestseller list.
Flabbergasted, he racked his brain to figure out the reason for his overnight success, ten years too late. And then he realized this was not his success at all, but a case of mistaken identity of bestsellers!
His book, Fire and Fury, had the same title as Michael Wolff's recent explosive expose of President Trump and The White House.
Most readers were racing to buy the book without even verifying if they were looking for the correct bestseller.
The original Fire and Fury
The recent one
But that's the way we human beings are! And our behaviour is no different whether we are buying at the retail stores or in stock markets. Everyone wants a piece of the bestselling pie before the stocks run out!
We also call this tendency FOMO - the fear of missing out.
If you've been reading the newspaper headlines, you already know that, of late, FOMO has gripped investors in bitcoins, mutual funds, and smallcap stocks.
These are the latest bestsellers. And everyone is advising you to get in before it's too late.
But - are you checking whether you are buying the correct best seller?
If not, do this.
Look at our screeners and make a list of stocks, across market caps, that have been consistent performers over a decade. Those that have shown consistency in growth, profitability, return ratios and asset quality.
Then make another list of stocks that are fetching the steepest valuations currently.
There will certainly be some overlaps. This means some great businesses are in the overvalued space currently. Plus, some great performers have got listed more recently.
But amongst the expensive stocks you will certainly find ones that are not the best performers. And therefore, these are the stocks that do not deserve to be bestsellers. Buying them would mean that you have a bunch of dud stocks on your hands.
So, like in books, make sure you buy only the true bestsellers in the stock markets.
And as far as possible, only when they are on sale!
The Red Flag in Affordable Housing
Public Sector Banks(PSBs) have been adversely impacted by the economic downturn and investment climate. Coupled with the burden of bad corporate loans weighing heavily on their balance sheets, sluggish credit growth has reined in their earning potential. Housing finance companies (HFCs), on the other hand, are having a dream run. Backed by government incentives fuelling demand for affordable housing, HFCs have grown from strength to strength.
Asset Quality Pitfalls in Affordable Housing
Although the collateral backed housing loans are among the safer asset classes, they are not completely risk free. In its monthly report, the Reserve Bank of India has flagged the deteriorating asset quality in the housing loan space.
As per the report, a majority of the slippages have taken place in the affordable home loan slab of upto Rs 0.2 million. The bad loan ratio in this segment shot up by 0.6% in FY17 to 10.4%. Further, HFCs bore the major brunt with the bad loan ratio jumping by 2.5% to 8.6% by the end of FY17. Surprisingly, state-run banks witnessed an improvement in asset quality with the bad loan ratio falling below 12%.
According to India Rating and Research, affordable housing finance is estimated to be a Rs 6 trillion business opportunity by 2022 and will be the principal growth driver for home loans. Though banks with a share of more than 60% are the biggest players in the home loan market, it's the housing finance companies (HFCs) that have established their presence in niche markets, such as small ticket-size loans, and the non-salaried or self-employed segment in small towns and cities.
Therefore, HFCs are likely to be the major beneficiary of the affordable housing boom. In the long run, the ones that can balance growth with asset quality through stringent risk management will be wealth creators.
Share Buybacks Gain Centre Stage
2017 may well be hailed as the year of Share Buybacks. The Prime Database stated, a record of fifty companies bought back shares valued at Rs 552.4 billion, almost two times higher than 2016.
Divestments by the government and the lack of investment opportunities are factors that have fuelled share buybacks by company promoters in 2017. The dividend distribution tax of 15% that companies are required to pay on the dividends disbursed has made share buybacks a more tax -efficient way of returning surplus cash to shareholders.
It is noteworthy that IT companies witnessing a global downturn have mostly utilised share buybacks to return surplus cash in their kitties. In 2017, eleven IT companies announced share backs valued at Rs 452.9 billion.
Share buybacks are an efficient route of value addition for shareholders. On the flipside, it indicates the absence of profitable avenues for a firm to deploy cash that raises concerns in the long term.
What the Markets Looked Like Today
Indian equity markets opened the day on a positive note. At the time of writing, BSE Sensex was trading higher by 62 points and NSE-Nifty was higher by 16 points. Both the mid cap and small cap indices are trading up by 0.1% and 0.3%, respectively. Stocks from the capital goods and consumer durable are among the gainers.
Investment Mantra of the Day
"I never attempt to make money on the stock market. I buy on the assumption that they could close the market the next day and not reopen it for ten years." - Warren Buffett
Recent Articles