A Cheteshwar Pujara-Like Company is Our Latest Smart Money Secrets Recommendation
Jan 16, 2019
Editor's Note: Dear reader, before you read this excellent piece by Sarvajeet, I've important news for you. I just completed the big project that I've been working on for the last few months. What I've found could completely change the way you go about investing in the market and open up massive profit-making opportunities for you. I've planned an exclusive event to share all the details with you in a few days. Tomorrow, I'll let you know how to register for this event. Watch out for The 5 Minute WrapUp tomorrow.
---
I'm a big fan of test cricket.
In its very essence, test cricket is different from other sports. Amongst other things, it's a test of character, skill, resilience, and endurance.
It's no wonder they say, test cricket separates the men from the boys.
I enjoy it the most when India plays against Australia, England, and South Africa.
These are some of the best test cricket teams and playing on their home turf is even more challenging.
We recently defeated Australia in their backyard.
This was a historic moment. India won the test-series in Australia for the first time in 71 years.
The one player who really made the difference was Cheteshwar Pujara.
He scored 521 runs. He was at the crease for whopping 1,867 minutes and was not tempted by most of the 1,258 balls he faced.
He was a perfect example of focus, single-mindedness, and patience.
Australian coach Justin Langer said:
I have never seen a batsman watch the ball as closely as he (Pujara) does, and that includes Sachin Tendulkar and Rahul Dravid. His concentration was a challenge.
Pujara possesses two great qualities.
He knows what he can and can't do.
He has enormous patience to stick to what he can do.
As an analyst, I pay close attention when I find similar characteristics in a company. You should too.
Why?
Such companies have a capability of delivering a higher return on capital and creating value for their shareholders.
Allow me to explain with an example...this month's Smart Money Secrets recommendation.
Does this company have Pujara-like focus?
Yes, it does. For many years, it has remained focused on one segment and has steadily increased its market share significantly.
But that's not all...
For the past four years, the company dedicated all its energy and efforts to develop a new product.
When it was ready, the management did not rush it into the market. They patiently tested and validated it for 18 months!
In doing so, they solved all possible issues much in advance.
Now, the company is all set to launch its new product. Revenues will go up. Think of Pujara stepping up his scoring rate when he is well set and you get the idea.
The new product launch will be the key revenue driver for the company in the coming years.
This kind of single-minded focus helped the company grow its profit 24 times in the last 10 years.
We published a report last week informing subscribers how they can profit from this Pujara-like company. We will publish the detailed update on the stock in a few days.
If you haven't signed up for Smart Money Secrets - do so here - to know the details of the recommendation.
To be successful in test cricket, qualities such as determination, a high level of fitness, endurance, discipline, and focus are essential.
I look for similar qualities while selecting a high-quality company for recommendation.
In the long-term, these are the qualities that separate the wheat from the chaff.
Happy Investing!
One more thing...
Tanushree, our co-head of research, has been working on a big project for the last few months and has just completed it.
She has reached a bold conclusion. She believes her findings can offer you massive wealth creating opportunities soon.
Tanushree has planned an event to share the details of her findings. Tomorrow she will let you know how to register for it.
Chart of the Day
Talking of revenue drivers, another growth driver for this month's Smart Money Secrets recommendation is the untapped export market.
Just look at today's chart. In the last five years, the revenue from the export market has grown at a CAGR of 33%.
Export Market Offers Huge Potential for This Company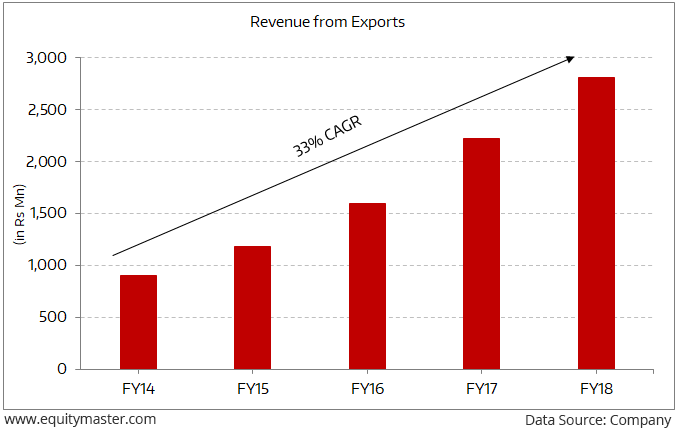 In the coming years, the management is targeting to increase its overseas presence further.
The company is focusing on two major markets - Latin America and South-East Asia. These markets have similar characteristics to the Indian market.
The recent product launch will help the company target developed markets such as USA, Europe as well.
While the stock price has fallen recently due to short-term issues, the market is ignoring the huge export potential, the new product launch, and of course, the management's execution capabilities.
This high-quality stock is now available at reasonable valuations.
From the long-term perspective, this is the perfect time to enter.
Regards,


Sarvajeet Bodas (Research Analyst)
Co-editor, Smart Money Secrets
PS: Sarvajeet Bodas and Radhika Pandit, co-editors of Smart Money Secrets, have just recommended their first stock. If you haven't subscribed to Smart Money Secrets yet... you can do so here.
PPS: Dear reader, Tanushree Banerjee is ready to share with you the details of her mega project. Her findings could completely change the way you go about investing in the market and open up massive profit-making opportunities for you. Tanushree will reveal the details at an exclusive event in a few days. Watch this space!
Recent Articles