The Smallcap Rebound Has Begun... Are You Buying?
Jan 16, 2020
Finally, we are seeing a big shift in the markets.
My colleagues and I have been talking about it for quite some time now. We knew it had to happen eventually. It was only a matter of time...
Smallcaps are finally rebounding.
I'll elaborate with some interesting data I've collected. Before that... let's revisit the market trend over the last two years.
2017 will be remembered as the year of a phenomenal bull market. Nearly anything you put your hand on, went up.
But all parties must eventually come to an end.
And sure enough, the end came in 2018.
It felt like a rude shock.
While the Sensex and Nifty rebounded after a knee-jerk reaction, we saw a massive rout in smallcaps and midcaps.
Of course, a healthy correction was due. Valuations were over stretched and the economy was slowing down.
But one of the biggest factors that triggered a flight of money out of smallcap stocks in 2018 was the categorisation and rationalisation of mutual funds by the market regulator.
In the bull rally of 2017, a lot of mutual funds significantly increased their exposure to smallcap and midcap stocks. Back then, they were the darlings of the Indian stock market.
The rebalancing of portfolios by mutual funds to align with the new guidelines was a big reason for the sell-off.
Now, the thing with smallcaps is that they tend to rise very sharply, and also fall very sharply.
The reason is liquidity.
You see, when the big boys of the market enter a smallcap, it has a tremendous impact on the stock price because of the spurt in demand for the shares.
Conversely, when big money exits a smallcap, it kills the stock price by dumping a large quantity of shares in the market.
As a result, when smallcaps rise, they surge to irrationally high levels.
When they crash, the pessimism is just as irrational.
Having studied market cycles, I knew the smallcaps would eventually rebound. It was only a matter of time.
But what came as a disappointment was that the smallcap rout that started in 2018 continued through much of 2019.
At the same time, the Sensex kept making new highs as a very narrow set of stocks cornered most of the gains.
A couple of weeks ago, I shared the data with you. It's very telling how the money flow shifted over these two years.
I pulled out data on 1,638 companies listed on the NSE. Here's what I'd found...
Between 29 December 2017 and 30 December 2019, just 246 companies witnessed gains. Together, these 246 companies added Rs 29.8 trillion worth of market capitalisation.
In other words, 1,392 companies were below the levels they traded at the end of December 2017. Together, these 1,392 companies lost Rs 28.6 trillion worth of market capitalisation.
In simple words, the money literally shifted from one place to another.
Even among the 246 companies that witnessed gains, the major chunk was captured by just a small list of companies.
--- Advertisement ---
READ: FULL Transcript of Our Urgent Broadcast

The full transcript of our urgent broadcast on India's Revival is available for a limited time now.

In case you missed watching our broadcast LIVE...

You can see all the important highlights from our broadcast in this transcript.

Please note that we may take this transcript off the internet any minute.

So it is highly recommended you read it immediately.

Click Here to Read the Transcript NOW
------------------------------
Smallcaps Are Rebounding Already...
The BSE Smallcap index hit its lowest level since 2018 on 22 August 2019 when it closed at 12,119.
From its January 2018 peak of 20,047, that was a 40% crash. Hundreds of individual stocks crashed even more.
But since the August 2019 low, smallcaps have been making a comeback.
The BSE Smallcap index is up 19% from its August 2019 low.
In fact, since the start of 2020, the uptrend has accelerated!
Look at this chart...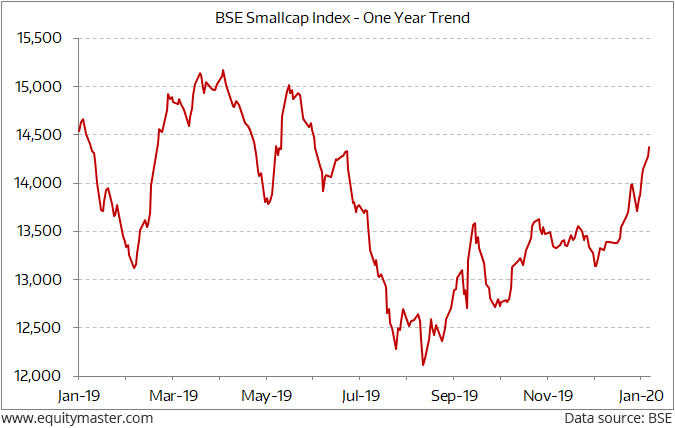 Of the 704 stocks in the index, 532 stocks have gained during this period, whereas 170 stocks have continued to bleed.
The 532 stocks that gained have gone up by an average of 30%. The 170 smallcap stocks that reported declines are down 18% on average.
You can see the smallcap index is rebounding to levels we saw in the first half of 2019. In fact, it is just 1% below the level it was a year ago.
But wait...
The BSE Smallcap index is still 28% below its 2018 all-time high of 20,047!
Take a look...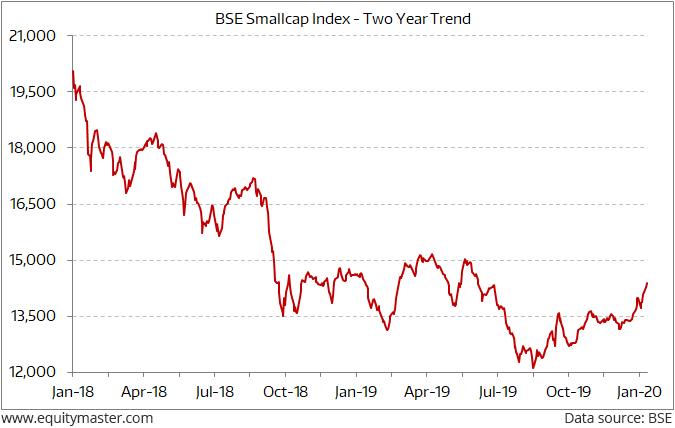 To go back to the 2018 peak, the index would have to rise another 39%.
It seems to me that smallcaps are finally heeding in that direction.
So is this smallcap rebound here to stay? Will 2020 be the year of smallcaps?
For a long time, my colleagues and I have said this would happen.
And sure enough... it's happening right now!
I recommend you don't miss out, dear reader. You can find a lot of great buying opportunities in the smallcap space.
I believe, this is a great time to be invested in smallcaps.
But let me be clear, I don't expect the markets to return to the kind of euphoria we saw in 2017.
Keep in mind that not everything you touch will turn into gold. You should be very careful and selective in picking the most solid and promising smallcap stocks.
What do you think about this trend, dear reader? Will the rally sustain or will it fizzle out?
Most importantly, are you buying smallcaps today?
I would love to hear your thoughts.
Warm regards,



Ankit Shah
Editor, Equitymaster Insider
Equitymaster Agora Research Private Limited (Research Analyst)
PS: We have received a great response to Vijay Bhambwani's Instant Income Summit. More than 11,000 people have signed up already! I recommend you don't miss out on this big event.
Vijay is very excited to show you how to make regular income from the market without actually buying or selling any shares.
The Instant Income Summit is free to attend. You can register here.
Recent Articles