This Created Multibagger Stocks in the US and Japan and Now It's Happening in India
Jan 17, 2019
Editor's Note: Dear reader, as I mentioned yesterday, I've planned a big event that I'm really excited about. If you attend this event, I'll show you how to make massive returns from stocks. I'm not talking about stocks that could go up 2 or 3 times. I'm talking about multibagger returns that could change your life forever. I've worked very hard on a project for the last few months and I believe I've discovered the secret to unlock life changing wealth. This is not an exaggeration on my part. I invite you to hear all the details for yourself at the event. I'm calling it the Rebirth of India. It will be held online on Thursday, 31 January and it's completely free. You can register for it here.
---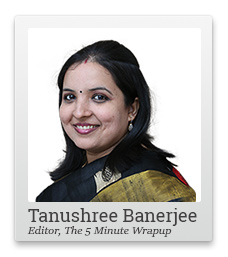 Japanese railways are renowned for their punctuality and precision.
The country's largest high-speed railway line has operated for almost half a century. But what is remarkable is that it never had a single derailment or collision.
If that's not enough, last year, its average departure delay was a mere 18 seconds, along a 320-mile route.
Can we expect such degree of safety and efficiency in Indian railways? Even though the country may soon have its first bullet train of Japanese make, we remain skeptical.
FREE Event: How to Profit from the Massive Upcoming Revival in Smallcaps
What is unique about Japanese railways is that it was amongst the first ones in the world to get privatised.
In 1987, the government privatised the Japanese National Railways. The company operated every type of transit except trams and inner-city metros. Eventually all the regional railway companies in Japan also had private sector owners.
With privatisation, the railway companies could repay their debt. They invested capital to improve and modernise their networks. And in the process, reversed the stagnation and decline that Japanese railway companies had seen over the previous decade.
By the year 2000, East Japan Railway Company featured in Forbes' Top 200 companies globally in terms of market cap.
And not just that. Subsequently, even during Japan's lost decades in the stock market, the stock multiplied nearly three times.
Privatisation did to Japanese railway companies what no government in the world could do to state owned transport entities. And the health of these companies was best reflected in their stock market fortunes.
Now just as Japanese railways are renowned for precision, the US Military is known to be the hotbed of new technology. Even the research on the internet, as we know it today, was originally funded by the US Department of Defence.
The end of the Cold War was a major turning point for the American defense industry. And with the privatisation of several defence related manufacturing entities in the 1980s, the sector was flush with funds for research.
Companies like Boeing and Northrop Grumman Corporation were amongst the first to benefit from this trend. These companies saw their stock prices multiply nearly 61 times and 56 times over past three decades.
You know that privatization is not a trend that is seen in economies every now and then. It usually occurs only once. Or possibly after decades.
Fortunately, few sectors in India are on the cusp of this trend for the first time ever.
And as investors in Indian stock markets, we find ourselves at the right place at the right time.
Like in the case of Japan and the US, privatization may not just create tremendous stock market wealth. But also push several Indian companies in the reckoning of global leaders.
I want to know what you think about this, dear reader. Which government company or industry would you like to see privatised? How much wealth do you think that would create?
Write to me with your opinion.
And I'll publish your views in The 5 Minute WrapUp.
--- Advertisement ---
How to Profit from the Massive Upcoming Revival in Smallcaps

Our head of smallcap research, Richa Agarwal, believes...

Despite rallying over 180% since March-2020 lows... small-cap stocks are set for a massive rally over the coming months and years.

Richa is going to reveal the details of her top 3 stocks to capture potentially huge gains from this upcoming small-cap rally.

To learn the details of these 3 stocks, join Richa on 28th June at her Smallcap Revival Summit.

It's an online summit. And it is free to attend for Equitymaster readers.

But since we have limited seats, we would urge you to register at the earliest.

Click here to register. It's free.
------------------------------
Chart of the Day
The opportunity for India's private corporate sector is huge in the defence space. Of course, not many private companies have participated aggressively in bidding for defence contracts so far. But, this will change as the government spends more on defense.
According to the Stockholm International Peace Research Institute (SIPRI), India is the world's biggest arms importer and has remained so for many years now. While Russia was the world's largest exporter of arms to India, it is now being challenged by Israel and the US.
However, the Indian government wants increased participation from the country's private sector to reduce the need for imports.
This will open up massive opportunities for many domestic companies in the years to come.
Reckoning of Biggest Military Powers in the Making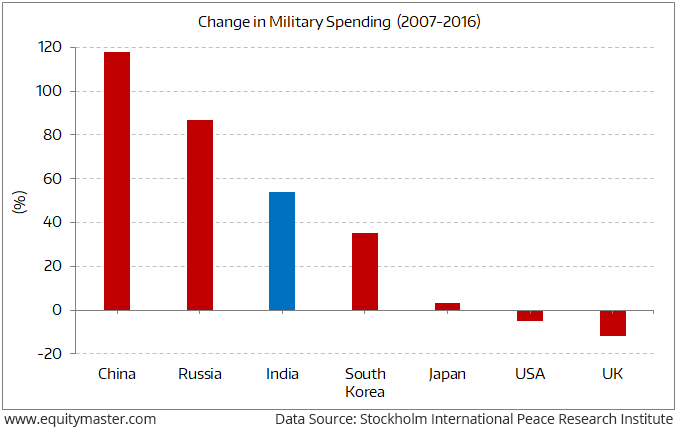 Warm regards,



Tanushree Banerjee (Research Analyst)
Editor, The 5 Minute WrapUp
PS: Do you think India can regain its status as one of the greatest countries on earth? Equitymaster's co-head of research, Tanushree Banerjee, certainly thinks so. In a free online summit on Thursday, 31 January, Tanushree will show you how to amass life-changing wealth from India's rise to the pinnacle it last occupied nearly 2,000 years ago! You don't want to miss this, dear reader. Register now for the free online summit here.
Recent Articles