Bitcoins and Scandals! Can they Make for Great Investments?
Jan 18, 2018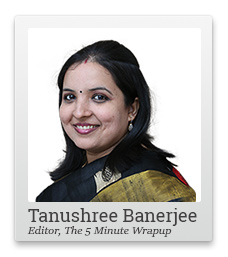 If you are a value investor, you would have certainly made a list of criteria that you would consider before investing in a stock: A strong business model. Robust financials. The position of the company in the industry it operates in, and the dynamics of the industry itself.
These are just some factors you would evaluate.
There's one more: An impeccable management at the company's helm.
A management that is innovative, ethical and capable enough to take the company's growth to the next level, and weather storms when it hits a bad patch.
This also means that you would want to stay away from companies hit by scandals. This is true. At least most of the time.
But not always. Sometimes great companies get hit by scandals.
What do you do then?
Legendary investor, Warren Buffett, saw scandals as opportunities.
Take the case of American Express, one of Buffett's favourite investments, which has rewarded Berkshire immensely.
In 1963, when it was the world's largest credit card company, American Express, got embroiled in the 'salad oil scandal'. The company had to endure damages to the tune of US$ 175 million.
Not surprisingly, the stock crashed.
But Buffett, at that time, looked at the development differently. He believed that despite the scandal, the company's core business would survive because people were still going to use travelers cheques and credit cards. He was also of the view that American Express had a strong balance sheet and could withstand this shock.
So he went ahead and invested in the stock in a big way. And as history has shown, earned massive returns from that one stock alone.
In India, we had a similar development take place in the form of Nestle's Maggi fiasco. In mid-2015, Nestle's Maggi noodles were declared unfit for consumption due to high lead content. This led to the product being pulled from the market and being banned by the government. Naturally, Nestle's stock price also declined.
But the general strength of the company's business and a change in leadership saw Nestle come back with a bang and regain its lost market share within a year. Quite a remarkable feat! The stock also bounced back.
Incidentally, Nestle is a stock that has always traded at premium valuations and a negative development in that sense was an opportunity to scoop up a stock if the valuations were still reasonable.
And that is the thing with great companies.
Because they are such strong businesses, buying them at the right price is a challenge. These companies tend to be widely tracked. And because of the inherent strengths of the business, the stocks of these companies command very rich valuations.
The general perception, therefore, is that these stocks can be bought any time since the prices will always go up.
This logic is fraught with risk.
I mean, bitcoin seems to be crashing. We don't know why. We already know it is volatile. Do we run in and buy up? No. We inform ourselves.
Scandal-hit stocks do have the potential to reward shareholders immensely. But only if they have been bought at a reasonable price.
The opportunities to buy them at reasonable prices may not come often.
But if such stocks get hit by adverse and negative developments, rather than shunning them because everyone else is doing so, the smart value investor might want to consider buying these stocks because he knows that the inherent business is strong. He will end up with a sweet bargain in his hands!
Editor's Note: Bitcoin is really shaken up right now - what has been going on in the last 24 hours? Be careful. Stay informed. Learn what our bitcoin guru has to say by clicking here.
India's Trade Deficit Widens to Three-Year High
India's December trade deficit widened to its highest in more than three years as higher import bills for gold and crude oil weighed on rising exports.
In December, exports increased by 12.3% to US$27 billion, while imports increased by 21.1% to US$41.9 billion, while imports of gold, precious stones and crude oil surged during the last month. As per the data released by the commerce ministry, the trade deficit or the difference between imports and exports was US$14.88 billion, up about 41% YoY. The gap had touched US$16.2 billion in November 2014.
Trade Deficit Widens
Imports during the first nine months of the current fiscal amounted to US$338.3 billion as against US$277.8 billion, a growth of 21.7%. The trade deficit during the period widened to US$114.8 billion.
Because of this, the Indian rupee on Tuesday weakened 0.9%, its steepest fall in eight months, against the US dollar. Also, worries of rising inflation and speculation that the government may miss its deficit target, after international crude oil prices reached US$70 a barrel, will give less space to the RBI to cut rates in the near term.
A wider current account deficit in the midst of a sharp rise in oil prices, fiscal slippage risks, and above-target inflation point to a weaker macro backdrop for the economy.
Crude Oil Rises Above US$70, Highest in Three years
Brent crude futures, the international benchmark for oil prices, closed above US$70/barrel for the first time in three years. Prices have been driven up by production curbs in OPEC nations and Russia, as well as by the robust demand because of a healthy global economic growth.
The supply cuts started in January 2017 and are set to continue through 2018. These have coincided with an improvement in healthy demand, pushing up crude prices by more than 13% since early December. Not to mention, other factors such as geopolitical risk and global currency moves have also supported crude prices.
The market has already seen a tightening supply due to the OPEC-led production cuts. The OPEC is expected to extend a cut of approximately 1.8 million barrels per day throughout 2018.
The rising oil price is not good news from India's perspective. For India, it may mean a deteriorating current account deficit.
Similarly, since fuel prices are not regulated anymore, oil marketing companies do a daily revision of petrol and diesel prices, in tandem with international rates. In fact, diesel prices have soared to a record in many cities.
The government had raised taxes on fuel when prices had plunged in 2014. Now, it will have to correspondingly bring down duties as prices go up to prevent broader inflation. Otherwise, higher fuel prices will trigger broader inflation, which pressurises the monetary policy.
And, if crude oil prices remain high, there will be a change in the trade dynamics affecting the trade deficit, which in turn will influence the direction of the rupee's movement, that's presently quite strong.
What the Markets Looked Like Today
Indian equity markets opened the day on a positive note. At the time of writing, BSE Sensex was trading higher by 350 points and NSE-Nifty was higher by 90 points. The BSE Mid-Cap and BSE Small-Cap Indices were trading up by 0.6% and 0.9% respectively. Stocks from the capital goods and banking are among the gainers.
Investment Mantra of the Day
"Unless you can watch your stock holding decline by 50% without becoming panic-stricken, you should not be in the stock market." - Warren Buffett
Recent Articles