Buy One Get One Free: The Stock Market's Secret Offer
Jan 21, 2020
Editor's note: Join India's #1 trader, Vijay Bhambwani, online at 5 pm today at the Instant Income Summit. Vijay will reveal his secret to make safe, regular and fast income from the market. Don't miss it! Book your free seat here.
---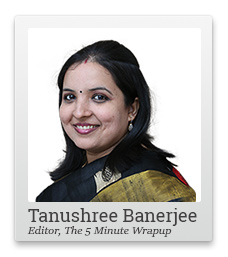 Millennials these days have big plans for Republic Day.
My teenage niece comes home from boarding school, every year, for the 26th January holiday.
Patriotism is not the only reason for her enthusiasm. It's the lure of freebies from her favourite brands that day.
But it's not just millennials...
Over the years, Republic Day has become synonymous with the start of the winter sale season. It rains offers online and offline.
Every other shop puts up a hoarding - Buy One Get One Free!
Even your insurance agent, your pathology lab, and your car service centre, would've sent you messages Republic Day offers.... insurance policies, blood tests, and car services for free.
As an investor, wouldn't you love it if you could get your favourite stocks for free?
Yes, why not?
And best of all, you can get your favourite stocks for free!
There is a 'buy one get one' offer on a tiny group of stocks in the market.
This offer has been going on for years but many investors are simply not aware of it.
Others avoid the hard work of looking for these stocks.
And most do not have the patience to reap the benefits of this offer.
Take a look at the stocks in today's chart. A few of them were well known even 15 years back. Others were not.
But they all had a common megatrend in their favour for a very long time - Consumption growth in India.
The consumption megatrend was the reason for their high growth and their high dividend payouts.
Number of Shares You Got Free on Every Stock Purchased in 2005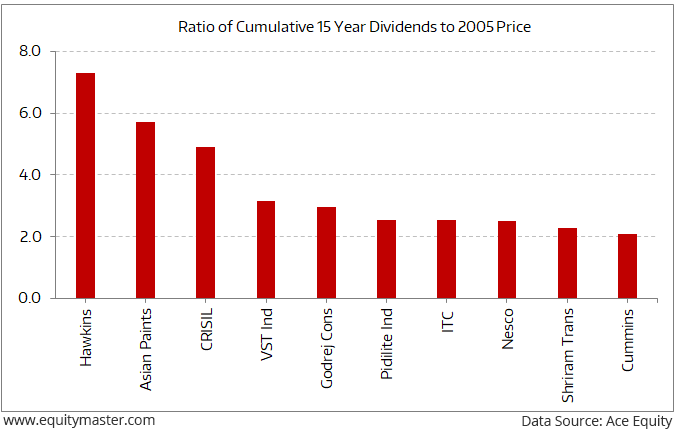 Biscuits, cigarettes, paints, pressure cookers, adhesives, mosquito repellants, commercial real estate, vehicle loans...
All saw phenomenal demand over past decade and half. These companies made the most of their strong presence in the segments.
But that wasn't all. These companies paid out cash generously to shareholders.
So much so that over the 15 years, shareholders literally got back the ALL money they had paid for each stock.
Stocks like Cummins, NESCO and Shriram Transport returned the entire share price by way of dividends.
Hawkins, Asian Paints, and CRISIL returned 4 to 7 times the stock price.
Imagine that. It's like a 'Buy One Get Seven' offer!
I call these stocks... Dividend Multibaggers.
--- Advertisement ---

Oops...Did you miss this?

We are sure you have been reading about the MEGA Summit that's happening at Equitymaster...

It's going to be huge, with over 10,000 readers expected to join.

Now we are told that for some reason you are yet to sign up...

If you miss it, it will be a lost opportunity.

We again recommend you Click Here to join our upcoming Rebirth of India Mega Summit with Tanushree Banerjee
------------------------------
Now, most companies paying dividends today, won't turn into a dividend multibaggers in next decade.
On the contrary, only a tiny fraction of them will.
Allow me to put things in perspective...
Only about 100 stocks, from more than 4,000 listed companies, have paid the same dividend amount or more, consistently, over the last 15 years.
What does this mean?
You must select your stocks wisely.
Don't just look for companies with good cash flows but also think about the longevity of the cash flows.
As part of my Rebirth of India project, I've researched many megatrends which can turn a strong business into a cash generating machine in the next decade.
I'm confident that if I select the right stocks to ride the Rebirth of India megatrends, my subscribers will end up with many dividend multibaggers.
You may or may not take advantage of Republic Day offers but this is certainly a great 'buy one get one' offer you can't afford to miss.
Warm regards,

Tanushree Banerjee
Editor, The 5 Minute WrapUp
Equitymaster Agora Research Private Limited (Research Analyst)
PS: If you would like to know about one of the best income investments, then join India's #1 trader, Vijay Bhambwani, online at 5 pm today at the Instant Income Summit. Vijay will tell you all about his favorite strategy to make safe, regular, fast income from the market. Register for free here.
Recent Articles