Take Your First Step to Profit from the Rebirth of India
Jan 22, 2019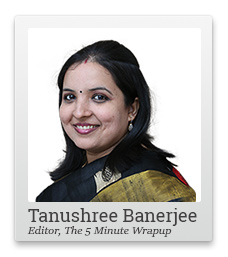 I am not an avid social media follower. But the viral #10YearChallenge caught my attention.
It occurred to me that instead of people, we could use this challenge to see how companies, cities, and even countries have transformed over the past decade, or more.
I believe that would be a real eye opener.
As I wrote to you last week, I've been working on a big project. Specifically, I've been working on my own version of Factfullness. It's a book that traces such transformations over years and decades.
More on that in a minute...
Today, I'm writing to you about India's #10YearChallenge. But then, why stick to just 10 years?
After all, we know that certain economies transformed dramatically in a few decades. Be it war torn Japan or famine ridden Singapore, just a few decades made all the difference.
In fact, take the case of any of the world's super powers, you'll find the same story.
Look at what happened in 3 countries - Switzerland, Singapore, and China - over the last few decades.
Switzerland is today synonymous with wealth and economic success. The country has one of the highest standards of living in the world.
But rewind 150 years and Switzerland was a poor nation. The landlocked country's mountainous terrain presented a major obstacle to development. Its industry was relatively primitive. The country's residents were migrating to escape a life of poverty.
Then in the late 19th century, a period of industrialization, nurtured by favorable economic policies, began to transform the economy.
At the same time, the country's banking and tourism industries started to blossom. Switzerland soon became one of Europe's richest nations.
When Singapore was thrown out of Malaysia in 1965, the tiny city state was plagued by poverty and high unemployment. A third of the population lived in slums. Up to half of its residents were illiterate. With no natural resources, Singapore's economic prospects were bleak.
But reforms in education, labour, housing etc, under prime minister Lee Kuan Yew, made Singapore one of the most business-friendly economies, in just two decades.
For China, December 1978 was the defining moment. New Chinese laws allowed foreign capital, eased pricing restrictions, allowed companies to retain profits, and set up their own wage structures.
This process of market liberalisation led China emerging as a major global exporter.
Soon China saw a massive rate of urbanization. Its infrastructure grew by leaps and bounds.
If China were to take something like a 30 Year Challenge, it would look like this...
China's 30 Year Challenge - Its Rebirth

So, several countries went through such transformations. I like to call it a rebirth of sorts. And these economies have never looked back since.
This transformation is underway in India too. It's in the early stages. We have a long way to go...and this is a good thing.
Why?
Because Indian companies have barely scratched the surface of the Rebirth of India.
But as I wrote to you yesterday, it won't be long before this transformation creates many multibaggers in the stock market.
An investor buying the right stocks today will create life-changing wealth for himself.
The Rebirth of India is at the heart of my big prediction: Sensex 100,000.
Dear reader, I don't want you to miss out on this once in a lifetime opportunity.
So I prepared a special report for you - Rebirth of India - to show you how you can benefit from this historic opportunity.
I urge you to take your first step to the BIGGEST investing opportunity of your lifetime.
Chart of the Day
Like China, if India were to take the #10YearChallenge by 2029, one of the most visible changes would be in the size of the workforce.
And that could have a direct impact on what is called dependency ratio. Let me explain.
The rise in India's working population means India will have a much bigger population in the working age than kids and retirees. So, the country will have fewer dependents and a low dependency ratio.
In fact, India will be one of the countries with the lowest dependency ratio by 2050. The ratio of dependents by then should be just over 47% (5 dependents for every 10 people in working age).
While China should see its population fall in the coming decades, India projects to be the most populous country in 2050 by a long shot. By that time, India will have up to 1.7 billion people.
The low dependency ratio also means that a larger section of the population will have the ability and willingness to spend.
That means that India's consumption story is here to stay.
India's #10YearChallenge - Workforce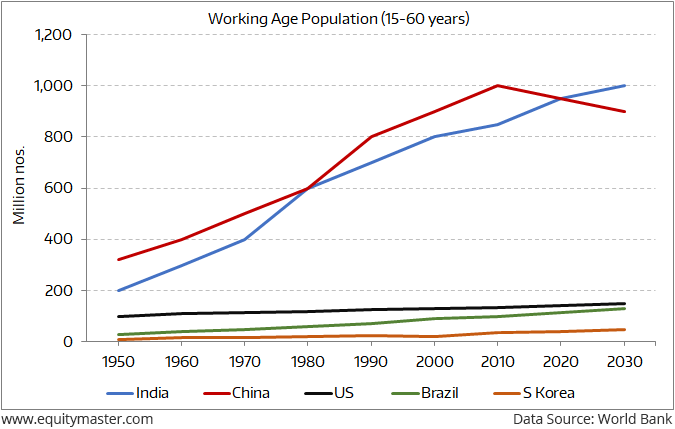 Warm regards,



Tanushree Banerjee (Research Analyst)
Editor, The 5 Minute WrapUp
PS: We have just published - Rebirth of India: The First Step to the Biggest Investment Opportunity of Your Lifetime. I strongly urge you to download it and read it right away. It has the potential to dramatically change your life for the better. When you download it, you will automatically get a seat at the Rebirth of India MEGA SUMMIT where Tanushree will reveal full details about the Rebirth of India.
Recent Articles