Why India Is Not China
Jan 24, 2017
In this issue:

» Why Are Projects Still Stuck?
» President Trump Takes US out of the TPP
» ...and more!
Well, it was my first Equitymaster Conference. I was excited to hear our experts and interact with readers.
As analysts, we need to stay updated on the macro and micro environment. However, it is great to see our experts talking about all the common issues yet give such uncommon insights. Trust me - it feels great to be part of an institution that is honest, direct, and has perspective.
Now, let me ask you one simple question...
Is the world ready for Make in India?
The idea behind the government's Make in India campaign is to turn India into an export manufacturing hub. Intriguing. That's what China did, and they clocked an average annual GDP growth rate of 10% for thirty years.
But let us rewind a bit. The Chinese economy was doing very well till 2015...and then this slowdown.
Mind you, China is the largest manufacturing economy in the world...the largest exporter of goods in the world.
Now, one of the key reasons for the current slowdown in the Chinese economy is the slowdown in the major economies. Both the developed and the emerging economies are facing turbulence.
Equitymaster founder Mr Ajit Dayal gave a fantastic talk at the conference. And he made a really interesting point: 'It is a myth that Make in India will boost exports.'
He added that, when China was exporting, the world was consuming. However, now, when India is making to export, the world is not importing.
India is not China. The growth story of India cannot and will not be the same as it was China. So the answer to my question is no.
Now, a second question...
Is India ready for Make in India?
Yes!
The India story is India. Not the world.
If we look at some basic data - say, the per capita consumption pattern across the world - India stands in the lowest cadre.
Consider the following:
Autos - India: 18 cars per 1,000; US: 800 cars per 1,000
Footwear - India: 1.66 pair per annum; developed nations: 6-7 pairs p.a.
Broadband - India: 1.4% of the total population; US: 28% of the total population
Airports - India: 464; US: 15,079
The above data clearly shows India is an 'India story'. The opportunity to catch up to global counterparts across sectors is huge.
However, it is important to note that make in India for India will only succeed if it is at competitive prices compared to the world.
One such opportunity was the subject of our most recent Hidden Treasure recommendation. The company is a direct play on India's consumption story and an indirect play on the high-growth FMCG sector. We believe the stock is currently mispriced and is a buy.
You can gain access to Hidden Treasure here.
--- Advertisement ---
Did You Miss My Email Yesterday? Read This Before 11:59 PM Tonight...

Last week, we reopened our Most Popular Offer of 2016.

An offer, that was designed especially for our 20th Anniversary Celebrations.

And an offer that saw more than 10,000 of our valued readers sign-up to claim their virtually free gifts.

Now, in my email yesterday, we invited you to benefit from the same 20th Anniversary Invitation Offer.

However, as we didn't hear from you...

We just thought we'll send this urgent reminder that this exceptional offer ends at 11:59 tomorrow.

So, don't delay...

Click here for full details...
------------------------------
03:20

Chart of the Day

So exporting our way to prosperity is out of the question. As per the latest trade data, exports are flat (i.e. up 0.75% YoY) in the first nine months of FY17. This, after a steep fall over the last two years.

So what about domestic investments. Unfortunately, today's chart does not present a happy picture. For 'Make in India' to succeed, speedy clearances are a must. In fact, this was one of Modi's main election promises.

It was widely believed, if stalled projects could be cleared, India's GDP growth would get a boost. We will never know because they are still stalled!

As per CMIE data and reported in the Mint, the total number of stalled projects are still rising. Surprisingly, four out of the last five quarters with the highest stalling rate on record, have been during the Modi government's tenure. A fifth of stalled projects are held up because of lack of government clearances.

Why?
Stalled Projects Remain High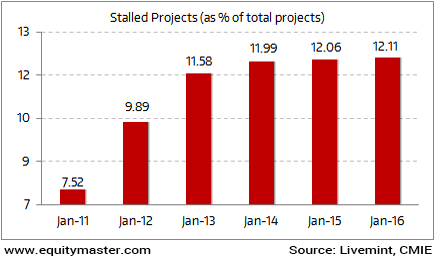 A deeper look at the data shows that there are three primary culprits: lack of funds, lack of promoter interest, and lack of environmental clearances.
Lack of environmental clearances is holding up 14.48% of all stalled projects. This is about two-thirds of all projects stalled due to lack of government clearances.
A lack of funds is an easy problem to explain. Banks are loaded with bad loans and are not likely to provide more funds without all clearances in place. Equity financing is also very difficult because of a high risk aversion to such projects. There's not much the government can do about this.
A lack of promoter interest is a fascinating subject. It could be a reflection of disillusionment with either the Indian economy's prospects or with the government... or both.
Whatever the case may be, one thing is clear to us; corporates are in no mood to make big investment commitments. This was true even before demonetisation. Now the wait will get longer.
Thus, we believe only patient investors who can wait for a revival in the investment cycle, will be the ones to benefit from any positive surprise on this front.
The big news from the US did not come as a surprise to us. President Trump has taken the US out of the Trans Pacific Partnership (TPP). Thankfully, this is good news for India. Richa wrote about it in the premium edition of The 5 Minute WrapUp on 16 December 2016 (Subscription Required).
If the deal sees the light of the day, it won't be good news for non-member nations. They could lose out significantly as compared to member nations that would become preferential trade partners in a post TPP world.

Now that US plans to pull out, the deal may not happen. Even if it does without US, it would lose much of its significance as US alone accounts for a giant share.

Anyway, that's good news for India. This is because TPP could pose a serious blow to India's trade ambitions, especially when it comes to exports.

India is among the top textile exporters. A lot of companies in the organized and unorganized sector get a lion's share of their revenues from supplying to member nations of TPP.
With Trump abandoning the TPP, Indian textile manufacturers will heave a huge sigh of relief. A textile stock Richa recommended in 2015 in Hidden Treasure, holds good upside potential for long-term investors. This niche player has created a name for itself and is the preferred supplier to top quality shirt manufacturers around the world. Its unparalleled quality controls enable it to stay well ahead of competition. However, the stock crossed its maximum buy price today.
Here is the lesson that should be learned. We may never be able to predict geopolitical events like Trump's election or his policies. But by buying fundamentally strong stocks for the long-term when they are available cheap, you can put the odds of winning in the market, firmly in your favour.
After opening the day in the green, the Indian stock market indices moved further into positive territory. Auto and capital goods, stocks were leading the gains.
At the time of writing, the BSE Sensex was trading higher by 222 points (up 0.82%) and the NSE Nifty was trading higher by 73 points (up 0.86%). The BSE Small Cap and BSE Mid Cap indices are trading higher by 0.6% and 0.7% respectively.
04:55

Today's Investing Mantra

"A prediction about the direction of the stock market tells you nothing about where stocks are headed, but a whole lot about the person doing the predicting." - Warren Buffett
Recent Articles