Our Proven Strategy for Beating the Markets 2:1
Jan 25, 2017
In this issue:

» Job creation, the need of the hour
» Demonetisation to benefit branded gold retailers
» Market roundup
» ...and more!
00:00

Chart of the Day
It seems logical that even before thinking of buying any common stock, the first step is to see how money has been most successfully made in the past. - Phil Fisher
Investing in stocks is like driving. When you are driving, you keep your eyes on the road ahead. But you also keep an eye on the rear-view mirror.
When you are investing in stocks, you keep your eyes on your goals. But you also look back if you want to understand the road ahead.
Our Co-Head of Research, Rahul Shah, during the Equitymaster Conference, shared his insights on leveraging systems to beat the market. He specifically mentioned three key pillars upon which his Ben Graham-inspired Microcap Millionaires (MCM) service rests.
Invest (don't speculate)
Have a clear cut exit strategy
Alternate between stocks and bonds
Now, looking back, MCM's backtested results from 2003-09 and 2006-12 showed on an average outperformance over the Sensex by a ratio of 2:1.
Amid macro shocks such as the global financial crisis, double digit inflation in India, volatility in the eurozone, the turning of the commodity supercycle...the system still trounced the Sensex.
MCM is also validated by actual results. Since its inception, the service has beaten the benchmark index by a wide margin of 2:1.
How did this happen?
Mr Market (aka Volatility), who we know can be tempestuous, gets either too excited or too depressed, thus creating opportunities in the markets.
To exploit the Mr Market's emotional states - that is, the gaps between intrinsic value and market price - requires a disciplined mind. Unfortunately, the decision-making process of the human mind gets clouded at precisely moments of action.
This is why having a set process - a system - provides an edge. And this competitive advantage is exactly what MCM provides to its subscribers.
The Rise and Rise of Momentum
Now, MCM is a value investing service. And Rahul is an ardent value investor. But Rahul's research and backtesting showed that value isn't the only market anomaly in town.
Value investing has a cousin. His name is momentum investing...and he's even more successful.
Here's the simple yet powerful idea behind momentum strategy...
The premier market anomaly is momentum. Stocks with low returns over the past year tend to have low returns for the next few months, and stocks with high past returns tend to have high future returns. - Fama and French
A study done over 87 years shows the outperformance and resilience of momentum investing in the past 87 plus odd years. The momentum premium i.e. the difference in annual returns earned by stocks with highest momentum vis-a-vis the lowest momentum stocks is the biggest amongst all the other strategies.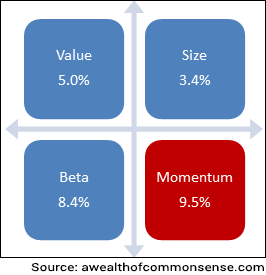 Rahul, for his study, used a group of ten stocks and then a group of twenty stocks and backtested them over ten years. The results were outstanding. The momentum strategy was an outperformer.
Momentum Strategy Shows Massive Outperformance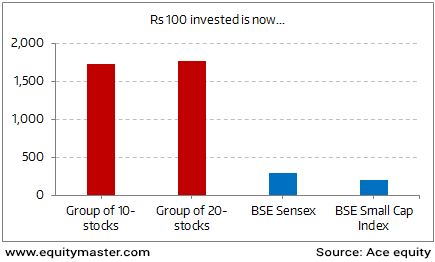 The key takeaway from Rahul's presentation at the conference was the importance of having a process and the discipline to stick with it. Stick to the system through a complete market cycle.
Here is your chance to join Rahul as he exploits Mr Market through momentum with his new service, Profit Velocity. This is a system Rahul has meticulously built after months of analysis and testing. Find a detailed note here.
--- Advertisement ---
Claim This Book Before 11:59 PM Tonight...Hurry!

Over the past few days, hundreds of our valued readers have claimed their copies of this Exclusive Book...Virtually Free.

And this could be your last chance to claim your copy!

So, don't delay even for a minute...

Click here before 11:59 PM, January 25th...
------------------------------
One of the biggest problems facing India today is that of growing unemployment. Ajit Dayal, in his address at the Equitymaster Conference, highlighted the gravity of the problem. He said that since 1991, additions to workforce have grown at 3% whereas employment growth has been at half the rate of 1.5%. What this means that nearly half of the youth entering the workforce do not get a job. And with increasing automation and entry of artificial intelligence, the problem is set increase further.
The United Nations International Labour Organisation in its report has projected job creation to stagnate in 2017 and 2018, marginally pushing up unemployment. As per the report, unemployment in India will increase from 17.7 million in 2016 to 17.8 million in 2017 and further to 18 million in 2018. The unemployment rate will continue to hover at around 3.4% in 2017-18. So for a more inclusive economic growth, India needs to address the problem of unemployment on a war footing.
Demonetisation is expected to play the role of a catalyst in providing a big push to the organised sector in the country. Higher transparency in large value bullion trading in the aftermath of demonetisation is likely to benefit branded gold retailers in the country, as per the World Gold Council. With consumers being compelled to make large payments by cheque or digitally, the market share of large jewellery retailers is likely to rise from 30% in 2015 to 40% by 2020.
India is the second largest gold consumer in the world with households holding a record 23,000-24,000 tonnes of the yellow metal. This along with central bank's holdings of 558 tonnes represents nearly half of the country's gross domestic product. Gold demand fell to a seven-year low of 650-750 tonnes in 2016 due to demonetisation. But in the long term, the demand is expected to reach 850-950 tonnes per annum by 2020.
According to the council, more than 70% of the gold sales till now was in cash favouring the small retailers that skipped written documentation to avoid taxes. This coupled with a 10% import duty on gold had led to gold smuggling and the rise of the grey market in the country. But the demonetisation crackdown on black money is likely to act as a deterrent against smuggling. Moreover, the government's move to charge a lower duty on dore, a semi-pure alloy of gold and silver made by miners, as compared to the refined bullion is expected to consolidate the refining capacity and reduce the unfair advantage enjoyed by the grey market.
After opening in the green, Indian equity markets are trading higher. At the time of writing, BSE Sensex was trading higher by 193 points and NSE-Nifty was trading higher by 71 points. Sectoral indices are trading on a positive note with stocks in the consumer durables and realty witnessing maximum buying interest.
04:55

Today's Investing Mantra

"Valuing a business is part art and part science." - Warren Buffett

Editor's note: There will be no issue of The 5 Minute Wrapup on 26 January 2017 on account of Republic Day.

This edition of The 5 Minute WrapUp is authored by Rohan Pinto (Research Analyst) and Madhu Gupta (Research Analyst).
Today's Premium Edition.
Which Are the Cheapest Sectors Today?
We arrange all the important sectoral indices in order of their cheapness.
Read On... | Get Access
Recent Articles