Vakrangee is Now Bigger Than Lupin! Here's What We Think...
Jan 25, 2018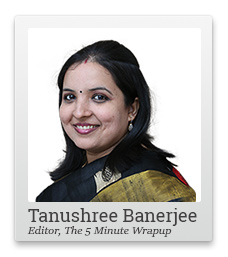 If you are, by any chance an investor in Vakrangee Ltd, you must be clapping your hands in glee.
The stock crossed Rs 500 billion in market cap on Monday. That's huge!
It has surpassed the market cap of the pharma heavyweight Lupin (market cap of around Rs 424 billion) - a much bigger company with sales and net profits more than 4 times that of Vakrangee...
What is so amazing about Vakrangee that makes the market think its value should be higher than Lupin?
More importantly, did we miss the boat by not recommending the stock? Were we wrong? Does the business have some kind of moat that we failed to notice? Is this an error of omission?
Incidentally, we had met Vakrangee in the past.
And here's the thing...We didn't think it was amazing.
Primarily present in the e-governance domain, Vakrangee's business involves bringing together all the hardware, software, and ground activation required for the launch and management of e-governance initiatives. It is also involved in the business of Vakrangee Kendra, e-Governance projects.
So basically the company provides basic government related services in rural regions. In that sense, growth seems largely volume driven - and dependent on poor and low-income people going to these kendras repeatedly for services. But the thing is, once people's incomes start increasing, there won't be any reason for them to visit these kendras. For us this is by no means a sustainable moat.
Further, the company has hardly had free cash flows and its working capital requirements have jumped substantially.
Lupin is clearly a far better company - with a robust and established pharma business not just in India but also in the US and other overseas markets. And the short term hiccups in the form of US FDA issues have not really eroded the inherent strength of the business and its healthy financials.
The way Vakrangee's stock has zoomed in the last nine years, one would think it has all the makings of a great bluechip stock. Heck, I might even come across as a fool to question the so-called 'moat' of the business.
But I am not perturbed, dear reader. My aim is to recommend the safest bluechip stocks.
This means companies with sustainable moats, great business models, and strong management quality.
The Indian stock market can be a funny place. You will see good companies see their stock prices rise and the bad ones see their prices fall - which is how it should be. But you will also find good businesses that are undervalued and the not-so-great ones hogging all the limelight. To us, this simply means that the market is not always right. The trick is to take advantage of such anomalies to recommend the best possible stocks.
So I am not going to fret about 'missing out' on Vakrangee. And if you too have missed the Vakrangee boat, neither should you.
Bitcoin is Not the Only Game in Town
2017 was undoubtedly a phenomenal year for bitcoin. It not only appreciated by over 1300% in the year, but also has two new futures markets luring a number of traditional Wall Street players into the nascent cryptocurrency.
Still, in one respect bitcoin is far worse off now than it was at the start of 2017.
Its dominance in the crypto world is slowly but surely fading.
According to coinmarketcap.com, bitcoin was the leader of the crypto space by a long shot and commanded over 88% of the cryptocurrency market at the beginning of 2017. But the number fell off a cliff in March 2017, to 65%, after which it shortly rebounded as bitcoin price soared to eye-popping new highs.
Since then, bitcoin's dominance in the crypto world been steadily declining and stands at a mere 34% of the cryptocurrency market as of 25 January 2018 - partly due to the pullback in price, more so because of rising interest in other cryptocurrencies such as ethereum, ripple and litecoin, among others.
Coinmarketcap.com lists over 1,400 cryptocurrencies and with new ones added every day. With alternative cryptos (called alt-coins) seizing more market share, and new ones being created every day, are bitcoin's days as market leader numbered?
Here is someone who can help you understand this ever-developing scene.
Prasheel Vartak and his guru Tama Churchouse, who have been researching cryptos for years, will keep you on the top of the crypto world's comings and goings. Join them here.
Domestic Air Traffic Crosses 100 Million Mark in 2017
India's aviation industry is on a high-growth trajectory. India's domestic air traffic has seen a prolific growth of 20-25% during 2015 and 2016. And in 2017, it tapered to 17.4%. However, for the first time, domestic air traffic crossed an important landmark of 100 million passengers in a calendar year.
Indian Aviation Spreading its Wings
Air travel has recorded double-digit growth for 40 consecutive months, thanks to low fares, the addition of new flights/destinations, and overall growth in the economy.
What's foreseeable for India's aviation traffic in 2018 is some pressure on the back of the consistent rise in crude oil prices. Earlier this month, Brent crude oil briefly breached US$70 per barrel and touched its highest level since December 2014. Crude prices have been driven up by production curbs in OPEC nations and Russia, as well as by robust demand on the back of healthy global economic growth.
Oil prices are closely monitored by the Indian air carriers, as aviation turbine fuel is their single largest input cost. A sharp rise in the cost of fuel puts pressure on margins, and consequently an increase in air fares.
Although air travel is becoming the new normal, investors need to understand the industry dynamics before buying up aviation stocks.
IMF Forecasts India's GDP Growth at 7.4% for FY19
In its latest World Economic Outlook update, the International Monetary Fund (IMF) projected India's GDP growth rate at 7.4% in FY19 and 7.8% in FY20. With this, India is set to regain the title of the fastest growing economy in the world. China, during the same period, is expected to grow at 6.8% and 6.4% respectively.
In the current fiscal, India's GDP growth slipped below China because of the disruptive demonetization and the GST implementation initiatives. However, there are signs of a revival with industrial production growth having touched a 25-month high of 8.4% in November. Similarly, previous two months saw a healthy growth in exports.
Automobile sales have been robust during December. The government has also announced a reduction in the extra borrowings it had planned in the January-March quarter, after it witnessed a better-than-expected tax collections. Not to mention, unlocking of credit and private investment growth post the implementation of its bank recapitalisation programme could lead to a spurt in growth.
That said, there are some key risks to watch out for. Higher fuel prices will trigger broader inflation, which pressurises the monetary policy. This may also lead to the widening lacuna of the current account deficit. In the near term, the government will have to do some tightrope walking as it seeks to address the challenges of job creation and rural distress, as well as concerns about fiscal slippages given the additional borrowings and GST collections falling short of the target.
What the Markets Look Like Today
Indian equity markets opened the day in the red. At the time of writing, BSE Sensex was trading lower by 75 points and NSE-Nifty was lower by 16 points. Both the mid cap and small cap indices are trading up by 0.2% and 0.1%, respectively. Stocks from the capital goods and metals are among the few gainers.
Investment Mantra of the Day
"Unless you can watch your stock holding decline by 50% without becoming panic-stricken, you should not be in the stock market." - Warren Buffett

Tanushree Banerjee (Research Analyst)
Editor, The 5 Minute WrapUp
PS: The crypt world is a wild ride - one that every investor should watch (from afar) just for the thrill of it. Click here to get the best seat in the bitcoin house...
Recent Articles