Union Budget 2017-18: Jaitley Plays it Safe
Feb 1, 2017
In the Issue

» Sops for Rural India
» MSMEs get further breather
» Market Roundup
» And More...
We thought the Union Budget for 2017-18 will have shades of populism. There were two big reasons. One, some of the pain from demonetisation needed to be eased and two, India's politically most important state was going to polls.
If the first impressions are anything to go by, Jaitley has been able to resist the temptation. He has chosen to steer the economy in the direction of fiscal consolidation. And while the focus was still on farmers, underprivileged, rural development and job creation, it didn't leave any of the other stakeholders disappointed.
The allocations do look pretty balanced to us from the point of view of both, promoting social equity as well as supporting economic growth.
Let's dive deeper and take a look at some of the key highlights from the budget speech.
We liked the way the finance minister made a break from the past formats. He focused his entire budget around ten distinct pillars viz. agriculture and farmers' welfare, rural sector, social sector including healthcare, education, skill and job creation, infrastructure and investment, financial sector reforms, digital economy, governance and ease of doing business, fiscal discipline and last but not the least, tax reforms.
Agriculture to grow at 4.6%, agriculture expenditure target of Rs 10 trillion
FDI inflows go up 36% in the first six months on a YoY basis. Forex reserves at US$ 361 bn enough to cover imports for 12 months
MNREGA allocation to go up by 26% to Rs 480 bn
Total allocation for rural, agricultural and allied sectors up by more than 20% YoY
Around 10 m houses for poor by 2019. Affordable housing to be given infrastructure status
Rail safety fund with a corpus of Rs 1 trillion to be set up over five years
Foreign Investment promotion board to be abolished
Infrastructure allocation at a record Rs 4 trillion
Defense expenditure excluding pension at Rs 2.7 lakh crore
Fiscal deficit for FY18 pegged at 3.2% of GDP
Tax relief for small firms with turnover up to Rs 500 m
The holding period for capital gains on sale of immovable property-land and building-to qualify as long term capital gains (LTCG) reduced to 2 years from 3 years
Income tax rate for slab of Rs 2.5 lakh to Rs 5 lakh reduced from 10% to 5%
Surcharge of 10% for annual income between Rs 5 m to Rs 10 m
Were we to make a guess on the stock market's reaction to the budget, we would have expected it to end the day flat. However, the close to 500 point close on the Sensex has surprised us.
May be investors were expecting some negative announcement that didn't actually materialize. This huge uncertainty in making short term calls is precisely why we believe such forecasts are poison. They should be kept in a safe place away from investors who behave in the markets like children.
In fact, pinning too much hope on the budget for taking a long term view on stocks isn't very productive either.
It certainly didn't prove productive for investors back in 1991, the year of the most path breaking budget in India's history. No, the budget didn't fail. It delivered and delivered big time. It bought all the benefits to the economy. However, the markets remained virtually flat for most part of the next 12 years. The reason?
Investors did not bother to take into account valuations.
Be it the Union Budget, GST or a great monsoon, you always got to ask the all-important question: Everything said and done, am I paying too much for the stock in relation to its intrinsic value?
For even though the budget may be path breaking and the economy may have some great years ahead of it, when you pay too much, even a good stock can quickly turn into a bad investment.
And no better time to reiterate this view than now.
--- Advertisement ---
Exclusive Book Claim Your Copy...Virtually Free!

This is urgent...

You have less than 48 hours left to claim your copy of Equitymaster's Secrets.

It's a 220-page hardbound book that reveals some of the biggest lessons from our entire 20-year investing journey.

It's not available in any bookstore...And it's published Exclusively for our readers....

And the best news is...

If you act today, you can claim your copy... Virtually Free.

So, don't delay....

Hundreds of our valued readers have already claimed their book over the past week!

Click here to claim your book (Special Extension Offer...Ending Soon).
------------------------------
02:30

Chart of The Day

The rural economy, that has been in doldrums in the past few years, had reason to cheer from a slew of measures announced in the Union Budget 2017-18. With an aim to double farmer's income in five years, the government made an allocation of Rs 480 billion, the highest ever, under Mahatma Gandhi National Rural Employment Guarantee Act (MNREGA). The MNREGA programme was formulated in September 2005 to enhance livelihood security by providing at least one hundred days of guaranteed wage employment in a financial year to every rural household for unskilled manual work. The scheme has faced flak in the past for lacking accountability and efficiency in reaching out to its intended beneficiaries.

In this regard, the government's initiative to geo-tag all MNREGA assets and put them in public domain has ushered in greater transparency. The government is also planning to use space technology to plan MNREGA work. As per the government, the productive assets created under MNREGA will help improve farm productivity and incomes. Moreover, the government would be disbursing agricultural credit to the tune of Rs 10 trillion in FY18 which along with a 60 days interest waiver announced earlier will benefit farmers. Apart from this, the government will undertake Mission Antyodaya to bring one crore households out of poverty and make 50,000 gram panchayats poverty free by 2019.
MNREGA Scheme Back in Limelight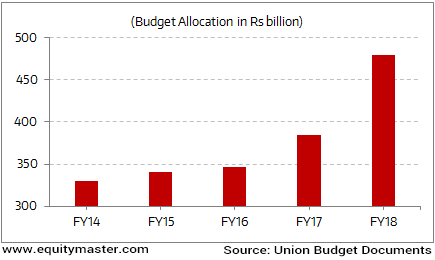 The Medium and Small Enterprises (MSME) form a vital part of the Indian economy and are also huge employment generators. This is what my colleague Vivek Kaul has to say about them,
A major reason for the lack of enough jobs is the fact that Indian firms start small and continue to remain small. As Economist Pranab Bardhan writes in Globalisation, Democracy and Corruption: "Take the highly labour-intensive garments industry, for example. A combined dataset [of both the formal and informal sectors] shows that about 92 per cent of garment firms in India have fewer than eight employees."

It's only when small firms start to become bigger, will jobs be created. As the Economic Survey points out: "A major impediment to the pace of quality employment generation in India is the small share of manufacturing in total employment...This is significant given that the National Manufacturing Policy 2011 has set a target of creating 100 million jobs by 2022. Promoting growth of micro, small, and medium enterprises (MSME) is critical from the perspective of job creation which has been recognized as a prime mover of the development agenda in India."
Recognising the importance of MSME, the government extended tax concessions in Union Budget 2017-18. The government reduced the tax rate for small companies - having turnover of upto Rs 500 million - to 25% thereby bringing them in line with large companies that enjoy greater exemptions. At the start of the year, the government also raised the credit guarantee scheme by two folds for MSMEs.
After opening the day flat, Indian equity markets gained strongly after the Union Budget 2017-18 was tabled in the Parliament. BSE Sensex ended the day higher by 486 points and NSE-Nifty was trading higher by 155 points. The mid cap and small cap indices, each were up by 1.7%. Realty, auto and FMCG stocks were the biggest gainers.
04:50

Today's Investing Mantra

"Stop trying to predict the direction of the stock market, the economy, interest rates, or elections." - Warren Buffett

This edition of The 5 Minute WrapUp is authored by Rahul Shah (Research Analyst) and Madhu Gupta (Research Analyst).
Today's Premium Edition.
Indigo's Q3FY17 Result Confirms Our Thesis - Avoid Aviation Stocks
Indigo's Q3FY17 profit declined BY 25% YoY on the back of lower fares and high fuel cost despite an increase in operating revenue.
Read On... | Get Access
Recent Articles