How You Should Invest Now After the Budget
Feb 1, 2020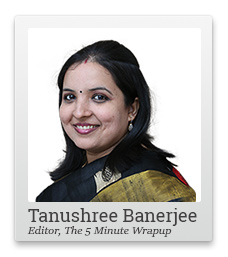 The Union Budget.
As a long-term investor in the stock market, you need to wear two thinking caps at the same time. That of a taxpayer and that of an investor.
So, often, the immediate reaction to the Budget, is based on an extreme reaction of either of these.
As I write this, the benchmark indices have seen a flash crash. This is largely on account of disappointment about the tax incentives.
Neither the long-term capital gains tax nor the taxation for foreign investors and higher income groups were touched.
Also, in a contrast to a decade old tradition of providing higher tax sops on housing loans and insurance, this Budget almost killed such exemptions.
In fact, taxing dividends in the hands of the investor is likely to lead to a bigger tax outgo for large investors.
Now as a reader of The 5 Minute WrapUp, you need to wear the thinking hat of an investor.
Here, there are positives. In fact, I am counting on these to strengthen some of the Rebirth of India megatrends.
--- Advertisement ---

7 Stocks You Absolutely Don't Want to Miss... (Virtually FREE Report!)

Our Co-Head of Research, Tanushree Banerjee, has identified the 7 stocks that could do exceedingly well in the coming years riding on a rare economic event.

And she says those who get into these 7 stocks right now have the chance to make potentially LIFE-CHANGING returns in the long run.

So will you be among those who acts on this opportunity now? Or will you be among those who will kick yourself later not taking action now? The choice is yours.

Full details on these 7 stocks are included in Tanushree's special report. And by acting fast, you can claim a copy of this report virtually FREE.

However, this opportunity will end at 11:59pm on Saturday, 29th Feb. So don't delay.

Click here to find out how you can claim your FREE copy

------------------------------
The Big LIC IPO: The debut of India's largest insurance company on the stock markets, is going to be a big one.
The government is banking on this IPO to meet its fiscal deficit target this year. Also the IPO's size (over a trillion rupees) will give investors a piece of the LIC pie. The IPO will elicit huge interest from domestic and foreign investors alike.
It will give stiff competition to private sector insurers. These stocks have had a fantastic run in the markets in the past year. More importantly, the listing will give LIC the access to foreign funds. LIC needs foreign money to take forward the megatrend of financial inclusion.
Privatisation of PSU Banks Starting with IDBI Bank: The sale of IDBI Bank was long called for. The bank will not just change hands within the government. It will go to a private sector entity and that is encouraging.
If done properly, this will open up the path for privatisation of many more PSUs the government should do away with. The recent cleanup and merger of some large PSU banks will sweeten the deal for private investors.
5 New Smart Cities: I am honestly more disappointed with the Budget speech than the Budget itself.
In a speech that extended well over two hours, the Finance Minister chose to spend less than a minute talking about the project on building 5 New Smart Cities.
Like I have written earlier, I believe building new cities could be the best away to bring about an economic turnaround.
In fact, a strong execution of the Smart Cities project could be the biggest catalyst for Rebirth of India.
Now, the Budget speech offered very few details on this. So, we will have to wait to figure out if the project is well planned.
Investment from Sovereign Wealth Funds: The 100% tax concession to sovereign wealth funds investing in infrastructure projects could bring huge inflow of long-term money to big infrastructure projects. This too could be a huge megatrend which I will keep track of.
Data Centre Parks: Policy on setting up data centre parks throughout the country strengthens the megatrend of digitalisation of the economy. These data parks will give boost to the manufacturing and service sectors, create jobs, and leverage India's deep digital penetration.
To conclude, there is no denying that today's Budget was not a blockbuster one.
But you don't need a blockbuster budget to create long -term wealth in the stock markets.
Like I always say, nothing should change the way you invest. Not even the Budget.
Rather, you should use the market's extreme reaction to the Budget to your advantage.
I am already doing that in my hunt for attractive long-term bargains for StockSelect subscribers.
Stay tuned...
Warm regards,

Tanushree Banerjee
Editor, The 5 Minute WrapUp
Equitymaster Agora Research Private Limited (Research Analyst)
PS: The market's reaction to the budget does affect my bullishness on the best 7 stocks in the market. Read more about them here.
Recent Articles