The Market Crash Will See More Stocks Behaving Like This Multibagger
Feb 3, 2018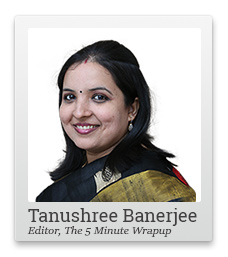 Last week I wrote a piece categorically rejecting Vakrangee, a stock that everyone was then high on.
At the time, I got a lot of flak for rejecting this 'superstar stock.'
And then, the stock tanked. It's down over 40% in the past four days, wiping out Rs 150 billion of investor wealth!
So, how'd I know it would tank? And more importantly, how can you know what other ten bagger stocks are heading the same way...
To understand that, let's talk math for a minute.
French mathematician Blaise Pascal invented the syringe, the hydraulic press, and the first digital calculator.
But his biggest contribution to the world of investing? A 400-year-old mathematical principle - that of probability.
A principle so relevant that Warren Buffett and Charlie Munger still use it to make investing decisions.
Munger often tells the story of Pascal and his friend Pierre de Fermat.
In the summer of 1654, Fermat, a smart gambler, but with a tendency to lose money, sought help from Pascal. He wanted to know why he kept losing money.
This problem intrigued Pascal. In a series of letters he exchanged with Fermat, he ended up defining the concept of 'probability'.
In the stock markets today, understanding probability is crucial because of the wide gap between valuations and business moats, ie, the probability of a company with a wide moat losing money is high, when the valuations defy fundamentals.
For instance, buying Coke in 1998 or Infosys in 2000 or HUL in 1997 would have meant not recovering money for years.
These stocks, even with their moats, performed badly because the probability of maintaining their premium valuations was miniscule.
But, buying wide moat stocks are not terribly serious mistakes. I mean, your returns will be mediocre. But you won't necessarily have a significant loss of capital.
The big losses come from a different mistake: Thinking there is a moat, where there is none.
The probably of a company with no moat at all losing money is extremely, extremely high.
In such a case, you don't just lose returns, you lose capital...permanently.
Vakrangee, the much-celebrated 10-bagger in the last three years, was one such stock.
It was probed for insider trading in 2012. And when we met the management in 2015, we were convinced that the business had no moat, whatsoever.
Its financial performance was, at best, an illusion.
It just so happened that I wrote about this on 25th January, just two days before the stock came under the regulator's scanner, and then came crashing down.
My subscribers were understandably disappointed when I rejected this 'high performance stock'.
And now you know why.
Like I've often told you, I would rather ensure that you sleep well...reassured that you are building wealth with quality stocks.
Buying 'no-moat' companies at rich valuations is one of the most certain ways of losing capital.
Unfortunately, dear reader, Vakrangee is just one of the multibagger stocks that are currently in limelight for the wrong reasons. There are several others bound to go the Vakrangee way in this market crash.
Do not get carried away by skyrocketing numbers...
Not with stocks. Not with cryptocurrencies. Not with ANY investments.
For a safety-first investor, this means being wary of quick, sharp upturns in valuations. Investing is a long-term game. Look ahead, and you will see that you are missing nothing. And I, of course, won't let you.
Achieving Fiscal Deficit Target for FY19 Will be Difficult
The government missed its fiscal deficit target for FY18 by 30 basis points. Against a target of 3.2%, the government managed to keep fiscal deficit at 3.5% in FY18. It has also outlined the projected fiscal deficit target of 3.3% in FY19 in its budget.
Steady Decline in Fiscal Deficit Over the Years
Maintaining this deficit target in FY19 won't be easy. Fiscal deficit basically means the amount a government earns minus the amount it has to spend. The lesser the fiscal deficit, the better the government has performed.
In the past, the government has relied on reducing expenditure to keep the fiscal deficit in check.
For the next year, the government is banking on earning much more than it has in the past. It expects a major portion of the revenue to be collected through GST tax collections. Also, the recent rise in crude oil prices has cast a doubt over how much the government will be to curb its spending. It also needs to revive the economy from the shock of Notebandi.
The dual pressure of increasing expenditure and lower inflows makes this FY19 deficit target an uphill challenge.
Will LTCG Tax Discourage Long-Term Investing?
The Finance minister introduced the Long term capital gain (LTCG) tax in its recent budget. According to LTCG tax, investors will now be taxed 10% on gains over Rs 1,00,000/- on stocks that they held for more than a year since 1st February 2018.
Investors, in general, were disappointed post this announcement. One school of thought says, the lines between short-term and long-term investing will be blurred. Investors won't have to gain much by holding stocks for more than a year now as before. Short-term tax (holding stocks for less than a year) attracts 15% tax, whereas long-term tax (holding stocks for more than a year) will now attract 10%.
Also, investors investing in ELSS to avail of tax exemption under section 80C will evaluate their options now. There are other debt-free instruments like PPF which offer tax-free returns.
The basic reason to retain long term gains from the share market as tax-free was to get the mainstream mass into the equity market. Since, equity investing entails higher risk; they were compensated by keeping their gains tax-free if held over the long term.
Here's the clincher though, one hidden benefit arising out of this is being ignored. Although the specifics of the LTCG tax are yet to be laid out, investors will be able to off set their long-term losses as well. This wasn't the case earlier. So, this means being strategic on the quantity they sell and when they sell.
Volatility might increase at the end of every fiscal year, as people will look to book partial profits.
Here's what you can watch for in the future:
Will this short-term mindset persist over the long-term?
Let's hope there's an ace in the cards.
What the Markets Looked Like This Week
It has been a rocky week for global financial markets. World stock markets declined this week as a jump in global borrowing costs cooled the year's euphoric start in financial markets.
On Wednesday, the Federal Reserve held interest rates steady but indicated a more hawkish inflation outlook. US Treasury yield rose further after economic indicators seemed to confirm the Fed's inflation outlook. The Dow Jones Industrial Average plunged 4.1% this week fueled by inflation concerns and political tensions.
The European stocks started the month on a dismal note. European shares suffered their biggest weekly loss in more than a year on Friday as investors' appetite for risk dried up. The euro and the British pound strengthened further against the dollar, putting additional pressure on stocks of European exporters. German and French markets were down by 4.2% and 3% respectively this week, while the UK's FTSE plunged 2.9%.
Investor sentiment in Asia was hit by concerns about rising interest rates. In China, profit booking ahead of the Lunar New Year holidays in mid-February led to a correction. China's Shanghai Composite fell 2.7% over the week. Japan's Nikkei, a major underperformer in the past couple of weeks, was down by 1.5% this week.
Back home, the Union Budget triggered huge volatility in the stock markets. Indian share markets slumped 800 points on Friday as market participants were disappointed with the government's Union Budget for the fiscal year 2018-19. The Finance Minister in his Budget speech announced a 10% levy on capital gains of over Rs 1 lakh without the benefit of indexing. The government's move to bring back long-term capital gains tax on equities and retain securities transaction tax (STT) has raised questions in many quarters.
BSE-Sensex ended the week on a negative note and plunged 2.7% to 35,067, while the Nifty 50 slumped 2.8%, to 10,761 this week. Meanwhile, the BSE MidCap was down 7.1% and BSE SmallCap declined 7.7% this week.

Tanushree Banerjee (Research Analyst)
Editor, The 5 Minute WrapUp
PS: The risk of a stock investment falling in a market crash can be quite scary. However, over the last 15 years, Tanushree Banerjee has successfully dealt with major risks like these by focusing on 'Safe Stocks'. Between 2002 and 2017, her recommendations have established a solid success rate of almost 75%. You too can benefit from Tanushree's recommendations here.
Investment Mantra of the Day
"People who succeed in the stock market also accept periodic losses, setbacks, and unexpected occurrences. Calamitous drops do not scare them out of the game." - Peter Lynch
Recent Articles