BSE IPO listing: A Lottery or a Low Risk Bet?
Feb 4, 2017
In this issue:

» The poor performance of BSE IPO index
» Do you have a clear cut exit strategy?
» ...and more
Shares of Bombay Stock Exchange (BSE) made a strong debut yesterday. The scrip listed at a 35% premium, went as high as 49% and eventually closed the day 33% higher.
Our paid readers will recall we had given an AVOID to the IPO.
However, we are not losing any sleep over this.
It is important to understand what matters to us is not whether we get any individual case right or wrong. But how do we do over a large number of such cases.
A detailed audit of all our IPO recommendations will certainly help bring the truth out. A top of the mind recall tells me majority of our IPO recommendations have been successful.
We are not talking about listing gains here. But whether these stocks have given good returns 2-3 years post their listing. We don't think most of them have.
An insightful way to understand this is to bring in the concept of a lottery system. While none of us may have done the math, we intuitively know that lottery is a rigged system. It is a means for the issuer to earn fat money.
Suppose there are 1 lakh different combinations of numbers in a lottery and therefore, one lakh tickets at Rs 100 each are issued. Imagine you buy each and every ticket available on sale and shell out Rs 10 m for the same. Do you think you will gain from this transaction? Absolutely not.
The total jackpot for the lottery will never exceed Rs 1 crore. In fact, it will be much less than that, in the region of Rs 6 m. So even if you corner the entire lottery market, you'd still walk away with a hefty loss.
Put alternatively, the only way the lottery buyer could have made a profit is by buying a ticket for much less than Rs 60 taking into account the jackpot prize of Rs 6 m.
Most IPOs aren't any different from lottery tickets. What makes greedy promoters and cunning investment bankers salivate is that unlike a lottery, the size of the jackpot is not known in advance.
There's no guarantee how much an investor can earn by investing in the IPOs. And this leaves the ground open for irrational price fixing. The jackpot promised is usually much larger than deserved based on fundamentals. And then when the dust settles, the fate of investors isn't very different than all the lottery buyers put together.
We know what you are thinking. Unlike lottery, stocks isn't a zero sum game. It is a game where everyone can win in the long term. But what if the IPOs are priced in such a way that most of the future gains are already priced into the stock.
We think Warren Buffett sums it up best.
It's almost a mathematical impossibility to imagine that, out of the thousands of things for sale on a given day, the most attractively priced is the one being sold by a knowledgeable seller (company insiders) to a less-knowledgeable buyer (investors).
We are not saying that IPOs are bad companies. But in most cases, the listing price is set in such a way that investing in them is not the most productive use of one's money.
Its most productive use is where the ticket is priced so low that hitting the jackpot can earn you a lot of money. We do something very similar in our Microcap Millionaires service. We look for low priced tickets with a strong chance of hitting the jackpot. We have not been successful in some of the cases.
But there have been enough successes so that the total gains for our subscribers now stand at 129% since inception. This compares with the 38% returns given by the Sensex and 111% returns given by the BSE Small Cap index.
You can check out the service here.
By the way, investing isn't just about buying those tickets to hit the jackpot. We should know when to exit. In other words, we should have a clear cut exit strategy.
Trust me, the importance of having a clear-cut exit strategy cannot be emphasized enough. In fact, I'd say the real test of any investment strategy is whether it has a clear-cut exit plan.
If your plan is hazy, you're leaving a huge opening for random guesswork to come in and take total control over your decision making. And this is not a good situation to be in. Having a definite exit plan gives a sense of control. It helps one deal with stock price volatility calmly and without too much stress.
You've probably read about the amazing back-test record of Profit Velocity, our soon-to-be launched system-based service.
Over ten years, it beat the benchmark index 5:1 - i.e. if one had followed the system from 2005 to 2015, he/she could have earned five times the Sensex's cumulative returns. So while the Sensex turned every Rs 100 into Rs 300, the system turned the same amount into Rs 1,700, an outperformance of more than 5x.
The returns were certainly a function of the effectiveness of the strategy and strong stock selection. But what most people seem to miss is that the strategy had a definite exit plan.
A stock stayed in the group as long as its momentum had legs. But once it got elbowed out of the list of best performing stocks, it was sold, no question asked.

Going forward, we expect this combination of a definite entry as well as exit plan to achieve impressive returns in the future as well.
It ensures we make the most logical decision and don't let random guesswork sneak in.
By the way, our Founder Member opportunity, which closes shortly, offers a 60% savings on the usual Profit Velocity membership fees.
My publisher tells me there is almost no chance we will extend such an offer ever again.
The good news is I'm convinced the earliest group of subscribers could benefit the most. So I really hope you don't miss my first issue of Profit Velocity on 10 February 2017!
Become a Founder Member of Profit Velocity today. Click here...
--- Advertisement ---
You Could be Missing Out on This Opportunity...

You could be missing out on some of the most lucrative and high-potential money-making opportunities in the stock market...

We are talking about businesses which are small and almost unknown today...

But hold the potential to become the blue chips of tomorrow.

Now, finding such companies is not an easy task.

However, we've been doing it for over 8 years now...

Click here to find out how we've done so far and how you could benefit from our experience...
------------------------------
04:05

Chart of the day

I just told you that the listing price of IPOs is set in such a way that investing in them is not the most productive use of one's money. And here is the proof.

The Bombay Stock exchange has an IPO Index that is constructs to represent the performance of IPOs. From the time the start of the index about twelve years back in May 2004 to now, the index has majorly underperformed even the benchmark BSE Sensex. While Rs 100 invested in the BSE Sensex then would today be Rs 506, the same investment in the BSE IPO index would today be only Rs 372.

For all the hype and hoopla surrounding IPOs, it is an irony that the actual numbers indicate a very different reality.
BSE IPO index an underperformer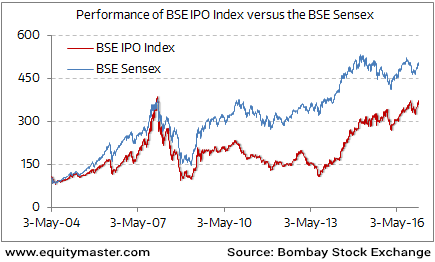 Global markets ended the week on a weak note with most of the markets ending in the negative territory. The Indian market was the biggest gainer, with gains of 1.3%. On the other hand, Japan and Brazil markets were down by 2.8% and 1.6% respectively.
In India, a smart rally on the budget day pushed the market to end the week higher, however, the cautious sentiment ahead of the Reserve Bank of India's policy meeting and visa woes on the IT sector kept the momentum slow in the last two trading sessions. The BSE Sensex was up 1.3% for the week, while the NSE Nifty gained 1.2%. Midcap and Smallcap stocks outperformed. The BSE Midcap index rose 2.5%, while the BSE Smallcap index surged 2.4%. In the coming week, Index of Industrial Production (IIP) data on Tuesday and Reserve Bank of India's policy meeting scheduled for Wednesday will be under investors' radar.
Performance During the Week Ended 04th February, 2017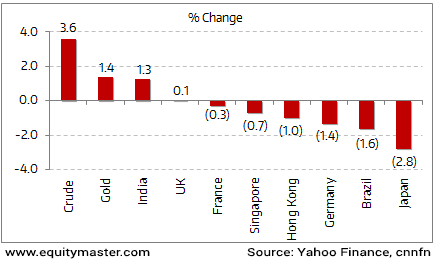 04:53

Weekend investment mantra

"In every case, investors have burned themselves on IPOs, have stayed away for at least two years, but have always returned for another scalding. For as long as stock markets have existed, investors have gone through this manic-depressive cycle." - Benjamin Graham

This edition of The 5 Minute WrapUp is authored by Rahul Shah (Research Analyst).
Today's Premium Edition.
Today being a Saturday, there is no Premium edition being published. But you can always read our most recent issue here...
Recent Articles