Here's What the Biggest 'Rebirth of India' Investors are Doing
Feb 5, 2019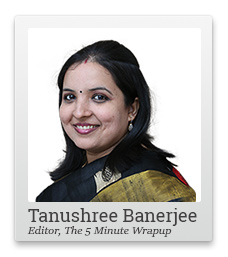 Bankruptcies, debt defaults, rating downgrades, joblessness, corporate governance scandals...you name it and we have it all in news these days.
The deluge of negative news understandably dampens sentiments.
And if India were a stock, it would probably be trading at deep discount valuations right now.
The fact is that each of these economic problem is real. And could certainly be a drag on economic productivity and corporate profitability. But there is no denying that the problems are temporary.
So therefore, if you are looking not days and months but several years ahead, buying a deep discount stock like India may be the smartest thing to do.
Well, over the past few months, I did what an analyst should do. I studied the fundamental upside for India over the coming decades. And while doing so, I came across nearly 50 reasons why the India story could get more and more compelling over the years.
I and my team call it the Rebirth of India.
But if I had to pick the biggest and most important reason for anyone to take the Rebirth of India seriously, which one would it be?
Well, it has to be this - Billions of dollars of sovereign wealth and pension fund money finding its way to India.
The sceptics may find plenty of near term risks that India may have to contend with. And the stock markets in India will of course reflect this skepticism in its volatility.
But the biggest believers in the Rebirth of India are, in fact, already lining up to choose their best investments in the country.
What I am referring to is the meeting that around 27 sovereign wealth funds and pension funds, had with the Prime Minister, in Gujarat, on the 18th of January 2019.
This included some the biggest and most renowned funds like...
Government Pension Investment Fund (GPIF), Japan
British Columbia Investment Management Corporation (BCIMC)
Ontario Municipal Employees Retirement System (OMERS), Canada
Japan Bank for International Cooperation (JBIC)
Pacific Investment Management Company (PIMCO)
Vanguard International Fund
Even if these funds commit a fraction of their corpus to India for the next several decades, it could have a huge impact on India's infrastructure and Indian businesses. For the investment corpus of these funds are so huge that a fraction of it coming in would bring several times the amount of money, which FIIs have ever invested in India, since 1991.
Like a true Rebirth of India investor, such pension funds would hardly be concerned about the near-term challenges.
Rather they would keep their eyes peeled for signs of Rebirth of India evolving in the way billions of Indians live, earn, spend, invest and consume.
Chart of the Day
Foreign Pension Funds are Making a Beeline for India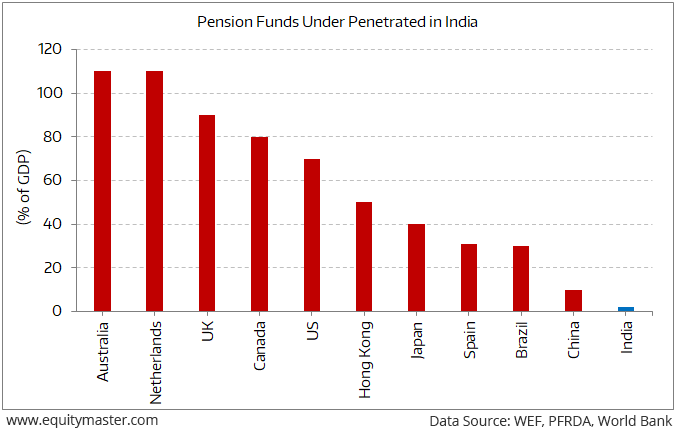 More than 40 foreign pension funds (endowments and university and family foundations) registered with the Securities and Exchange Board of India in 2018.
According to OECD, the 20 largest pension funds together hold about 43.2% of total global pension assets. Even if India were to receive 5% allocation, it will mean a boom for Indian stock markets.
In last three years, there has been a consolidation as a result of stronger growth among the major players in the pension landscape. And these players are likely to concentrate more on geographies that offer stronger returns apart from relative safety, like India.
However, the fact is that as a percentage of GDP, India's own pension fund assets are miniscule, even compared to that of other developing economies. And this could bring in a huge crisis in the decades ahead.
About a quarter of the projected increase in the global population aged 15-64 years between 2010 and 2040 will occur in India. However, only 7.4% of India's working age population is covered under a pension program. That compares with 31% for Spain and 30% for Brazil, according to the World Economic Forum's report on Global Human Capital.
Therefore, it is imperative that along with attracting global pension funds, India also works towards bringing in most of India's working age population (especially those working in the unorganized segment) under pension plans. Budget 2019 seems to have made a start in that direction.
Warm regards,



Tanushree Banerjee (Research Analyst)
Editor, The 5 Minute WrapUp
Recent Articles