How I Expect This Two-Faced Stock Market to Move Now
Feb 7, 2019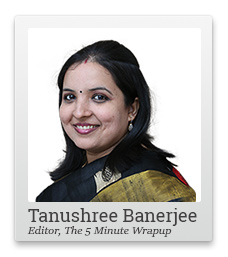 The human mind works in strange ways.
Once I was waiting in a line for food at my college canteen. There were two lines.
One was a long queue. The other was surprisingly short.
Naturally, I assumed something might be wrong or there might be no food left for people in the short line.
Rather than waiting in the long queue, I thought I'd at least ask what's wrong with the second line.
The guy at the empty counter told me everything was fine. So I asked him, 'why is no one here'?
He was clueless!
I took my food. Watching me, others followed and there was a long queue behind me.
--- Advertisement ---


The 4 Small Caps That Could Shoot Up in 2019…

Richa Agarwal, the editor of Hidden Treasure calls this the BIGGEST wealth-creating opportunity in a decade…

The last time something like this happened, smart investors walked away with triple and quadruple digit gains in just a few years.

And this time Richa believes the money-making potential may be even bigger (especially for these 4 stocks…)

Read this before you make any money decisions.
------------------------------
We humans seek comfort in groups.
We like to do what everyone else is doing.
I see a similar trend in the Indian stock markets right now: A shift from mid and small caps to large caps.
From January 2018 till date, the BSE Sensex has risen 8%. In the same period, the BSE Midcap Index is down 19% and the BSE Smallcap Index is down 29%.
After corporate governance concerns related to the mid and small caps came to light, Indian investors have opted for the safety of safe bluechip stocks.
Along with the dubious ones, even the good quality mid and small cap stocks aren't being spared.
But how long will this continue?
With more and more funds being poured into the bluechips, their valuations are going through the roof.
If we look at history, such over valuations have always ended in disappointment.
So what should you do then?
On one hand in mid and small caps there are corporate governance issues. On the other hand, large caps are getting overvalued with each passing day.
For my StockSelect recommendation service, I'm not looking at only the top 5-10 companies in the Sensex.
I'm looking at stocks that provide safety in terms of their business fundamentals, valuations, and longevity.
I believe, companies that continue to grow their earnings at a decent pace, with strong return ratios, and low debt, will be good bets going forward.
This will be true irrespective of the index they belong to.
Although I avoid recommending stocks below a certain size, my main aim is to pick those stocks that won't cause sleepless nights for my subscribers.
The recent correction has meant that many stocks provide comfort in terms of their valuations.
I believe the huge gap in valuations between the top 10 and the rest of the market is bound to contract in the future.
That is the short queue in the market right now - high-quality beaten down stocks.
You should seriously think about getting in this queue this early.
Chart of the Day
The current scenario in the Indian stock market looks very similar to 2013.
Back then, mid and small cap stocks witnessed a similar correction while the Sensex stayed put.
Is It 2013 All Over Again?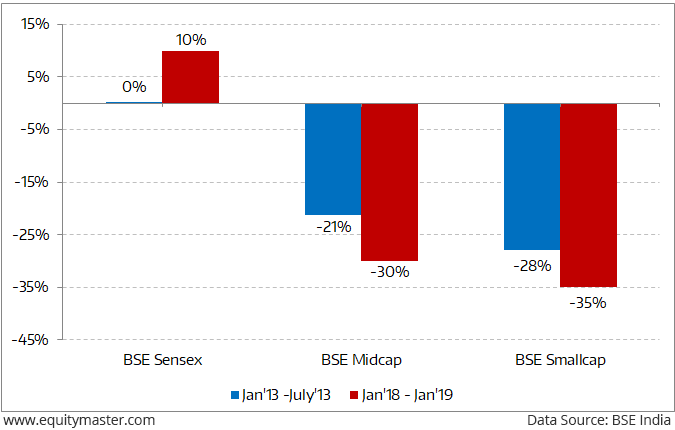 2018-19 has also followed a similar pattern.
Long term-capital gains tax was introduced in last year's budget. We've seen corporate governance issues leading to auditor exits and finally the IL&FS impact..
Also, with elections around the corner, the volatility will probably get worse.
If you're looking at stocks from a short-term perspective, there is a good chance this volatile market will hurt you.
But if you're picking stocks, thinking long-term, the potential for India is huge.
The investor who catches these trends early, will create life-changing wealth for himself.
Warm regards,



Tanushree Banerjee (Research Analyst)
Editor, The 5 Minute WrapUp
PS: Dear reader, you can now also get our small cap expert, Richa Agarwal's, thoroughly researched recommendations and replicate her success of beating the Sensex nearly 3X by subscribing to Hidden Treasure here.
Recent Articles