How We Pick the Most Profitable Stocks from the Portfolios of Super Investors
Feb 8, 2019
Do you ever recommend a product to a friend without trying it yourself first?
I know I am not comfortable doing it. Let me give you an example.
I am an avid reader.
My work requires me to read up on companies and pore over annual reports.
But I also read a lot in my spare time. And I read a lot of fiction.
There are thousands of books being published these days, not just in India but also in the big publishing markets of the UK and US.
Access to these books is so easy now thanks to Amazon and Flipkart.
There's so much choice! How do I decide which book to buy?
One thing that I do is follow certain blogs. These are blogs that discuss books and I follow them because our reading tastes are similar. Sometimes, reviews on Amazon help.
This gives me a head start as to which books I should bump up the pile to read.
That said that, different people respond to the same book differently.
So even if a book comes highly recommended to me from all quarters, there have been instances when I, particularly, have not been too enamored.
That is why when people ask me for recommendations, I don't directly ask them to head over to the blogs I follow.
Make no mistake, I personally head over to these blogs often when I want a recommendation, but I recommend them to others only if I have read and liked them. In fact, I have my own blog where I discuss books I like for those looking for recommendations.
My colleague Sarvajeet and I follow a similar approach when recommending stocks to our Smart Money Secrets subscribers.
The key point in this service is the super investor element.
We track the moves of 40 super investors, so if their stakes in any company rises to more than 1% and if there are bulk/block deals involved, those stocks come under our radar.
But now... here's the crucial part.
We do not immediately recommend those stocks just because super investors have a presence.
If we are going to recommend them to you, we will do our own homework first.
And that is why we have the Smart Money ScoreTM.
It helps us determine which of the super investor stocks are good enough to recommend by our standards.
For every stock we have recommended in the Smart Money Secrets service, there are many we have rejected.
Why?
Because they did not make our cut. Even when they were favoured by super investors.
Indeed, last year we wrote to you about how we avoided a big mistake in the name of KRBL.
Super investor Mohnish Pabrai, via a block deal, had acquired a chunk of shares in this company, a market leader in the basmati rice industry - a deal that ultimately did not go through.
But subsequent events at the company, which we did not like, stopped us from recommending it to our subscribers.
In other words, we believe, copycat investing is fine. But it should not be done blindly.
And in that spirit, Sarvajeet and I are busy scouring for the next stock we can recommend to you.
Stay tuned!
Chart of the Day
2018 was a forgettable year for small caps. Even super investors made losses.
One such big loss was Rain Industries, part of Mohnish Pabrai's portfolio. After a stellar 2017 when it rose like a phoenix, it suffered a big fall in 2018. Indeed, I just mentioned KRBL where Pabrai had a close shave, but he has not been lucky with Rain Industries.
It didn't help that Pabrai has a nearly 10% stake in the company; a key lesson about the importance of limiting exposure to a single stock.
Rain Industries: A Sharp Rise and a Swift Fall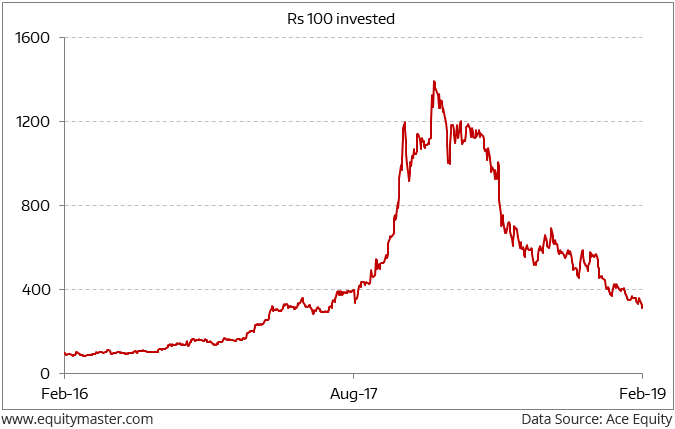 Warm regards,



Radhika Pandit (Research Analyst)
Co-Editor, Smart Money Secrets
PS: Radhika Pandit and Sarvajeet Bodas, co-editors of Smart Money Secrets, are getting ready to recommend their next stock. If you haven't subscribed to Smart Money Secrets yet... you can do so here.
Recent Articles