Rahul Shah: 'Let Your "Mirror Neurons" Do the Magic with Stocks...'
Feb 10, 2017
In this issue

» The real issue underlying Infosys
» More trouble for debt ridden banks
» Market Roundup
» And More...
What do you like to read? Who are the three people you admire the most and why?
Every prospective analyst who aspires to join our team at Equitymaster has to face these questions from Rahul Shah, our co-head of research. He believes they reveal something fundamental about a person's character and disposition.
And mind you, these questions are soaked in an intriguing concept from neuroscience.
Ever heard of 'mirror neurons'?
First discovered in the early 1990s by a team of Italian researchers, 'mirror neurons' are a type of brain cell that respond equally when we perform an action and when we witness someone else perform the same action.
In essence, we have an instinctive ability to mimic others.
But beware, this is a double-edged sword. Our tendency to imitate works automatically.
Some of the most wealth-destructive herd instincts in the stock markets are a result of 'mirror neurons'. This is why most retail investors lose money even in bull markets.
The ideas and the people you surround yourself with are constantly shaping your behaviour, your destiny, and your financial fortunes...in ways you cannot imagine. If you understand this powerful neurological phenomenon and harness it smartly, you can be successful at anything you choose.
At Equitymaster, we study winning investing approaches, strategies, and systems...put them through rigorous tests and safety checks...and then help our subscribers mimic their success.
As Rahul Shah puts it...
You don't need to waste time reinventing the wheel. Some intelligent and wise geeks out there have already figured it out for you. Just pick the best ideas, role models, and systems, and let your 'mirror neurons' do the magic.
Over the last few days, Rahul and some of my colleagues have written to you about our new momentum-based investing strategy called Profit Velocity...how it has given 114%, 121%, and 226% in a year or less in our backtests...and how it beat the Sensex 5:1 during our ten-year backtest period.
Read that last line again. There is no typing error. It's indeed a strategy that beat the benchmark index 5:1. I'm sure your mirror neurons are excited to mimic this superior performance.
The time to act is right NOW. For two big reasons.
One, we're releasing our first Profit Velocity report today. The report will contain two recommendations based on the momentum investment strategy.
Two, in a few hours from now, we're closing our Founder Member offer, which gives you a whopping 60% discount on the normal price.
This is your best chance to stop reacting...and start acting on one of the most successful investing strategies we've ever developed.
Remember: Great ideas don't knock on your door every day.
Profit Velocity is an outcome of Rahul Shah's many years of research into behavioural finance and developing intelligent strategies to help smart investors beat the herds.
For more than eighteen months, Rahul and his team have been painstakingly researching, developing, testing, and fine-tune this strategy. After all, you want a strategy that has a strong chance of being successful, don't you? And if you know Equitymaster, you know we're doubly cautious about capital preservation.
The bottomline is that Profit Velocity could generate double and triple-digit returns from stocks...not in years...but potentially in a few months to a year.
Our Founder Member offer ends MIDNIGHT tonight. That's just a few hours from now. I really don't want your mirror neurons to miss out this big opportunity to mimic a proven investing strategy.
02:30

Chart of the Day

Simmering discontent between the founders and the current board is adding fire to the speculation that IT giant Infosys may be following in the footsteps of the Tata Group fiasco. And one of the bone of contention seems to be that Narayan Murthy is unhappy with the flexible and generous variable pay of chief executive officer (CEO), Vishal Sikka. Vishal Sikka, appointed in August 2014, has seen a 11 folds jump in his take-home salary (including bonus and incentives) to Rs 487.3 million in FY16. In fact, Sikka draws the highest salary amongst the current lot of CEOs of large and mid-sized IT companies.

There is no denying that the Infosys CEO has steered the company out of a slowdown at a time when the sector itself is grappling with tough business environment. And Donald Trump's stringent laws on HI-B visa are likely to further raise the heat particularly as Indian IT companies derive a significant share of revenues from the US. However, a look at the piling cash flows of IT companies shows that shareholders may be getting a raw deal in this.

As per a report in Livemint, large IT companies have witnessed a marked rise in incremental cash and investments as a share of free cash flows in the past six years. This share was over 20% for Infosys, TCS and HCL Tech, whereas for Wipro the share shot up to over 45%. However, the cash returned to shareholders in the form of dividends and share repurchases as a share of free cash flows stood well below 70% over the same period. So while the founders may be unhappy with Vishal Sikka cornering a meaty paycheck, they actually should be rallying around the pile-up of cash flows that is depressing returns for shareholders.
Vishal Sikka, the highest paid CEO in IT industry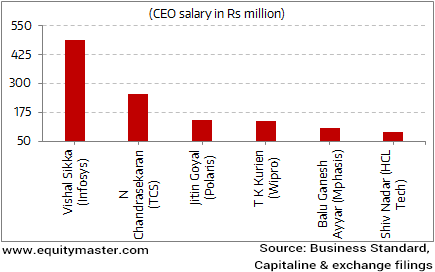 Rising bond yields may be bad news for banks that are still not out of the woods. The Reserve Bank of India has kept interest rates unchanged in the last two monetary policy reviews. As a result, the yields on 10-year government securities that had been sliding have suddenly taken a U-turn and are on a firm uptrend.
Now bond yields and prices have an inverse relationship. Thus while gains on the treasury book were partly shielding bank earnings from subdued growth in net interest income and higher provisioning expense against bad loans in the past, this buffer may not be available going ahead. With credit demand yet to recover and bad loan resolution still not fully gaining traction, profits of public sector banks are likely to come under pressure in future.
After opening the day on a positive note, Indian equity markets are trading flat. At the time of writing, BSE Sensex was trading higher by 32 points and NSE-Nifty was trading higher by 18 points. While the mid cap index is trading down by 0.1%, the small cap index is trading up by 1.7%. Banking, and metal stocks were the biggest losers.
04:50

Investing Mantra

"We don't have to be smarter than the rest. We have to be more disciplined than the rest." - Warren Buffett
Today's Premium Edition.
The Budget's Long-Term Impact on Pharma
The promotion of generics in domestic market could have far-reaching effects on the Indian drug industry.
Read On... | Get Access
Recent Articles