The 4-Point Plan to Accelerate India to a 10 Trillion Dollar Economy
Feb 12, 2019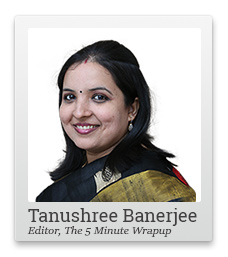 How soon do you think India's GDP could touch US$ 10 trillion?
If you were the Prime Minister of India, what would you do to accelerate the GDP's race to 10 trillion dollars?
These are two questions I have been eagerly waiting to ask you ever since Budget 2019 was announced.
For the first time ever, India's fiscal planning went beyond taxes and referred to a plan to get India to a 10 trillion-dollar economy. I wondered if my readers thought the plan was plausible or would require some twists.
Well, I will eagerly await your replies.
Narayana Murthy, the doyen of India's IT industry and co-founder of Infosys, was asked these very questions in a recent interview.
His replies were so succinct and thought provoking that anyone who wishes to see India's GDP race to 10 trillion dollars, should take note of them.
In his trademark style, Mr. Murthy laid down the steps India must take to quadruple its GDP, as a 4-point plan.
Cultural Transformation
India's economic transformation may not be possible without a cultural transformation. Indian leaders, be it in the government or civil society, must strive to make honesty, hard work, discipline, courtesy, trust, and social justice deeply ingrained in their culture.
Most developed economies have adopted these cultural aspects in their everyday lives. Without these changes, it may not be possible for Indian government, bureaucrats, and corporates to achieve the targets that they have set out for a 10 trillion-dollar economy.
I completely agree with Mr. Murthy on this. A government with corrupt officers and companies with corporate governance loopholes can be the biggest leakages to economic growth.
Growth of Exports
Being the flagbearer of one of India's biggest export sectors, it is understandable that Mr. Murthy believes in sharp growth in export revenues. According to him, without it India cannot achieve the kind of success that Japan or China did.
However, given India's growing consumption demand and lesser dependence on imports in future, export revenues may not be critical.
Quality of Education
Mr. Murthy recounted how college graduates in India lack independent thinking and the ability to apply their technical knowledge. This is why the employability of even engineering graduates in India is extremely poor.
For India to truly capitalise on its demographic dividend, improving the quality of education and employability of educated youth, are non-negotiable.
Corporates looking to create jobs could, partner with government and private sector educational bodies to create the desired work force.
Aggressive Job Creation
The aggressiveness with which American bureaucrats approach Indian IT companies to create jobs seemed lacking to Mr. Murthy, amongst Indian politicians.
For India, given the limited ability of PSUs to create jobs, the focus should be on ensuring ease of business for private sector, especially startups. Availability of capital, quality workforce, and limited red tape could fuel the kind of job creation that India needs.
Now, for investors looking to buy stocks that will ride the GDP's accelerated growth to US$ 10 trillion, the focus must be on companies that are adapting to the social needs.
That means they should have a disciplined and honest work culture at the core. They should focus on building and hiring quality workforce. They must ensure their capacity expansion creates sufficient number of jobs.
I kept all these in mind while recommending the 7 Stocks that are Set to Benefit from Rebirth of India.
Chart of the Day
As you may already know, I call the transformation of Indian economy from a 2.9 trillion dollar to a 10 trillion-dollar economy, the Rebirth if India.
And one of the key elements of the Rebirth of India is financialisation.
India's financialisation and financial inclusion literally started with Jandhan.
On 28th August 2014, the Indian Prime Minister launched an ambitious financial inclusion programme called the Pradhan Mantri Jan-Dhan Yojana (PMJDY).
The aim of this programme was to bring 7.5 crore low-income households under the banking net. So far, the programme has already got around 34 crore accounts.
Nearly 34 Crore Accounts Opened Under Jandhan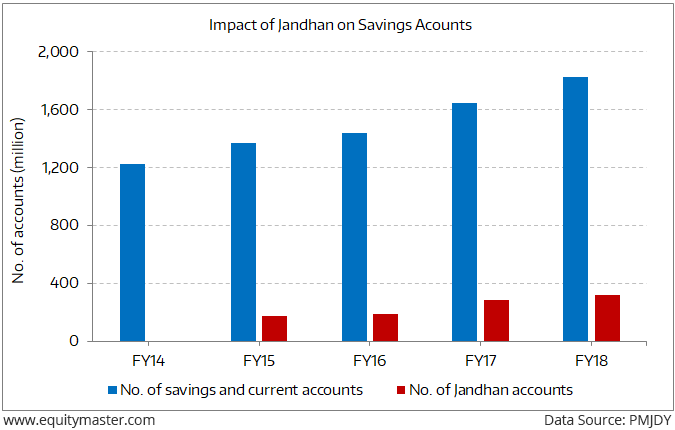 More importantly, the Jandhan data shows, the balance in Jandhan accounts is set to touch Rs 90,000 crores!
Well, the Rebirth of India truly cannot be possible without millions of poor Indians having access to debit cards, loans, insurance, and even pension.
And Jandhan has opened up new avenues for them that didn't exist before.
Warm regards,



Tanushree Banerjee (Research Analyst)
Editor, The 5 Minute WrapUp
Recent Articles