A Megatrend to Help You Find the Best Stocks of the Next Decade
Feb 12, 2020
Editor's note: Join India's #1 trader, Vijay Bhambwani, on Telegram! Get his latest views on how to make fast profits, his Behavioural Approach to Trading (BEAT) System, and a lot more... on the Equitymaster Telegram Channel. Join our Telegram channel here!
---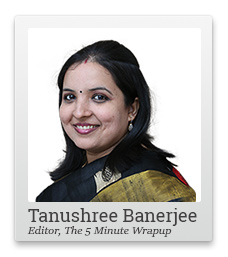 How do you define a megatrend?
Is it a trend that has just caught everyone's attention?
Or is it a trend that will play out over 2-3 years?
The way I look at it, a megatrend plays out over a decade or more.
Whenever I write to you, dear reader, it's always about the big profits you can make in a decade.
Why?
When you look at fads or small trends over 1 to 3 years, timing becomes the key aspect of making big profits.
If you catch these trends towards the end, it won't fatten your wallet. On the contrary, if the trend reverses, you could lose money.
But it's a different story with megatrends...
I am looking ahead at a picture of India 10 to 15 years down the line. That's how I identified the 50 megatrends of the Rebirth of India.
As long as I get these megatrends right, the timing won't matter. Even if I am one year early or late in picking a stock, it's okay because the wealth creating opportunity in the long-run is huge.
Also, these megatrends tend to start small. In the initial stages, they're mostly ignored. Then a few people start noticing them. Some people might dismiss certain megatrends as fads.
But slowly and surely, they become obvious to everyone.
And then one day... no one can ignore them anymore.
I am seeing a megatrend across the globe these days.
It's the megatrend related to climate change and sustainable living. It started with a few activists raising their voices on the issue but gradually, people have started to notice.
It has now snowballed into something huge.
The Australian bushfires was a wake up call. Now we're facing the coronavirus crisis spreading across the globe. In fact, the Time 2019 person of the year was a 16 year old teenager who had spoken on climate change.
Even back home, pollution in India's major cities like Delhi has been a major talking point.
The Swacch Bharat Abhiyan by Prime minister Modi is also a step in this regard.
How do you then dear reader, benefit from this megatrend? Will the stocks you hold benefit when this trend catches up in a big way?
The benefits can be two-fold. One, if the stock you own scores high on ESG - Environmental, Sustainable, and Governance - and if its peers don't, then it will have an edge in attracting investors.
We saw this with Indian chemical companies 3-4 years ago. With an environmental crackdown in China, Indian chemical companies benefited as vendors searched for alternatives.
On the other hand, you should also evaluate your businesses for this key risk.
Will the stocks you own get affected when this trend catches on in India in a big way? Will stricter environmental regulations impact your portfolio?
We are already seeing the electric vehicle threat to traditional automobile companies.
I expect this megatrend to snowball into something huge over the next decade. And we will see many such opportunities and disruptions.
These are the kind of themes I look for while selecting my Rebirth of India stocks.
I'm specifically looking for trends which, when they play out, will turn into huge stock-specific wealth creating opportunities for a decade or more.
These are the stocks I will recommend to my StockSelect subscribers.
Warm regards,

Tanushree Banerjee
Editor, The 5 Minute WrapUp
Equitymaster Agora Research Private Limited (Research Analyst)
PS: I believe NOW is the right time to buy the 7 best stocks to profit from the Rebirth of India. Read about my top 7 stocks here.
Recent Articles