Don't Be Afraid of the Market; Buy Stocks Like This One
Feb 14, 2019
The time that has passed since the start of 2018 has opened every investor's eyes.
If you look at the BSE-Sensex and Nifty-50 index, you'd ask, 'What's the problem? They are up in the green. Where's the correction?'
You'd be right. The frontline indices are up about 8% since the start of 2018.
Now or Never:
Access Details of the No. 1 Small Cap Stock of 2020
But, two observations here...
First, only a few stocks - HDFC Bank, HDFC Ltd, Reliance, TCS, and, Infosys - contributed to the rise of the frontline indices. If you remove them, the picture is quite different.
Second, the frontline indices hide the realities of the entire market. The Midcap and Smallcap indices are down 20% and 30% respectively since 2018.
With this, the markets have witnessed a huge divergence. Tanushree rightly called it a two-faced market.
During such times, understanding basic market psychology is very useful.
Consider this:
Net inflows of investments into mutual fund equity schemes have hit a 24-month low in January.
The steady increase in redemptions further increased in January.
The latest data shows a marginal increase in inflows through the SIP route over last month. However, the growth rate has slowed down.
Clearly, the first signs of panic are visible now.
But it is precisely such times which separates winners from the losers. Simply put, in this kind of market winners buy and losers sell.
--- Advertisement ---
The 1 Stock to Buy Now

Small cap gurus and research analyst, Richa Agarwal, has zeroed in on what she believes could prove to be The No. 1 Small Cap Stock of 2020.

It's a stock that she has been tracking for years...and now that it's available at a price she really likes, she is going all in.

Like we said, she calls it her No. 1 Small Cap Stock for 2020.

Read all about it here...
------------------------------
All this volatility has created a fertile ground for stock-picking with a huge potential upside.
Yesterday, I wrote to you about a real estate company we recommended in Smart Money Secrets.
It's a good example of a high-quality stock, with potential triple-digit upside, that's available today at a great price.
In 2018, this stock saw a sharp correction.
The typical view on the street is to stay away from such stocks.
Ignore the street. Take a contrarian view. As I said, it offers a huge potential upside.
Why?
As I wrote yesterday...
The company is showing good signs of revival.

Its booking numbers are improving.

Its inventories are falling.

It's not dependent on NBFC loans.

What makes this company stand out, in a very risky industry, is its conservative management which believes in the timely delivery of projects.

Further, it does not depend solely on its land bank but relies on customer goodwill to expand.
There is also a lot of reduction in supply due to some players going out of business. Similarly, there is a reduction in new launches. This will help the strong incumbents.
India's real estate industry is notorious for lack of transparency.
Delay in completion of projects, a diversion of funds towards establishing new projects rather than finishing the ongoing ones are just two out of many reasons.
That's not the case with the company we recommended. I'm happy to report; the business is performing as per our expectations.
The management is focused on delivering existing projects despite facing tough times. This has created a strong brand name and goodwill for the company.
Even the government understands the pain in the real estate sector. The support in the form of tax concessions and rebate would help to revive demand.
What about the downside?
The stock is available at attractive valuations. In fact, it is currently trading at a discount of 43% compared to its last nine years average valuations (details in today's chart of the Day).
As the saying goes... 'Hard times are like washing machines. They twist us, spin us and knock us around, but in the end, we come out cleaner, brighter and better than before'.
No doubt, the time has come to look at such companies.
Happy Investing!
Chart of the Day
As mentioned earlier, the real estate stock we recommended is currently trading at a great level and according to us offers triple-digit upside.
We valued the company based on its price to book. Today's chart shows the price to book multiple from 2010.
This Great Business is Trading at a Discount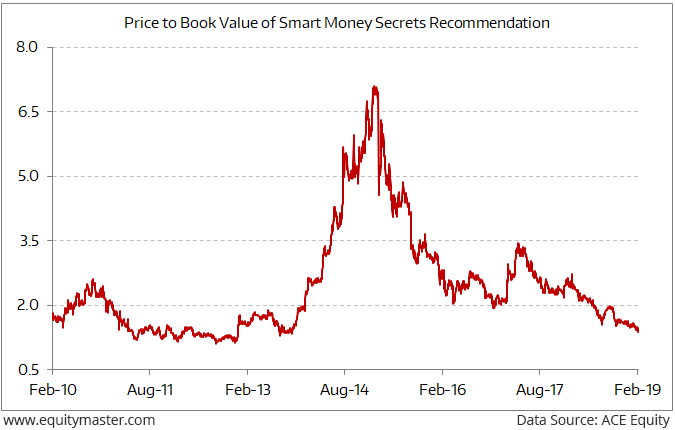 Currently, the stock is trading at 1.4 times price to book. That is a discount of 43% compared to its last nine years average valuations.
What's more, its total asset base (which includes land, unsold inventory and cash & cash equivalent) is more than the current market capitalisation (at market value).
This gives further safety from the downside perspective.
Smart money Secrets subscribers can click here for the recommendation report.
If you haven't subscribed, you can access the report by signing up here.
Regards,


Sarvajeet Bodas (Research Analyst)
Co-editor, Smart Money Secrets
PS: According to Sarvajeet Bodas and Radhika Pandit, co-editors of Smart Money Secrets, this real estate stock offers triple-digit upside from current levels and it's in the buy zone today! If you haven't subscribed to Smart Money Secrets yet, you can get access here.
Recent Articles