What Do Fortis Healthcare and Vakrangee Have in Common?
Feb 15, 2018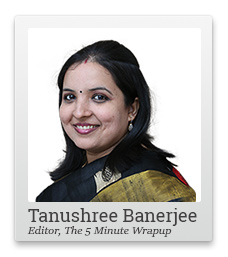 This is not a good time to be a shareholder in Fortis Healthcare Ltd.
It's not because of the recent market correction. Or even because its business is absolutely terrible.
It's because its management integrity is highly questionable.
The Singh brothers - Malvinder (former CEO of the erstwhile Ranbaxy) and his brother Shivinder have allegedly siphoned off money from the company.
The auditors, meanwhile, have refused to sign off on the quarterly results unless they receive an explanation. Hence, the delay in the company results.
The stock market regulator has started probing the company.
The Singh brothers have been in the headlines for all the wrong reasons earlier too.
The fraud at the erstwhile Ranbaxy and the legal suit filed by the Japanese company Daiichi Sankyo against the brothers is a classic case in point.
That's not all.
Earlier this month, I wrote to you about Vakrangee Ltd.
"Like I've often told you, I would rather ensure that you sleep well...reassured that you are building wealth with quality stocks.

Buying 'no-moat' companies at rich valuations is one of the most certain ways of losing capital.

Unfortunately, dear reader, Vakrangee is just one of the multibagger stocks that are currently in limelight for the wrong reasons. There are several others bound to go the Vakrangee way in this market crash.

Do not get carried away by skyrocketing numbers..."
At last week's Equitymaster Conference, I spoke about Vakrangee and why I was more than happy to entirely miss this multibagger.
Something about the business just did not seem right. Although you would not think that just by looking at the numbers.
Once the regulator started probing the company, Vakrangee's stock fell 62% in just 2 weeks!
We all know the importance of evaluating management quality in investing. But many a time, this is taken for granted, or even forgotten.
Only when corporate governance issues start brewing = does the integrity of the management come to the fore.
The stock usually crashes.
Fortis: Down to Early 2015 Levels
Now here's the million-dollar question - how do you evaluate management quality?
It's not quantifiable. You can't measure it on a scale of 1 to 10.
But you can get a good idea by looking at the company's history.
Here are some pointers:
How does the management use the company's funds?

One good way is by consistently paying dividends. But this come out of the cash from the company's operations and not through borrowings. Also, the company will need funds to meet its capex plans. But are these capex plans for the company's core business and in line with its overall growth strategy? These are just some of the questions investors need to ask themselves.

How has the company's past performance shaped up?

Past performance is a good indicator of how well the management has steered the company...through good times and bad. Indeed, a good management needs to be proactive and must respond quickly to changes, competition, opportunities, and threats. Plus, it needs to have the ability to weather the storm when times are bad.

Do they treat shareholders well?

This can be gauged by looking at the return ratios such as return on equity and return on capital employed. The higher these ratios are, the higher the shareholders are being rewarded. Has the management taken any action in the past that was not in the interest of minority shareholders?
There are no two ways about it.
For me, management integrity is crucial.
I recommend only strong, safe, blue-chip stocks to my subscribers.
If I am not convinced about the management, then the stock is just not safe enough.
I believe, management quality is so important, you cannot afford to ignore it.
In fact, it's something you must to keep in mind at all times when investing and not only when these issues grab news headlines.
Banks NPAs and Provisions Set to Rise as RBI Overhauls
the Resolution Framework
The Reserve Bank of India (RBI) has tightened the bad debt resolution framework by scrapping numerous loan restructuring programmes. This includes the likes of strategic debt restructuring scheme (SDR), Joint Lenders' Forum (JLF), Corporate Debt Restructuring Scheme, and Scheme for Sustainable Structuring of Stressed Assets (S4A) that's prevalent among banks to restructure defaulted loans. The RBI replaced all these schemes by the Insolvency & Bankruptcy Code (IBC).
With this, a loan worth over Rs 2.8 trillion, with payments outstanding for 60-90 days, carry the risk of slipping into the category of non-performing assets (NPA). This will result in a surge in NPAs and may put additional pressure on the banks to make provisions.
NPAs Set to Rise Further with New RBI Rules
The new framework specifies that banks must report defaults on a weekly basis in the case of borrowers with more than Rs 50 million in bank debt. Further, for accounts with an exposure of Rs 20 billion or more, banks will have to put a resolution plan in place within 180 days after a default has been noted. If the resolution plan is not implemented within 180 days, the account must be referred to the IBC within 15 days.
The strict timelines could mean that a larger number of accounts will go into insolvency. Haircuts that banks may need to take and the probability of liquidation in some accounts may also rise. Similarly, under the new scenario, corporate lenders, which have already been under pressure due to rising bad loans and increased provisions, could take another hit.
The new framework is expected to help with early recognition and resolution of bad loans. While this may be positive for the banking sector in the long run, in the short run, banks may come under additional pressure.
Crude Oil Falls 10% in February on Higher US Production
Moving on to some good news. Crude Oil prices have corrected by about 10% in February. Rising US oil production and crude stockpiles, as well as a stock market sell-off, heaped pressure on oil prices this month.
Domestic US output has increased by more than 20% from the most recent low in mid-2016. Last week US crude oil production, driven by shale extraction, touched 10.2 million barrels per day, according to government data. This is the highest level since the early 1970s and close to the output of top producers Russia and Saudi Arabia.
Lower crude prices bring plenty of benefits to India, which imports most of its oil requirements. Low oil prices would result in lower inflationary pressures. This will have a positive effect on the current account. If oil goes below US$60 a barrel, then India's fiscal situation will dramatically improve.
It will be interesting to see how the OPEC and Russia react to the increasing oil supply from the US in the coming days. Since, in late 2016, OPEC secured a deal with Russia to cut oil production. They have extended the agreement twice, which is set to expire at the end of this year.
What the Markets Look Like Today
Indian equity markets opened the day on a positive note. At the time of writing, BSE Sensex was trading higher by 253 points and NSE-Nifty was higher by 84 points. The BSE Mid-Cap and BSE Small-Cap Indices were trading up by 0.7% and 0.4% respectively. Stocks from the auto and banking are among the gainers.
Regards,


Tanushree Banerjee (Research Analyst)
Editor, The 5 Minute WrapUp
PS: You don't need to take unnecessary risks to make solid double or triple digit gains in the stock market. We have just released a premium report recommending the top 5 safe stocks. Get it here...
Investment Mantra of the Day
"When a management with a reputation for brilliance tackles a business with a reputation for bad economics, it is usually the reputation of the business that remains intact." - Warren Buffett
Recent Articles