How to Buy the Stocks that Make Super Investors Rich
Feb 15, 2019
What do these three stocks have in common - Symphony, CCL Products, and TVS Srichakra?
They're all part of the portfolios of some of the 40 super investors we track.
But there is another element that binds them together.
These stocks have grown at 26%, 26% and 29% compounded in the past five years respectively.
These are very strong growth rates.
Many super investors raked in the moolah from growth stocks like these as they became multibaggers.
But here's the most interesting thing...
There is a general perception that growth and value investing are two different styles of investing.
I don't agree.
In fact, many big investors - both internationally and in India - do not think that way.
Many super investors we follow, as well as our own team, strongly believe in choosing companies that have robust financials, quality managements, and available at reasonable valuations. These are the classic hallmarks of value investing.
But growth also enhances the value of any company. And as such cannot be considered separately.
Here's what the legendary investor Warren Buffett had to say:
In our opinion, the two approaches are joined at the hip: Growth is always a component in the calculation of value, constituting a variable whose importance can range from negligible to enormous and whose impact can be negative as well as positive.
This statement carries a lot of meaning. It tells us that growth must be considered while arriving at a company's true value.
But not all growth stocks can be put in one basket. There are good growth stocks and there those which are value destroyers.
Take airlines for instance. The growth potential in this sector seemed immense, but airline companies have destroyed value for shareholders. High debt and low returns on capital have been the culprits.
But companies across sectors, which have grown consistently because of strong business models, requiring low debt with healthy returns on capital, have seen their stock prices appreciate. These stocks have rewarded shareholders immensely.
So, you see growth and value investing are certainly not as different as chalk and cheese. One is incomplete without the other.
The key to making money from growth stocks is not to invest in any growing company under the sun, but to take the trouble to identify the quality ones among them.
This is what I've been doing with the help of my team recently.
And I have developed a breakthrough system that will help me identify such stocks.
I will reveal all this and much more in the upcoming "The Power Profits" summit.
The summit will start at exactly 5 pm on 26th February 2019.
I look forward to seeing you there.
Chart of the Day
Stocks such as Symphony, CCL Products, and TVS Srichakra have posted healthy growth rates in the past. This is because they have been able to run their operations efficiently without relying on too much on debt and have also generated strong returns on capital. Consequently, shareholders have benefitted immensely.
These Growth Stocks Have Rewarded Shareholders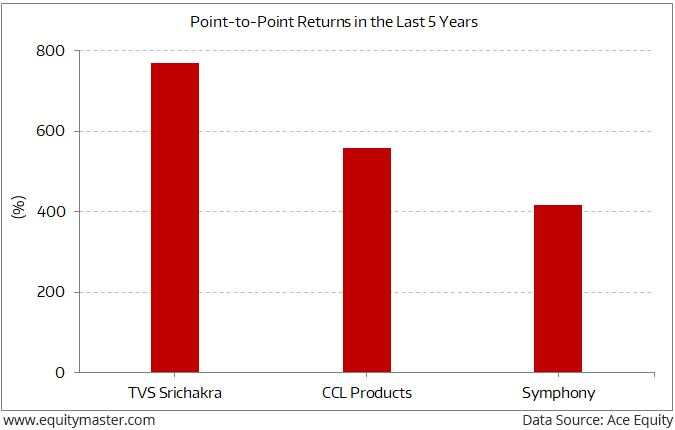 Warm regards,



Radhika Pandit (Research Analyst)
Co-Editor, Smart Money Secrets
PS: Radhika Pandit and Sarvajeet Bodas, co-editors of Smart Money Secrets, are ready to recommend their next stock. If you haven't subscribed to Smart Money Secrets yet... you can do so here.
Recent Articles