Buffett Does the Unthinkable, Loads Up BIG on Airline Stocks
Feb 16, 2017
In this issue:

» Performance of Indian airline Stocks
» The main reason behind the current strong US stock market
» A roundup of the stock market
Turns out, Warren Buffett spent the December quarter doing something Buffett aficionados would consider unimaginable.
He poured upwards of US$2 billion a piece into the four largest US airline stocks - American Airlines Group Inc, Delta Air Lines Inc, Southwest Airlines Co, and United Continental Holdings Inc. This takes his total investments in these companies to a mammoth US$9.2 billion or so as of December 2016.
This, for a guy who has in the past lost no opportunity to call the airline industry the worst kind of business out there. Here's what he once said:
The worst sort of business is one that grows rapidly, requires significant capital to engender the growth, then earns little or no money. Think airlines. Here, a durable competitive advantage has proven elusive since the days of the Wright brothers. Indeed, if a farsighted capitalist had been present at Kitty Hawk, he would have done his successors a huge favor by shooting Orville down.
So, what has changed?
Buffett himself has been quite tight-lipped about his rationale for the airline investments. But there are clues around.
For one, Buffett is not the one to invest based on cyclical factors. He is not going to invest such large amounts of money in airlines on predictions of say a near-term fall in jet fuel prices or a rise in profits next year.
With the kind of investing philosophy Buffett has, for him to change his mind, the industry would require a structural shift that promises a sustainably profitable future. On that count, the US airline industry does seem to be in a different shape than, say, a decade back. It has gone through a raft of consolidation, and there seems to be a newfound emphasis on efficiency and profitability.
Also, Berkshire Hathaway's size means Buffett's universe of potential investments narrows further every year. Airlines may still not be the 'best' investment out there. But from the small sample size Buffett can pick from, the structural changes and current prices of airline companies could make them 'not that bad' as investments after all.
We can hardly say the same about the airline industry back home. Cutthroat competition and frequent rock-bottom fares have meant airlines here in India continue to earn less than they spend. Here, take a look at the long-term profitability of the Indian airline industry: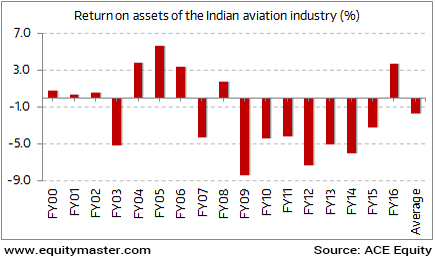 And we've had to take return on assets (ROA) rather than return on equity (ROE) as the profitability measure because Indian aviation companies, put together, have spent a large part of their lives with negative or negligible net worth, rendering ROEs quite meaningless.
That Buffett has stopped treating airlines as a pariah of his investment world does not mean you should too. Given the handicap of Berkshire's size along with a few structural changes in the US airline industry, these investments may make sense for Buffett in his current situation.
As for us, for now, we see absolutely no reason to change our negative stance on the Indian aviation industry.
--- Advertisement ---
Make 2017 the Best Year Yet

There are various approaches to trading stocks. But few work.

Our top chartist, Apurva Sheth (Research Analyst), believes he has zeroed in on an approach that has real potential, especially in 2017. In fact he has revealed full details of this strategy in his latest special report:

How To Boost Trading Profits in Four Easy Steps

If you want to make 2017 a great year for your trading portfolio, we recommend you read this report right away.
------------------------------
02:35

Chart of the Day

While Buffett has taken a fancy to US airline stocks, their Indian counterparts aren't exactly setting the bourses on fire. As today's chart of the day highlights, all the listed airline companies in India have underperformed the benchmark index over the last one year. In fact, only one stock, Interglobe Aviation, has been able to give a positive return.

It can of course be argued that the very fact that these stocks have underperformed could now turn them into potential future winners. After all, things revert to the mean, don't they? Of course they do. But the principle is applicable to companies that are efficiently run, have strong balance sheets and are only victims of an economic downturn or the downturn in the industry. But when companies have negative networth like both Jet and SpiceJet do and also have balance sheets loaded with debt, it is usually a good idea to stay away from such companies rather than invest in the hope that things will indeed turn around one day.

If they haven't all these years, there's a very small possibility that they will in the future. And one shouldn't bet too much money on a scenario that with little or no upside and the downside that can go all the way to possible bankruptcy.
Indian Airline Stocks Underperformers in Last One Year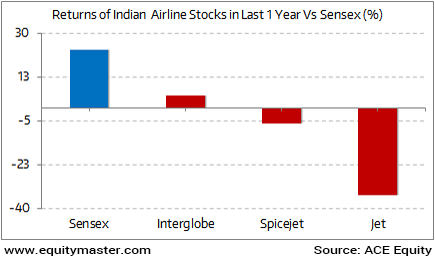 If the stock markets are going all guns blazing, chances are the economy is also doing well. And the reverse is also true. A weak economy is not a good sign for stocks. While the correlation shows itself up with a little bit of lag, it is usually true in our view. However, something strange seems to be happening across developed nations, especially the US. Peter Schiff, a noted financial commentator has argued that the main reason behind the current strong US stock market is a weak US economy. Yes, you heard that right. While the comment is indeed confusing, dig deeper and it may not sound all that strange after all.
The current weak economy is the reason the US Fed has kept interest rates low for so long and it is precisely these low rates that are forcing people to pile into stocks in search for better yields. But shouldn't interest rates be set by market forces. Well, that link has been broken long back and the entire economy is now swimming in artificially manipulated waters of low interest rates. And even though the Fed might raise rates as per Schiff, inflation rates will rise faster, which will eventually lead to a fall in dollar as a significant correction in stocks.
Take a look at these returns.
18.24% in 19 days...
15.79% in 6 days...
11.15% in 10 days...
Impressive?
Well, for most traders these are indeed. Probably for you too.
But for Apurva, they're disappointing. Now don't get me wrong. This is not a case of sour grapes. These are in fact the returns that he has generated for his Swing Trader subscribers.
And that's because there is a way to score even higher returns than what he has already achieved. Yes, Apurva has a proven process that could seal even higher returns.
He has revealed this process in this simple and easy to read report. You can download this special report How to Boost Trading Profits in Four Easy Steps which is worth Rs 950 for free.
I've been told that more than 4,000 readers have signed up to download this guide in less than 48 hours of its release.
I am sure you don't want to miss it. Download now.
Indian stocks traded strong today with the Sensex higher by 164 points at the time of writing. Both the BSE Mid Cap as well as Small Cap indices were also trading strong and were placed higher by 0.7% and 1% respectively. IT and real estate stocks were seen receiving the maximum buyer interest.
04:55

Today's Investing Mantra

"The key to investing is not assessing how much an industry is going to affect society, or how much it will grow, but rather determining the competitive advantage of any given company and, above all, the durability of that advantage." - Warren Buffett

This edition of The 5 Minute WrapUp is authored by Rahul Shah (Research Analyst).
Today's Premium Edition.
Just Dial up 17% This Month... Should You Be Interested?
This is why Just Dial deserves to be on your watchlist.
Read On... | Get Access
Recent Articles