The Blueprint for Sensex 100,000
Feb 20, 2018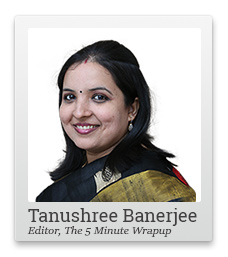 Investment risk comes primarily from too-high prices, and too-high prices often come from excessive optimism and inadequate skepticism and risk aversion - Howard Marks
This quote is from a memo that Marks sent out to his investors just before the crash of 2008.
My presentation at the Equitymaster Conference this year was not about Sensex 100,000.
It was about the chances of a possible 30% correction that I see in the benchmark index. Like many investors, I idolize (Buffett and Marks).
But I need to make sure that my readers and subscribers, like you, who are on a journey with me, see things the way I do.
So, a good part of what I had to say at the Conference, was about the market correction. And the reasons why it could be sharper, if not longer, than most of us expect.
But I did not want to stop at that. Also, I don't want you to feel distressed after reading this.
Any journey in stock markets is bound to be littered with jerks and bumps. Those who navigate them well will make a lot of money.
That brings me to the foundation for Sensex 100,000.
Several Moving Parts
The Sensex moved up from 3,500 in 2002 to 35,000 in 2018.
in other words, the Sensex moved up 10 times in 16 years.
Also, the index has moved up 4 times in the last 10 years.
It was never a continuous joy ride. There were several bumps along the way. Some small and some big.
But at the end of the day, investors who managed to stay put, compounded their returns at about 15% per annum.
So yes, there are several moving parts to the Sensex' journey ahead. Many questions need to be answered.
Will the earnings growth of Indian companies catch up?
Can the current valuations sustain?
Will the market remain flush with liquidity as US interest rates rise?
Irrespective of these, going by the principles of reversion to the mean, one can assume that the Sensex EPS will grow at the rate of at least 15% per annum, over next 10 years.
Also, the index will fetch a valuation of at least 18 times, which is its long-term average.
If just these two assumptions hold true, the Sensex could be perched at nothing less than 100,000 by 2028.
Road Ahead is Not Devoid of Jerks and Bumps
Critical 3 Ms
But investing in stocks is not about index gazing. Not at all!
My blueprint for Sensex 100,000 is not about counting on index stocks. Rather it's about keeping your eyes peeled for the '3 Ms' in out of favour stocks.
Businesses that enjoy wide Moats are typically the most favoured. So, they naturally fetch steep valuations. But at times, few of these get undervalued due to a temporary distress. At such times, the balance between their moat and margin of safety make them safe wealth creators. Time to latch on to them!
Margin of Safety in Dividends is something that even the most seasoned value investors, at times, ignore. For they keep their eyes on the stock valuations. But logically, stocks that consistently offer healthy dividends are the best bets for staying in the markets even in the most difficult times.
Meaningful Change in a Business Model becomes evident to most investors only when it's too late. That is by the time the market sufficiently prices in the improved business model, pricing power, sustainability etc. Therefore, the chances for fetching big returns are limited. However, catching such potential winners early on is one of the best recipes for beating the index.
But what are the chances of going wrong on the stocks that could get you to Sensex 100,000?
Stay tuned for my next issue...
Gitanjali Gems - The Fool's Gold
Since time immemorial, the lure of gold has seen mankind fight wars, travel across continents, and risk lives. Its "safe-haven" status during a crisis is unparalled throughout history. But did you know that there exists an iron-based mineral, pyrite, that is yellow and shiny like the real gold and is available in mass quantities?
Unlike the real gold, the mineral lookalike hardly has any intrinsic, social, or market value. However, its deceptive appearance has fooled many into believing that they have stumbled upon a gold mine, just like Gitanjali Gems, a stock that has fallen from grace yet again.
Most investors in stock markets suffer from short-term memory. The past debacles are quickly forgotten with investors making a beeline for dud stocks, only to burn their fingers repeatedly. Back in July 2013, after the stock of Gitanjali Gems had slumped on charges of market manipulation by its promoters, it was being lapped up by institutional investors hoping to cash-in the long run.
And we had stuck our necks out, warning investors that Gitanjali Gems' shiny exterior is a sham. Being in a working capital business of importing gold and exporting jewellery, regulatory restrictions on gold imports in FY13 pushed the company in deeper debt. But the company's weak management, integrity, and ethics were completely unacceptable to us. Therefore, despite Gitanjali Gems attracting institutional interest during the gold rally, we had clearly asked investors to steer clear of this value-trap.
Gitanjali Gems, the Fall Guy
The stock of Gitanjali Gems has nosedived on several occasions since 2013, eroding market capitalisation by over 80%. Its promoter's role in aiding Nirav Modi carry out one of the biggest frauds in the banking history has damaged the stock's position and credibility. Reportedly, Gitanjali Gems and its two subsidiaries fraudulently acquired letters of undertaking and letters of credit worth Rs 48.9 billion issued through Punjab National Bank.
It has emerged that Gitanjali Gems' receivables position has been outstanding far longer than that allowed by the RBI. Auditors have pointed out the overdue loans/debentures and overdrawn working capital limits by the company in the latest annual report. In fact, the company has said that it does not even have funds to honour debenture redemption liability of as low as Rs 14.8 m. Connecting the dots in the aftermath of the fraud undoubtedly confirms that the dubious management is responsible for the company's downfall, something we had seen coming long back. Clearly, management integrity is one aspect that shareholders cannot afford to compromise in their frenzy to ride the bull run.
What the Markets Looked Like Today
Indian equity markets opened the day flat. At the time of writing, BSE Sensex was trading higher by 27 points and NSE-Nifty was up by 1 point. Both the mid-cap and small-cap indices are trading marginally lower. Stocks from the metal and capital goods sector are the biggest gainers.
Regards,


Tanushree Banerjee (Research Analyst)
Editor, The 5 Minute WrapUp
PS: You don't need to take unnecessary risks to make solid double or triple digit gains in the stock market. We have just released a premium report recommending the top 5 safe stocks. Get it here...
Investment Mantra of the Day
"For some reason, people take their cues from price action rather than from values. What doesn't work is when you start doing things that you don't understand or because they worked last week for somebody else. The dumbest reason in the world to buy a stock is because it's going up." - Warren Buffett
Recent Articles