Our Next Stock Recommendation Has Scored 9.5/10
Feb 20, 2019
I was once asked what kind of stocks we recommend in Smart Money Secrets.
My short answer was, stocks of high-quality companies.
We don't care about things like market cap. We recommend large caps, mid caps, and small caps.
Just look at our last recommendation. It was a blue-chip stock.
This month, we're recommending a small-cap stock.
Going Live Today:
India's #1 trader reveals how to profit during the Corona Crisis.
It's the quality of the business (reflected in financials) and management (reflected in shareholder-friendly behaviour) that defines the quality of the company.
We have the market correction to thank for these recommendations. It has provided an overwhelming abundance of choices.
Otherwise, these companies would have remained on our watchlist.
Finally, many high-quality stocks are moving into our buy zone.
This may seem like a good thing. But it isn't.
In his book, The Paradox of Choice: Why More Is Less, psychologist Barry Schwartz makes a counterintuitive case.
He says, eliminating choices can greatly reduce the stress, anxiety, and busyness of our lives.
We also follow this same philosophy in Smart Money Secrets.
In this process, our own proprietary tool - Smart Money ScoreTM - plays a major role.
First, this tool helps us reject companies with cooked books of accounts and questionable management.
That leaves us with a limited number of good quality companies. This makes our job easier.
Second, the Smart Money ScoreTM helps us dive deep into each of the available options.
We study every aspect of these businesses - shareholding pattern, return ratios, cash flows, debt-to-equity, capital allocation, competitive advantage, scalability...and a lot more..
This month's recommendation is a perfect example.
The company was always near the top in our watchlist. The market correction has provided our subscribers with a great opportunity.
The best part about this company? It has received the highest Smart Money Score to date: 9.5/10!
--- Advertisement ---
How to profit during the Corona Crisis

The Sensex has crashed by thousands of points over the last few days...

But, while the stock market suffers, there's another market that most Indians are ignoring.

This market is ripe with money–making opportunities, and India's #1 trader already has a plan to tap into it.

Today, Live at 5 PM, Vijay Bhambwani will reveal his unique strategy to potentially make fast profits during the current crisis.

Click here to register now
------------------------------
How?
Strong financials, a long runway for growth, excellent management, strong cash flows, a solid brand name... It's a long list of positives.
And one of our super investors holds a 2% stake of the company.
But that's not all...
Even the promoters are increasing their stake.
Since July 2018, the company promoters have bought more than 1,70,000 shares from the market.
Unfortunately, we couldn't recommend the stock earlier because it was trading at premium valuations.
But not anymore!
The stock has fallen by about 30% in the last one year.
Strong Business + Presence of Super Investor + Promoters Increasing Stake + Correction of 30% = It's Time to Buy
We recommended this stock on Monday.
Subscribers can click here for the report.
And if you haven't signed up for Smart Money Secrets, you can do so here.
Happy Investing!
Chart of the Day
A unique aspect of this month's recommendation is its strong cash flows.
In most cases, a company's cash flow from operations is lower than its net profit. This is because of working capital requirements.
But this month's recommendation has a negative working capital!
This means customers pay the company before it must pay its vendors.
Just look at today's chart.
This Company's Operating Cash Flow is Higher Than its Net Profit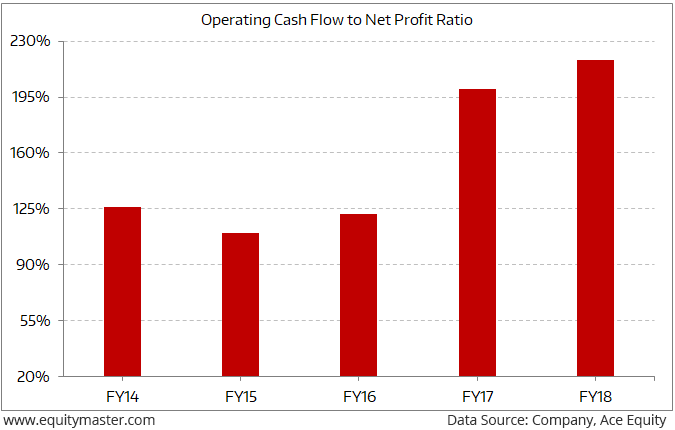 In each of the last five years, the company generated more operating cash than its net profit. In the last 2 years, the company clocked 200% more i.e. double of net profits.
Due to this, the company is debt-free. This will also help it expand operations in the future without taking on much debt.
This high-quality stock is now available at attractive valuations.
From the long-term perspective, this is the perfect time to enter.
Regards,


Sarvajeet Bodas (Research Analyst)
Co-editor, Smart Money Secrets
PS: Sarvajeet Bodas and Radhika Pandit, co-editors of Smart Money Secrets, have recommend their latest stock which scores 9.5 out of 10 on the Smart Money Score! You can get the recommendation by signing up for Smart Money Secrets here.
Recent Articles