Safe Stock Ideas for You from Monday to Friday
Feb 21, 2018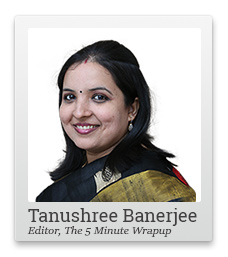 I believe the Sensex is going to 100,000.
As I wrote to you yesterday, it won't happen this year or the next...but I believe it's a certainty.
I made only two assumptions. Neither are optimistic.
The Sensex EPS will grow at the rate of at least 15% per annum, over next 10 years.
The Sensex will fetch a valuation of at least 18 times, which is its long-term average.
But...
The Road to Sensex 100,000 Will Be Bumpy
I also said, investing in stocks is not about index gazing. My blueprint for Sensex 100,000 is not about blind faith in the index stocks.
It's all about the 3 M's.
Moats
Margin of safety in dividends
Meaningful change in the business model
In case you missed it, please read My Blueprint for Sensex 100,000. Do let me know your thoughts.
By the time the index triples, many stocks would have quadrupled...or more. There will also be many duds!
Next time, I'll write to you about picking winners and avoiding the losers on this journey.
Today, I have an important update for you dear reader.
Your trusted source for safe investing ideas will now come to you every weekday.
Yes, that's right. The 5 Minute WrapUp will now be delivered to your inbox from Monday to Friday.
We've also modified the format a bit. I hope you like it.
Now, why are we increasing the weekly frequency of the WrapUp from three to five?
You see, in light of the recent market volatility, my team and I believe it's important for you to get more and better ideas about the safest stocks in the market.
The newspapers are full of stories about multibaggers.
But they don't tell you how to avoid the 'multibeggars'.
Trust me. There are far more multibeggars than multibaggers out there. Today's chart has a good example of a recent multibeggar...a big one.
Now as far as 'multibaggers' are concerned, I too have recommended my fair share.
Some examples...
TCS - 863% in 8 years and 5 months
Avanti Feeds - 398% in 2 years and 4 months with
HDFC Bank - 309% in 5 years and 6 months with
...and many more!
But it's all about doing both together. Picking the winners and avoiding the losers.
From now on, you'll get both these critical ideas every weekday.
By the way, I recently released a premium report recommending The Top 5 Safe Stocks.
Kunal and Ankit will also write to you.
Kunal Thanvi, Research Analyst, is the editor of Smart Money Secrets.
He tracks the investments of India's 40+ Super Investors. The list includes exceptional Fund Managers, Investing Gurus and Promoters.
Kunal is a research analyst and a member of the Institute of Chartered Accountants and the Companies Secretaries of India.
It's his ability to dive deep into complex balance sheets and business firms that led him to one of the biggest discoveries in the history of our company...
Kunal discovered a way to find out the investing moves a 'super investor' is making...
It's a simple document that all Super Investors have to file every quarter, revealing ALL their investments.
While most people wouldn't have a clue how to read this, Kunal can read the numbers as easily as you read the words on this page...
And they reveal exactly how India's most successful investors are growing their wealth.
In short, Kunal's ultimate, and in our opinion very noble, goal is to guide his readers towards getting in early on stocks and then just 'riding along' towards solid profits with India's top investing gurus.
---
Ankit Shah, Research Analyst, is the editor for Equitymaster Insider.
A journalism graduate turned Research Analyst, Ankit joined Equitymaster when he was just 23 years old, after getting an MBA from NMIMS, Mumbai.
Having been an avid reader of Equitymaster's research through his college years, Ankit knew he would fit right in!
In his seven years with Equitymaster, Ankit rose quickly, leaving his mark on almost everything...
From travelling thousands of miles to find the next small cap stock, as part of the Hidden Treasure team...
Designing Equitymaster's Secrets, an online value investing course based on the company's 20-year journey...
Right to launching his brand-new service, Equitymaster Insider
Ankit is a firm believer in Charlie Munger's multidisciplinary approach on juggling between various disciplines...
Ankit is not just a research analyst though... He is also an avid traveler...
In any given month, you could find him exploring the ancient ruins of South America, the beaches of South East Asia, or the organic cafes of Pondicherry.
They're just as committed as I am to guide you safely on the journey to Sensex 100,000.
Chart of the Day
I've written to you about this stock before.
In case you missed them, here are the links to those pieces...
We Rejected this 1000-bagger... Here's Why
The Market Crash Will See More Stocks Behaving Like This Multibagger
A Prominent Multibeggar
This is what I wrote...
We had met Vakrangee in the past.

And here's the thing...we didn't think it was amazing.

Primarily present in the e-governance domain, Vakrangee's business involves bringing together all the hardware, software, and ground activation required for the launch and management of e-governance initiatives. It is also involved in the business of Vakrangee Kendra, e-Governance projects.

So basically, the company provides basic government related services in rural regions. In that sense, growth seems largely volume driven - and dependent on poor and low-income people going to these kendras repeatedly for services. But the thing is, once people's incomes start increasing, there won't be any reason for them to visit these kendras. For us this is by no means a sustainable moat.

Further, the company has hardly had free cash flows and its working capital requirements have jumped substantially.

The way Vakrangee's stock has zoomed in the last nine years, one would think it has all the makings of a great bluechip stock. Heck, I might even come across as a fool to question the so-called 'moat' of the business.

But I am not perturbed, dear reader. My aim is to recommend the safest bluechip stocks.

This means companies with sustainable moats, great business models, and strong management quality.
But that's not all dear reader. I also said...
My subscribers were understandably disappointed when I rejected this 'high performance stock'.

And now you know why.

Like I've often told you, I would rather ensure that you sleep well...reassured that you are building wealth with quality stocks.

Buying 'no-moat' companies at rich valuations is one of the most certain ways of losing capital.

Unfortunately, dear reader, Vakrangee is just one of the multibagger stocks that are currently in limelight for the wrong reasons. There are several others bound to go the Vakrangee way in this market crash.

Do not get carried away by skyrocketing numbers.
Until next time...
Safe investing.
Regards,


Tanushree Banerjee (Research Analyst)
Editor, The 5 Minute WrapUp
PS: You don't need to take unnecessary risks to make solid double or triple digit gains in the stock market. We have just released a premium report recommending the top 5 safe stocks. Get it here...
Recent Articles