This Investor Lost US$ 444 Million! How You Can Avoid the Same Blunder...
Feb 22, 2018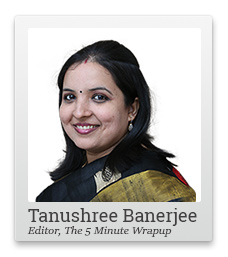 Even a great investor is prone to making mistakes once in a while. Aren't we all human after all?
But what really matters is this - what is your next course of action once you realise you have erred?
I will come to that in a moment.
But let me first talk about this investor and the big mistake he made. It is none other than Warren Buffett. And his big mistake? The supermarket chain, Tesco!
Buffett's Berkshire Hathaway investment group had been holding Tesco shares since 2007.
But in early 2012, trouble started brewing. The company issued a profit warning.
Buffett should have paid heed. But he didn't. In fact, by the end of 2012, Berkshire's shareholding in Tesco increased to 4%.
It later emerged that the four profit warnings were not the only problems at Tesco. There was a graver issue. The supermarket chain was embroiled in an accounting scandal!
Buffett did eventually exit Tesco. But at a huge cost. Berkshire's losses in Tesco came to around US$ 444 million, one of the biggest losses in its history.
He did admit his mistake. In his own words:
"An attentive investor, I'm embarrassed to report, would have sold Tesco shares earlier. I made a big mistake with this investment by dawdling."
Indeed, Buffett could have reduced his losses if he had paid heed to all these red flags earlier.
Sadly, India Inc has seen its share of frauds too. We had the Satyam scandal. The Ranbaxy fiasco. And three more high profile cases of fraud in as many months recently - those at Vakrangee, Fortis Healthcare and Punjab National Bank.
In fact, last week when the Fortis Healthcare issue made headlines, I talked about the importance of gauging management quality before deciding to invest in the stock of any company.
I outlined a few pointers that you should consider while evaluating the key people running the business.
Here's what I said:
But sometimes despite our very best intentions and sufficient groundwork, we can be in for a rude shock!
Sometimes, trouble can start erupting in a company after one has invested in it.
The point is that once corporate governance issues start rearing their ugly head, it is better to exit such stocks entirely.
And not 'dawdle' the way Buffett did.
Chart of the Day
Speaking of scandals, here's a look at the kind of price correction we have seen in the stocks of these three companies - all of them making headlines for the wrong reasons! It's quite a fall from their 52-week highs.
Scandals Have Hit This Terrible Trio Hard
Regards,

Tanushree Banerjee (Research Analyst)
Editor, The 5 Minute WrapUp
PS: You don't need to take unnecessary risks to make solid double or triple digit gains in the stock market. We have just released a premium report recommending the top 5 safe stocks. Get it here...
Recent Articles