Triple Digit Gains from Radhika's New Growth Stock System
Feb 25, 2019
There is one thing that drives stock prices in the long-term: strong earnings growth.
Strong growth in company earnings is kind of an unsung hero. Often, it doesn't get the attention it deserves.
But it is responsible for propelling stock prices higher.
Just look at some of the multibaggers of the last decade.
What's the common link between them?
All these stocks had strong growth.
One such stock that we recommended earlier was Avanti Feeds.
Between FY13-FY16, net profits grew at a staggering pace of 74% per annum.
And the stock price grew at a much faster rate of 164% per annum.
Avanti Feeds Showing Strong Earnings Growth
| | FY13 | FY14 | FY15 | FY16 |
| --- | --- | --- | --- | --- |
| Net Sales Growth(%) | 65 | 75 | 57 | 13 |
| PAT Growth (%) | 8 | 131 | 67 | 36 |
| Growth in Stock price | -4 | 381 | 182 | 28 |
Data Source: ACE Equity
Backed by strong earnings, the stock really took off!
Avanti feeds: Rs 100 invested Would Have Been Rs 594 in Just 2 Years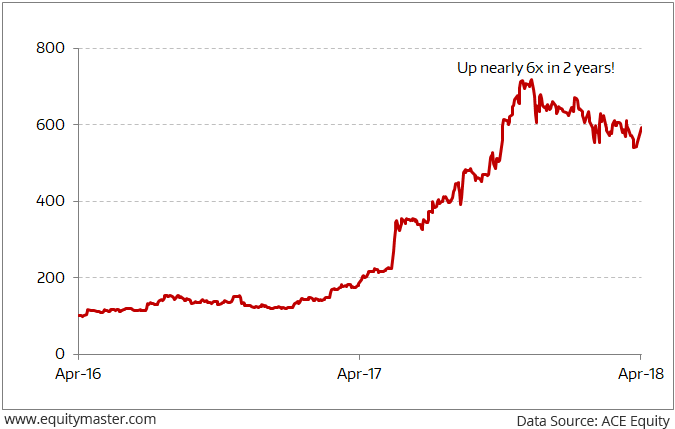 Avanti Feeds multiplied 6 times in just two years.
Radhika, co-editor of Smart Money Secrets, was fascinated by this growth.
She wanted to dig deeper and find the winning formula for growth stocks.
Initially, I was confused.
I asked myself, 'Radhika and growth stocks? She is a value investor. She is an ardent follower Warren Buffett'.
So, I asked her about this change of heart.
This is what she said... 'Growth and value investing are not really different from each other. In fact, growth enhances value'.
She also quoted Warren Buffett:
Growth is always a component in the calculation of value, constituting a variable whose importance can range from negligible to enormous and whose impact can be negative as well as positive.
Thought-provoking, isn't it?
My curiosity took over and we had a deep conversation about this.
I wanted to understand what exactly was she up to?
I quickly realised, she was thinking along these lines...
What if Is there a system which can find growth stocks on a consistent basis?
Can we make super profits FASTER?
I said, 'Well, if there is any system like this, it would be wonderful'. But tell me, what are you up to?
She replied a lot of enthusiasm, 'Well, , I developed a system to find such opportunities. This new system shows potential to make high returns in a period of one to two years.'
Now that was a very interesting answer. So, I asked her, 'What's your back-testing result for this system?'
She said, 'I'm excited with the results of my back-testing. For example, my system identified these stocks, for example...
In 2014, Wim Plast entered my system and would have delivered more than 250% in one year.
Similarly, in 2017, it was Sterling Tools with around 130% return.
In 2013, my system would have identified Cyient Ltd, which went up 90% in one year'.
'Wow, that's some killer returns in one-year time frame. But what about the losers?' I asked with some skepticism.
'Sure, Sarvajeet. There will be some stocks that will underperform. For example, in 2015, a company like Ratnamani Metals & Tubes fell 20%.
'But the overall idea is to ensure that the stocks that do well more than make up for the stocks that don't.'
She further added, 'there will an element of cash as well'.
'Like a cash component in a portfolio?' I inquired.
'Yes, exactly'.
'You see, it is important to have a sensible allocation between stocks and cash. This is the key to make big money in the market. This allocation will depend on how the overall markets are valued.'
This made sense to me but I wanted to know more. So I bombarded Radhika with a lot of questions.
'What is the performance of your portfolio post allocation between stocks and cash?
Did your system outperformed the index?
How do you decide between stocks and cash allocation?'
She answered all my questions and I can honestly say that I was impressed by her new system - Power Profits.
When I asked her about her plans to reveal her system to you, dear reader, this is what she said...
'Well, Sarvajeet, I will share everything with you and our readers on 26 February at 5 pm. All the information about the system I developed. The back-testing results. Everything.'
So mark your calendar.
Tomorrow, i.e. 26 February at 5 PM, Radhika will reveal her new and exciting Power Profits strategy in an exclusive online summit to all those who have registered for it.
She is looking forward to seeing you there.
You can register for free here.
I'm excited about Radhika's new growth stock strategy. After all, it can identify stocks that could potentially deliver triple digit gains in 12 months!
Get full details at the summit tomorrow.
Regards,


Sarvajeet Bodas (Research Analyst),
Co-editor, Smart Money Secrets
PS: Radhika Pandit, one of our senior most research analysts and the brains behind some of our most lucrative strategies, has made the biggest breakthrough of her nearly 13-year long career! She has developed a new proprietary stock-picking system which can potentially deliver returns like 102%...117%...144%...228% and more in just 12 months...without taking any unnecessary risks. On Tuesday, 26 February at 5 PM, Radhika will reveal her strategy in an exclusive online summit. Register for free here.
Recent Articles