Today I'll Show You How to Make Multibagger Profits
Feb 25, 2020
Editor's note: I'm live online at the Rebirth of India summit. Join me now!
---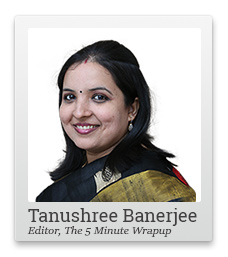 We live in a world that loves fast gains.
Many traders and investors believe long-term value investing is dead.
A few days ago, I wrote to you about how this played out with the stock price of Tesla Motors. It's no wonder Tesla's stock surge captured unprecedented media attention.
Like I told you, the social media frenzy, was based on just a few weeks of gains. If you had invested in this stock five years back, you would not have made any money until late last year.
Here's a comparison of the long-term price performance of Tesla with a multibagger stock like Titan.
Titan versus Tesla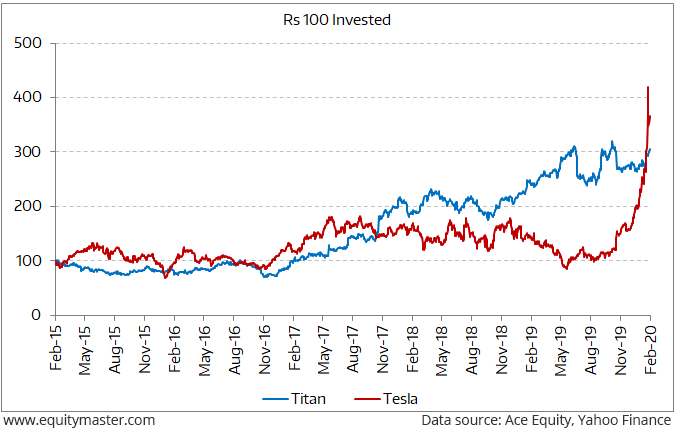 Titan gained almost 13% in the past three weeks. But look at the gain in the past decade... It's a stellar 1,420%!
So which kind of stock is better suited for long-term investors in the Rebirth of India?
Should you look for new age opportunities - Tesla-like stocks? These may offer quick gains. But it may not be sustainable. You will have to do your homework and find out if the business is robust.
On the other hand, you have the choice of buying steady, tried and tested, long-term performers, like Titan. Unfortunately, stocks like these are usually expensive. This is because the market is already aware of them.
So how do you choose between a Tesla-like stock and a Titan-like stock? Which would be a better choice in the Rebirth of India.
I know the answer to this question and I was pleased when an investing legend - Charlie Munger - shared his view which is similar to mine.
Here's what he said about the stock and Elon Musk...
My thoughts are two: I would never buy it, and I would never sell it short.

I think Elon Musk is peculiar and he may overestimate himself but he may not be wrong all the time.
There's your answer, dear reader.
You should be skeptical of a new age, unproven company but don't dismiss its long-term potential. That would be a mistake.
But, as an Indian investor do you have to choose between Tesla and Titan like stocks?
What if I told you there is a way to cash in on both?
You don't have to buy a Tesla-like stock to make multibagger profits.
Nor do you have to buy an expensive stock like Titan.
As an investor who is convinced about the Rebirth of India, you should buy high-quality stocks which will ride the 50 irreversible megatrends I have identified.
These megatrends will play out over the next decade and will be the driving force of Sensex 100,000.
And best of all... the market is currently underestimating the huge long-term upside in these stocks.
I've selected 7 such multibagger opportunities. I call them - Rebirth of India stocks.
And today, I'm sharing them with you, dear reader!
Join me now, for my Rebirth of India summit where I'll share details of my top 7 stock picks. The summit is free and you can watch it online from your home or office.
I'm very excited by your overwhelming response. More than 10,000 astute investors have registered!
The summit is now live!
Watch my Rebirth of India summit here.
Warm regards,

Tanushree Banerjee
Editor, The 5 Minute WrapUp
Equitymaster Agora Research Private Limited (Research Analyst)
PS: I'm live online at the Rebirth of India summit. Join me now!
Recent Articles