Another Modi Government Reform to Boost the Rebirth of India
Feb 27, 2020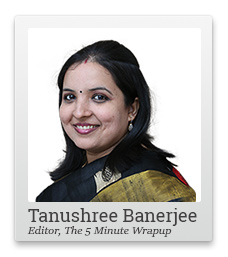 There's one pesky thing I encounter every day: tele callers. I'm sure you endure them too dear reader.
Every day, more than once, I get a call from some bank for personal loans, credit cards etc. I've tried blocking those numbers but it hasn't helped much. There is always a new person calling from a different number or from a different bank.
But there is a reason for these calls: The size of the opportunity.
You see, India is still in the early stages of a massive credit boom. India's retail credit is expected to grow to US$ 2.8 trillion by FY25.
Add to that the expected corporate credit of US$ 2.2 trillion by FY25 and we have a US$ 5 trillion opportunity. A huge market for banks and other lending firms.
Not only that, credit growth also provides a big boost to the Indian economy. With money in their hands, people consume more. Corporates invest in plant and machinery. A cycle of consumption starts which benefits various sectors.
It's no wonder that reviving credit growth has been a major focus of the Modi government.
I wrote to you last week about how the Insolvency and Bankruptcy Code (IBC) resolution is picking up pace. It is bound to boost credit growth in a big way.
And as you read this another big reform is quietly underway.
This reform is aimed at small sized firms. A digital platform is in the works which improve the ability of these firms to get loans. This platform will rate these small firms based on past performance. It will be linked to their GST returns. Lenders will thus have a fair idea of whom to lend, risk profile of these small firms, etc.
Small firms with a good track record will benefit the most. These firms will get loans faster and at lower rates. This will help them to grow their business.
Why is this important?
According to NRI consulting (an affiliate of Nomura holdings), micro small and medium enterprises (MSMEs) employ close to 36 million people in India.
The growth and expansion of MSMEs will create many jobs across the length and breadth of the country.
And this job creation by MSMEs, will be at the heart of consumption growth in smaller towns in India. In other words, it will be a driving force of the Rebirth of India.
I believe, banks and other financial firms which are lending to MSMEs in a responsible way, will be huge wealth creators in this decade.
This is one sector I'll watching closely for a stock recommendation.
When I spot a great stock, rest assured, as a subscriber I will let you know.
But why wait?
You can go ahead and buy my best 7 stocks in the market today.
Chart of the Day
The low access to credit for micro medium and small enterprises (MSMEs) tells us there is a huge opportunity for lenders.
Of the 60 million MSMEs in India, only 11% had access to credit from organised lenders. Most of them are self-financed or get credit from unorganised sources.
India's Huge Lending Opportunity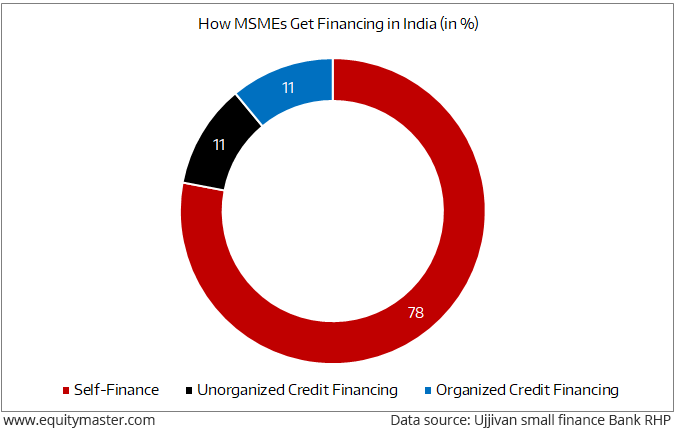 Self-financing limits the growth of these MSMEs. On the other hand, high interest rates from unorganised sources makes it difficult for them to earn profits.
The Modi government is looking at various ways to correct this problem. Mudra loans, online loans facilities are being made available to MSMEs.
Slowly but surely, lenders are sensing the huge opportunity that lies ahead for this sector.
Banks and other financial firms with prudent lending practices and strong distribution networks will benefit from this megatrend.
Warm regards,

Tanushree Banerjee
Editor, The 5 Minute WrapUp
Equitymaster Agora Research Private Limited (Research Analyst)
PS: Take advantage of this temporary market correction to buy the best 7 stocks in the market. Read about my top 7 stocks here.
Recent Articles