3 High Growth Stocks with the Potential to Double in the Next 12 Months
Feb 28, 2019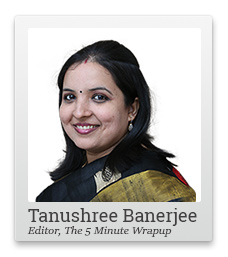 There is a certain personality who gets the limelight only when they make a mistake.
A couple of sporting examples...
In cricket, this person is the wicket-keeper. In Football, he is the goal-keeper.
On most days when they're excellent, they're not spoken about.
He will hardly be noticed by fans.
In fact, the only time you notice them is when they're not around.
At Equitymaster, we have such a team member in office.
Yesterday, I wrote to you about her: Radhika Pandit.
On most days, when she's going about her work diligently, you'll hardly notice her.
But when she's on leave or if there are issues that spring up with any pharma company, the whole office is looking for her.
Over the past 14 years, Radhika focused on Indian pharma companies that were ready to take a big slice of the US generics market.
Her main criteria was to look at high growth stocks with a big runway ahead.
Over time she developed a deep understanding of growth stocks across sectors.
We were pleasantly surprised recently when she explained her new idea to us. She was sure her new growth stock system could benefit our subscribers.
From working out of the limelight for years, Radhika is now ready to bring her exciting new system - Power Profits - to our subscribers.
I've reviewed her system and I was impressed. It combines the best of both worlds: Growth Investing and Value Investing.
Power Profits is a system which aims to regularly pick high-quality, high growth stocks. These are stocks that can potentially deliver 100%+ returns in as little as 12 months!
Yes, it's possible.
Radhika believes great gains from the market can be made in the short-term if you're following the right system.
Companies that fit into her Power Profits system have 5 common characteristics.
P - Presence of High Growth
O - Owner Operators
W - Weakened (cheap) valuations
E - Efficiency of Capital
R - Rock Solid Balance Sheet
These characteristics are seen in most of the big wealth creators of the past decade: Page Industries, Eicher Motors, Vinati Organics... and many more.
Using her Power Profits system, Radhika has already identified 3 extremely lucrative growth stocks that you could consider buying right away!
These 3 stocks have the potential to deliver gains of 100% or more over the next 12 months.
Chart of the Day
A few months ago, I wrote to you about the historical pre-election volatility in the Indian stock markets.
It has certainly turned out that way again.
It started with the long-term capital gains tax.
Then corporate governance issues at various companies followed.
Then we had the IL&FS impact.
All this has ensured a rough ride for Indian investors.
Now with Indo-Pak tensions escalating, volatility can rise even further.
With the elections fast approaching, what can investors look forward to now?
Good Times Ahead for Indian Stock Markets?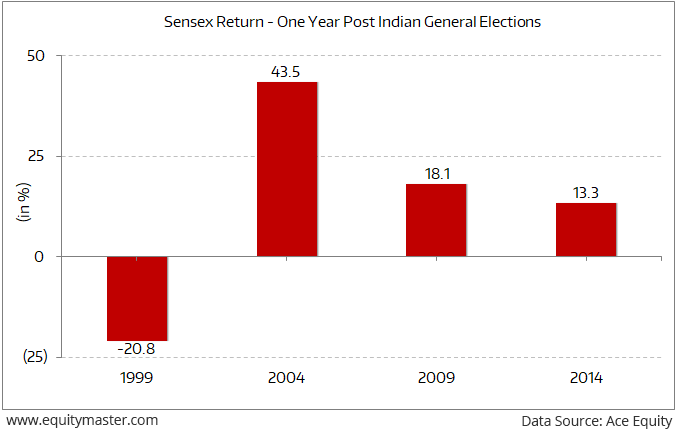 History of the past few elections paints a rosy picture.
Despite governments changing hands in 2004 and 2014, the Sensex gave returns of 44% and 13% in a year respectively.
Even in 2009, when the same government retained power, Sensex was up by 18% in a year.
In StockSelect, the recent volatility gave me an opportunity to load up on quality stocks.
These stocks will piggyback on India's long-term growth story
I believe these stocks will rise fast when the tide of the market turns up.
Warm regards,



Tanushree Banerjee (Research Analyst)
Editor, The 5 Minute WrapUp
Recent Articles