How the Market Is Catching up to Our Sensex 40,000 Idea
Mar 2, 2017
In this issue:

» Domestic passenger vehicles to log in record volumes this year
» December 2016 GDP growth takes Notebandi in its stride
» An update on the stock market
» ...and more!
Long-time readers know we despise stock market predictions.
Yet in March last year, I stuck my neck out to make a bold prediction: The Sensex could rise 70% over next two to three years, taking it to 40,000.
The prediction made for good headlines. But the reasoning behind it was more important than the prediction itself. Our thesis stemmed from the basic fact that, unless something goes fundamentally wrong with capitalism, profit margins tend to revert to the mean.
If margins get too low, there won't be enough profits. Businesses shut down, competition reduces...and profitability starts to rise again.
If margins get too high? The reverse happens. Competition enters to soak up the extra profits, capacities go up, a fight for market share ensures...and profitability starts to fall.
And so I made a rare prediction - an exception because I thought the time was exceptional...
Aggregate data for Nifty companies suggested that profit margins were at a ten-year low at the end of FY15. Even if they were to rise to the average of the last ten years - not immediately, but, say three years out - the upside in the BSE Sensex would be close to 70%.
When we first made the claim, the Sensex was at 25,341 points. Today, almost a year out, it has already charted a part of that journey to 40,000. It stands at about 29,000, a gain of 15%.
And now, popular market opinion seems to be finally catching up to the wisdom of this fundamental idea. A business daily reports that a big name global investment bank just lifted its yearend Sensex target by 10% to 33,000. It further expects its bull case target of 39,000 by 2018.
Among other things, it lifted its earnings growth outlook. Its FY19 earnings growth expectation for the Sensex went up from 15% to 24%, as it incorporated higher margins for corporate India going into an upcycle.
As corporate India bends to the principle of mean reversion...and more stock market participants wake up to the idea...our thesis is yet to play out in entirety. And it's certainly not too late for investors. You can still buy the stocks that are best positioned to ride the earnings upside to Sensex 40,000.
--- Advertisement ---
The First Step Towards Notebandi 2.0...

If you believe that Notebandi is over...you're mistaken.

In fact, in my view, the government has already taken the first step towards Notebandi 2.0.

It was a small step, 'hidden' in this year's budget...

But it's something that could have a huge impact on your life!

So, don't delay...

Click here to know all about Notebandi 2.0.
------------------------------
02:50

Chart of the Day

This seems to be the season of the most unexpected of developments. First it was India's crushing loss to Australia that hardly anyone expected and now, it is the turn of India's GDP numbers to throw up a huge surprise. While the jury was out on the long term benefits of demonetisation, even the strongest supporters of the program felt that short term, there will be a negative impact on the economy and the GDP growth could come in sharply lower during the Dec 2016 quarter. However, if today's chart of the day is any indication, the economy seems to have passed this test with flying colors.

With the economy logging in a neat 7% growth during the quarter, most of the notebandi critics have been forced to eat humble pie. While the pace of growth is certainly slow as compared to the September quarter, it is nowhere as crippling as was expected. And what led to this huge positive surprise? As per a leading daily, except construction (2.7%) and real estate (3.1%), all other sectors grew at a faster pace in the third quarter compared to the preceding quarter.
India's GDP Growth Has Shown no Notebandi Effect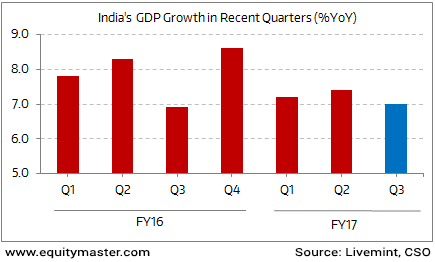 Vivek Kaul, my colleague, has a bone to pick as far as the consumption spend is concerned. As per him there's no way the private final consumption can go up by 10.1% in light of the severe cash crunch bought about by demonetisation. Here's Vivek.
It is very difficult to believe that private consumption expenditure grew by 10.1 per cent during October to December 2016, despite demonetisation. There is something that clearly does not add up here...

And given that private consumption expenditure forms a bulk of the GDP, all in all, this tells us that there is something that just doesn't smell right about India growing by 7 per cent in October to December 2016, when the currency situation was very tight.
You can read the complete article in his diary here.
It is not just GDP growth, there's another sector that's driving right over the notebandi hurdle. And it answers to the name of passenger vehicles. It isn't as if the vehicle sales weren't affected by notebandi. Of course they were. As per a leading daily, growth in November and December had slowed down to 1.8% and 1.3% respectively. However, the recovery in the subsequent months has ensured that the domestic passenger vehicles sales are all set to log in volume of 3 million units for the first time ever by the time curtains come down on the current financial year.
The growth stood at a decent 7% in FY16 and despite notebandi, the growth this year could come well in excess of 9% and possibly even hit the double digit mark. Make no mistake, India is likely to remain one of the top destinations for auto manufacturers for many years to come. Is it therefore any surprise at all that the world's leading auto manufacturers are drawing up India specific models?
Maruti Suzuki, India's largest manufacturer by far, has been able to protect its turf so far. And given the aggressive game plan up its sleeve, doesn't look like being displaced any time soon except perhaps ceding a few percentage points of market share.
Benchmark indices have continued to remain strong with the Sensex higher by around 100 points at the time of writing. However, both mid and small cap indices are underperforming with the BSE Mid Cap index trading marginally in the negative. Amongst sectors, while auto is attracting maximum interest, realty is down the most.
04:56

Investment Mantra of the Day

"We don't have to be smarter than the rest. We have to be more disciplined than the rest." - Warren Buffett

This edition of The 5 Minute WrapUp is authored by Rahul Shah (Research Analyst).
Today's Premium Edition.
After allegations of Cartelization, What Lies ahead for Novartis India?
A new challenge for one of the leading pharma MNC in India...
Read On... | Get Access
Recent Articles