Why Buffett and Munger's Letters to Shareholders No Longer Excite Me
Mar 3, 2017
In this issue:

» Insight from a very successful investor
» Why Vivek questions GDP growth numbers?
» Round up on markets
» ...and more!
Two of the most important value investing documents are lying in my inbox, waiting to be read. One is Warren Buffett's latest letter to shareholders. The other is a compilation of Charlie Munger's comments at the Daily Journal AGM.
For hardcore value investors, it doesn't get better than this. It's almost a ritual for me to set everything aside and devour these two documents.
That is, it was until a few months back...
I even used to feel uneasy until I was done with this ritual...like I was lost without Buffett and Munger's insights. But not anymore. The documents have been lying in my inbox and I haven't even scheduled a time to go through them.
Make no mistake, no one has done more to promote moat-based investing than these two gentlemen. And the concept has great merit. Practiced successfully, it is one of the most rewarding investing strategies out there. Buffett and Munger's track record is proof enough.
No, my grudge against them is this: They only give a compass when what you need is a map. Just broad guidelines - the exact way to those superlative long-term returns is for you to figure out.
You need to understand the business all right, but how do you do that?
A strong moat is great, but how can you ensure it is sustainable and won't be easily destroyed by competition?
Investing in a good management is all fine, but the concept is so qualitative. You can, of course, use a few metrics. But you can never be 100% sure the management won't resort to dirty tricks.
Now, Buffett and Munger do recommend to value stocks conservatively and buy with a margin of safety. But here again, their talk is big on the general and small on the specifics.
It goes without saying these two gentlemen have been extremely selfless in sharing their insights with the wider investing community. And maybe it is the nature of value investing that makes it difficult to pin down to a few simple formulas and rules.
But if earning good long-term returns and beating the markets by a good margin is your goal, we have a better way for you. In fact, we have the complete map. And the mapmaker is none other than Benjamin Graham.
Late in his career, Graham outlined the only three investing rules you'll ever need: a definite buying rule, a definite selling rule, and a rule (based on the broader market valuations) that tells you when to move between stocks and bonds.
We started following this map back in February 2014, and it hasn't led us astray yet. Our investment advisory based on these rules is up a cool 134% since inception. Meanwhile, the Sensex is up just 40%.
You'll need more than a compass to navigate your way through moat investing. Give this simple roadmap a try and see if it doesn't take you where you want to go.
--- Advertisement ---
[Autographed Book] Limited Copies Available...

Vivek Kaul has just launched his new book - India's Big Government.

Right now, this book is not available in any bookstore or even on Amazon...

However, if you act today, you can get a hardbound copy delivered right at your doorstep, anywhere in India...Virtually Free! Plus, the first 1,000 readers, who act on this, will actually get a personally autographed, collector's edition.

So, don't delay! (This invitation is available only till stocks last.)

Click here for full details..
------------------------------
Following value investing philosophy and understanding the risks of investing is not really something everyone can do. But those who manage to do so earn superior returns over the long term.
In this regard, it is always interesting to read on the philosophies and investment approaches adopted by gurus. These are, after all, people who have amassed big fortunes in their long years of investing. One such individual is Mr Howard Marks, the founder of Oaktree Capital Management.
In his recent interview in ET Now, Mr Marks opined that he sees good potential in India. But to achieve success not just in India but in any market, Mr Marks has a mantra. Successful investing in any market is rewarding only when one's holding period is long term. At least 5- 7 years. He strongly believes markets are driven by emotions and thus investors need to be un-emotional.
Now this is something our ValuePro team religiously follows. The team tries to suppress outside noise as much as possible and pays attention to only valuations and fundamentals. This has been the key to their success.
If you have not had a chance to try out this approach until now, we strongly recommend that you join ValuePro now.
03:50

Chart of the Day

The recently released GDP numbers have baffled economists and experts alike. It was widely believed the impact of note ban would be felt across sectors and thus would hit the GDP growth.

But there are some critical issues that have raised doubts over the reliability of the reported GDP numbers.
Money Supply Growth not in Sync with GDP Growth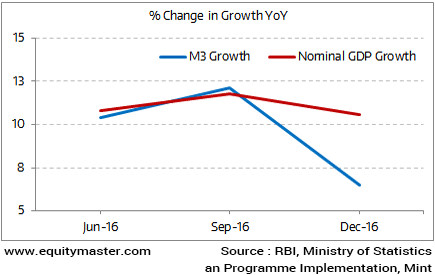 Note - M3 includes both currency with the public as well as demand and time deposits with banks.
Today's chart of the day highlights that the effect of notebandi on money supply has certainly been dismal. But that doesn't seem to have imparted a similar shock to nominal GDP growth. The nominal GDP came down modestly from 11.8% in the September quarter to 10.6% in the December 2016 quarter.
What this tells us is that there has been almost no impact of Note ban on economic growth.
Vivek Kaul, my colleague, has been extremely vocal about it. The currency in circulation had crashed during demonetisation. Given the bulk of transactions in India being carried in cash, he is extremely skeptical of the high private consumption levels during the December quarter.
Here's Vivek.
Demonetisation essentially rendered 86.4 per cent of the currency in circulation useless overnight. This made consumer transactions very difficult to carry out. While, the government did replace the money rendered useless with new money, but initially only Rs 2,000 notes made it to the financial system. These notes were very difficult to use because people found it difficult to give change, when almost no new Rs 500 notes were available. Hence, they were as good as useless for most of November and December 2016.

In this environment, how did private consumption expenditure grow by 10.1 per cent, the second fastest since June 2011, is a question worth asking?
You can read the complete article in his diary here.
In the meanwhile, after opening the day flat, Indian share markets have gone on to trade marginally below the dotted line. Sectoral indices are trading on a mixed note with stocks in the realty sector and oil & gas sector witnessing maximum buying interest. Auto stocks are trading in the red. At the time of writing, the BSE Sensex was trading down 116 points (down 0.4%) and the NSE Nifty was trading down by 32 points (down 0.4%). The BSE Mid Cap index is trading down by 0.3%, while the BSE Small Cap index is trading flat.
04:50

Investing Mantra

"The best investment decisions are based on facts, not speculations." - Benjamin Graham

This edition of The 5 Minute WrapUp is authored by Rahul Shah (Research Analyst).
Today's Premium Edition.
Is Bitcoin More Precious Than Gold?
The price of bitcoin has exceeded the price of gold. Is Bitcoin better than gold?
Read On... | Get Access
Recent Articles