Are You a Raider or a Connoisseur?
Mar 4, 2017
In this issue:

» The Difference Between Big Returns and Mediocre Returns
» Zero Returns for the BSE Smallcap index Since Jan 2008
» Is Your Debt Mutual Fund Safe?
» Weekly Market Roundup
I just finished reading a good investing book - The Art of Execution. It's authored by Lee Freeman-Shor, a British fund manager at Old Mutual Global Investors.
I highly recommend it.
The book is about an experiment Freeman-Shor conducted on his fellow fund managers. He wanted to know how much money they would make if they invested only in their best stock ideas.
He selected forty-five of the best fund managers in the world. He gave them anywhere between US$20 million to US$150 million to manage. He told them to invest the money only in their best ideas.
The experiment lasted from June 2006 to October 2013. The top investors picked 1,866 stocks during this time. These 1,866 stocks were the best stock ideas of the best fund managers in the world.
Anyone would have believed that these high-quality picks would have done well. Freeman-Shor was sure he would make a lot of money.
But that's not what happened.
The results threw up three shocking conclusions.
Only 920 stocks out of 1,866 stocks (i.e. about 49.3%) made money.
That's right. More than half of the best stock ideas...from the best fund managers in the world...lost money.
Even more shocking was the fact that some of these legendary investors had a success rate of only 30%.
But the most shocking fact of all?
Despite these poor numbers, almost all of the forty-five fund managers made good profits for Lee Freeman-Shor's fund.
How?
Big winners.
Almost all of them had at least one multibagger among their picks. One or two great stock picks compensated for the poor performance of the others.
But it's not as simple as that. Freeman-Shor wanted to know why these great minds couldn't pick more big winners.
What he discovered did not surprise me.
He found that successful investing is not about being right per se. It is about how great ideas are executed.
Based on their process, Freeman-Shor classified his fund managers as Rabbits, Assassins, Hunters, Raiders, or Connoisseurs.
The first three are descriptions of how investors react to falling stocks. I'll write about this another day. Today, I want to focus on the last two - Raiders and Connoisseurs.
These are descriptions of how investors react when their stocks are rising.
Raiders, have a bad habit of turning winning situations into losing ones. Connoisseurs, on the other hand, are the role models we should aspire to.
Quite simply, Raiders are fund managers who sell their winning stocks too soon. They have a good success rate but mediocre profits.
They would make a long-term investment. The stock would jump about 10-20% in a month or two. They would sell and exit. The stock would more than double over the next couple of years.
This behaviour is not limited to fund managers. The aam investor tends to invest this way too. They give up huge future profits for short-term gains.
Why?
Because they wrongly believe they will lose the gains they've made if they hold on. The pain of potential loss overcomes their desire for big profits.
Connoisseurs are different. They were the most successful of all the fund managers Freeman-Shor selected. They truly earned their fees.
They did not get paralysed by unexpected losses or carried away with victories. They treated every investment like a vintage of wine.
If the company wasn't doing as well as they thought it would, they got rid of the stock immediately.
However, if it was doing well, they knew it would only get better with age.
But what did they do when their stocks jumped in the short-term?
They sipped from the odd bottle now and then. Their strategy was to take small profits and leave most for later. Thus, they could extend and maximise their gains for as long as possible.
I was fascinated to read about the behaviour of great investors. They too make mistakes. But they also have a process in place to deal with the market.
Do we have one as well? Yes, we do.
We too try to operate as Connoisseurs. Take Hidden Treasure for example, our small-cap recommendation service. Its audited track record is good. It has a 61% success rate - not bad considering the risky nature of small caps. Its internal rate of return of 33% since launch in February 2008 is far higher than the returns from the BSE Small-Cap Index.
The secret is riding big winners - Page Industries, eClerx Services, Canfin Homes, Balkrishna Industries, NIIT Technologies, Indoco Remedies, City Union Bank, Solar Industries, Accelya Kale Solutions, Ashiana Housing...and more.
Please note we are not recommending any of these stocks here. Rather we are stating a simple fact. These big winners are responsible for Hidden Treasure beating the small-cap index by nearly three times (Subscription Required).
We too book partial profits when riding our big winners. We did it recently with one of our 2015 recommendations. Our subscribers booked a solid profit of 69% (Subscription Required) in less than a year and a half. But the stock still has a long way to go.
We know a strong process is the key to big returns in the long term. Investors without one will do poorly. Hidden Treasure subscribers, on the other hand, can sip from the finest stocks and ride some of the biggest winners in the market.
Gain access to Hidden Treasure here.
--- Advertisement ---
The First Step Towards Notebandi 2.0...

If you believe that Notebandi is over...you're mistaken.

In fact, in my view, the government has already taken the first step towards Notebandi 2.0.

It was a small step, 'hidden' in this year's budget...

But it's something that could have a huge impact on your life!

So, don't delay...

Click here to know all about Notebandi 2.0.
------------------------------
02:50

Chart of The Day

The BSE Smallcap Index hit a 9 year high of 13,699 intraday on Feb 28th before closing at 13,620 yesterday. One look at this data might lead one to believe that Small caps are the area to look at while searching for multi baggers.

But when takes a holistic view of the Smallcap index over a period of 10 years, the point to point returns have been negligible. To put it plainly, if someone had invested Rs. 100 in the small cap Index on Dec-07 and kept it till Mar 2017, he would have made absolutely no gain whatsoever.
BSE Small Cap Index 2007-17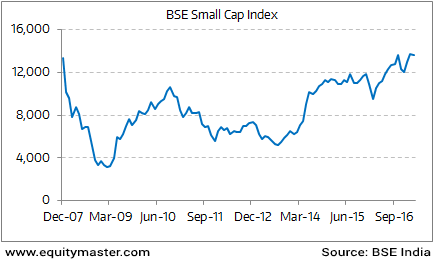 This is in sharp contrast to the returns generated by the Hidden Treasure team which has beaten the Sensex and small cap returns handsomely over the same period.
History does not repeat but it rhymes. India ratings and research recently downgraded Ballarpur Industries with the lowest credit rating signifying instruments are in default or are expected to be in default soon.
In September 2015, the securities were rated A+ and A1+ respectively. A similar situation of ratings downgrade played out with Amtek Auto in 2015. In both these companies, mutual funds holding their debt suffered a huge decline in their net asset value.
This because the mutual funds had to write off these company's debt which was rated as junk. One cannot control at what stocks or bonds fund managers hold in their schemes. However, while looking at companies individually, one must do their own due diligence to avoid permanent loss of capital.
I had shared some of the most important lessons that will help one avoid these pit-falls in future. Below are the crucial points.
Size doesn't matter, capital allocation does.
Be cautious of high debt companies.
Management quality and transparency matter.
You can read it in detail here.
Global markets ended on a mixed note in the week gone by. While markets in the developed economies ended in green, the indices in emerging economies fell.
The US stock markets closed out their sixth straight week of gains. However, markets witnessed some correction on the last trading day of the week, after US Fed Chairperson Janet Yellen's comments. Yellen signaled the Federal Reserve will increase interest rates this month if employment and other economic data hold up. The Fed meet is scheduled on March 14-15.
Major European stocks closed the week on a firm note. The UK indices witnessed volatility during week gone, though index closed up 1.8% marking its best weekly gain in the last 3 months. British services sector data was released during the week. The reported growth in the services sector was below expectations, pointing slowing British economic growth.
Back home, Indian indices closed the week on a flattish note down (0.2%). The GDP data released during the week, surprised experts and market participants. The markets neared the two year high levels during the week gone by. However, the benchmark indices snapped five-week long gaining spree and closed in red. The investors preferred to book profits ahead of the US Federal Reserve's policy meet.
On the sectoral indices front, metal and IT stocks led the gainers this week. On the other hand, stocks from oil and gas and power sectors witnessed selling pressure.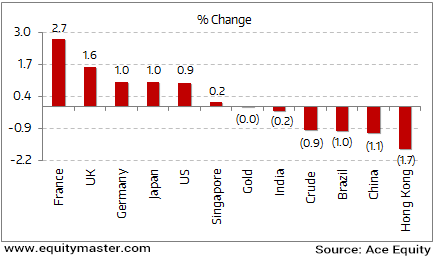 04:55

Weekend Investment Mantra

"Investing is simple, but not easy." - Warren Buffett

This edition of The 5 Minute WrapUp is authored by Richa Agarwal (Research Analyst).
Today's Premium Edition.
Today being a Saturday, there is no Premium edition being published. But you can always read our most recent issue here...
Recent Articles