The Stock to Buy as India Prepares to Fight Coronavirus
Mar 5, 2020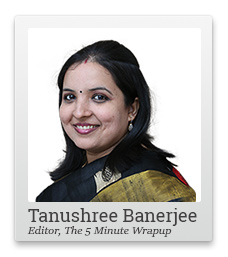 Every evening, Nikhil met hundreds of patients coming from all over Assam and Tripura to Silchar's hospitals and clinics.
His 'career' as a full-time medical coordinator came about by accident. Ferrying patients from the railway station to doctors had landed him in his job. What he really did was guide ignorant and helpless patients to the tests they needed to take and specialist doctors they needed to visit.
Nikhil scanned their past medical reports, gave the list of medical tests and helped them with the appointments of appropriate doctors. What helped him do this seamlessly, without being a qualified doctor, was technology.
I came across this fictional storyline in TCS chief N Chandrasekaran's bestseller Bridigital Nation.
The book explained how people like Nikhil and some intelligent technology could, in the future, bridge the big divide in India's healthcare infrastructure. Also, it could make up for the lack of medical professionals in smaller towns.
The book carries several such anecdotes of what technology could do to India's future.
--- Advertisement ---
FREE Event on Equitymaster's New Project

On May 17, we are holding a FREE event to reveal Equitymaster's Great Indian Wealth Project.

At this event, we'll reveal the details of your first stock for a potential Rs 7 crore in long-term wealth.

Seats for this event are filling up fast.

Since there are limited seats, we urge you to register at the earliest.

Click here for free sign-up
------------------------------
How it could solve the country's social and economic problems.
How it could help Indians in the remotest towns access some of the best social infrastructure.
Reading the book opened my mind to an irreversible technology-led change happening in Indian companies. Things that no one is writing or talking about. At least yet.
I couldn't help being amazed at the possibilities in store for India's tech revolution.
But when I met one of India's largest tech companies, I realized that this irreversible change could make a profession like Nikhil's a reality. That too much sooner than I expected.
It is certainly not as remote a possibility, as say, flying cars. And it could manifest into huge corporate profits sooner than later.
Technology will be the backbone of any and every industry a few decades down the line. But for some industries like pharma and healthcare it could bring about a revolution.
Learn: How to Potentially Accumulate Rs 7 Crore in Wealth Over the Long-term
Meeting this tech company helped me understand how cloud computing is set to bring about a healthcare revolution in India.
A revolution that could enable India to be far better prepared to handle pandemics like the Coronavirus.
Many pharma and healthcare companies could be big gainers of this megatrend.
But this particular technology giant could be at the center of it all.
I say this because it has some unique partnerships and big deals coming its way.
When the recent market correction brought the stock to my recommend buy levels, I immediately recommended acting on it.
As India prepares to fight the Coronavirus pandemic, a technology led irreversible change is underway in Indian healthcare.
Opportunities to act on the irreversible change, which I call Rebirth of India, will be rare.
So do not miss it.
This stock is certainly the one to buy as India prepares to fight coronavirus like pandemics.
Warm regards,

Tanushree Banerjee
Editor, The 5 Minute WrapUp
Equitymaster Agora Research Private Limited (Research Analyst)
PS: Equitymaster's small cap expert, Richa Agarwal, believes 3 small-cap stocks are on the verge of a rebound. Get the details by attending her mega summit on March 9. Click here.
Recent Articles