Are the Stock and Deposits of State Bank of India Equally Risky Today?
Mar 6, 2018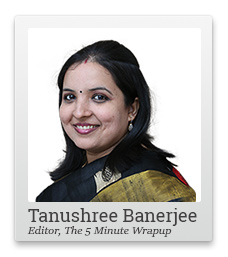 As a low risk investor in India, you aren't really spoilt for choice. Fixed deposits, provident funds, and liquid funds are all you can choose from. Here too you would go with the handful of trusted names. Won't you?
The deposits of State Bank of India (SBI) enjoy a sort of sovereign guarantee. So, there cannot be another gold standard for a low risk asset in India. Ideally, SBI term deposits should tower over other financial investments, for risk-averse investors.
But what if I asked you to choose between the stock and the deposits of SBI today? Assuming the tenure for both is three years?
The deposits are no doubt safe. They have, on an average, fetched returns of 8.6% per annum between 2003 and 2015. Although the current returns on the deposits are as low as 6%, one can expect the rate to move back to the long-term average over time.
But is an 8.6% return all that a risk-averse investor should ever aspire for?
I'll put it in another way.
Should all the funds that would need capital protection, apart from returns, be parked in such safe fixed deposits?
--- Advertisement ---
5 Safe Stocks to Stay Protected During These Uncertain Times...

With the sudden market correction, this month...

We believe the situation is going to worsen.

We believe that this is the beginning of a 30% market crash.

But, even during these uncertain times...

We have 5 Safe Stocks that we believe, could stand strong despite the market conditions.

To find out which stocks we are talking about...

Click here...
------------------------------
I have many ways to convince you against this.
But, to my delight, the investor whom I idolize the most, Warren Buffett, made my job easy.
He wrote this in his latest letter to shareholders of Berkshire Hathaway...
As the investment horizon of an investor lengthens, however, a diversified portfolio of US equities becomes progressively less risky than bonds, assuming that the stocks are purchased at a sensible multiple of earnings relative to then-prevailing interest rates.
Buffett's argument is against the commonly held belief that 'fixed income investments' are always safer than seemingly riskier 'stocks'. Not just individual investors but even pension funds, governments and central banks think so.
This is true not just for the US but every economy in the world. Our own Employee Provident Fund Organisation (EPFO) allocates a minimal amount to equities. Just because the fixed income assets are supposed to be safer for pensioners.
Like Buffett explained, they couldn't be more wrong...
It is a terrible mistake for investors with long-term horizons - among them, pension funds, college endowments and savings-minded individuals - to measure their investment 'risk' by their portfolio's ratio of bonds to stocks.
Don't get me wrong. Even the best of bluechip stocks do not carry the sovereign guarantee that deposits of SBI carry.
So, if you are looking for a sovereign guarantee and nothing else, SBI deposits should be your only consideration.
And maybe you don't need to read any further.
But if you want to know if the stock of SBI will do better than its deposits, ask yourself this question.
Do you think SBI will be around after three years to honour the deposit repayment with interest?
If yes, you expect it to be a going concern.
And if so, wouldn't you want to put your money in the stock, as long as it's available at a discount to its book value?
This is not about allocationg your entire 'low risk' capital to one stock like SBI. Of course, you will need to diversify your risk.
Consider allocating a part of your capital to about 15-20 safe bluechips.
But what's the benefit of putting some money in stocks like SBI instead of the deposits?
Over a long period of time, the returns from a diversified basket of safe bluechips can be far better than the safest deposits. Even without the sovereign guarantee, most of these companies will be around well beyond three years.
And with the passage of time, many of them will probably have better fundamentals and higher earnings to support their stock prices.
The longer your investment tenure, the stronger this argument becomes.
SBI Term Deposit vs BSE 100
No wonder the red line spends far more time above the blue line than below it.
So, dispel the myth that as a risk averse investor, your need to compromise on returns.
Also dispel the myth that you should be satisfied with whatever the banks have to offer you on their deposits.
If you still aren't convinced, ask yourself if the best stocks (bought at their best valuations) are really as risky as bank deposits, over the long-term. Just look at that chart again.
In my opinion, in the long-term, embracing Safe Stocks is the way to go.
Regards,

Tanushree Banerjee (Research Analyst)
Editor, The 5 Minute WrapUp
PS: You don't need to take unnecessary risks to make solid double or triple digit gains in the stock market. Tanushree's premium report recommending the top 5 safe stocks has the answer. Get it here...
Recent Articles