Is D-Mart the Next Reliance Power?
Mar 7, 2017
In this issue:

» DMart V/s R Power
» Why Big IPOs Tend to Destroy Investor Wealth
» How to Benefit from Apurva Sheth's New SCOREFASTTM Trading System
» ...and more!
The excitement around the D-Mart IPO is huge. The only other IPO I can remember with this level of euphoria surrounding it is Reliance Power.
So...is D-Mart the next Reliance Power?
The question will likely be shot down immediately. Comparing Reliance Power with D-Mart makes no sense. The business models are as different as chalk and cheese.
In fact, Reliance Power had no business to speak of at the time of its IPO...not a single rupee in revenue.
And mind you, Reliance Power operates in the high-gestation power business. The execution risk was massive. And when the euphoria faded, a harsh reality seeped in. Of all the IPO calls we have made, we are most proud of this one. Ours was perhaps the only report out there that had a negative view on the IPO.
D-Mart, on the other hand, is a template for the perfect retail business: open new stores cautiously, cut costs aggressively, pass on the cost savings consistently, everything planned and executed to precision. Sam Walton would be proud.
So in terms of business model and operating history, it is ridiculous to compare D-Mart to Reliance.
Yet...D-Mart's merchant bankers may have priced the issue exorbitantly and investors could end up with awful medium to long-term returns. Just like Reliance Power IPO investors.
Rohan Pinto, my colleague and head of the ValuePro team, has crunched the numbers and put together an exhaustive report on the D-Mart IPO and whether you should subscribe.
Expect an email from him soon (Available to StockSelect subscribers only)
Rohan, by the way, was shocked that during the company's IPO meet held recently, he was the only one who raised an issue about the valuations of this IPO.
Does this tell you something? It does or maybe it doesn't. Either ways, do read the report to find out.
Now for a related question: Is the D-Mart IPO a warning of an imminent stock market crash?
Remember, euphoria-soaked IPOs have been good predictors of stock market crashes. Take Reliance Power for example. Its IPO came right at the peak of a bull market...and within weeks, we had one of the worst crashes in history. Will history repeat?
We don't think so.
For one, while valuations are above long-term averages, the current Sensex trailing twelve-month price-to-earnings ratio of 22 times is nowhere close to the extremely bubbly 27 times when Reliance Power debuted.
And even the current PE of 22 times could be exaggerated. We have maintained for some time that profit margins of Sensex companies are at a ten-year low. We expect profit margins to revert to the long-term averages over the next two to three years and drive the Sensex to 40,000.
Of all the financial indicators out there, profit margins are most likely to revert to their long-term averages. And that's why you shouldn't miss this opportunity to ride the Sensex to 40,000.
You can do so safely with our blue-chip recommendation service, StockSelect. It gets close to 80% of its calls bang on...and some of the returns the service generated put even small-cap multibaggers to shame.
So, rather than subscribing to the D-Mart IPO, consider subscribing to StockSelect. It could be a much more profitable decision over the long term.
--- Advertisement ---
The First Step Towards Notebandi 2.0...

If you believe that Notebandi is over...you're mistaken.

In fact, in my view, the government has already taken the first step towards Notebandi 2.0.

It was a small step, 'hidden' in this year's budget...

But it's something that could have a huge impact on your life!

So, don't delay...

Click here to know all about Notebandi 2.0.
------------------------------
03:15

Chart of The Day

Long-time readers will be aware of our aversion to IPOs. In most cases, we recommend investors to avoid IPOs that hit the market. We have good reasons for the same. The insane valuations of these issues don't leave anything on the table for the aam investor.

Two years ago, Tanushree explained why IPO stands for 'Imaginary Profits Only'. Nothing has happened since then to make us change our mind.

In fact, just six months ago, my colleague Rohan described how the lure of quick profits has made a mockery of the entire IPO process. But he also explained how Investors can profit from IPOs.

It may have been fine if the long-terms returns were decent. But that's not the case.

A chart of the historical returns of the biggest IPOs is not a pretty one. We've excluded dividends but adding back the dividends won't compensate for these disastrous returns.
Poor Returns from Big IPOs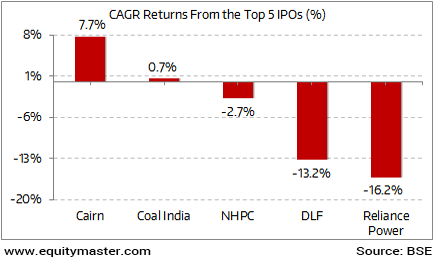 In fact, the real damage is worse due to inflation. Factoring in the opportunity cost reveals the true picture. Investors would have been better served keeping their money in the bank.
Mind you, these are long-term returns. These IPOs hit the market many years ago: Cairn India - December 2006, Coal India - October 2010, NHPC - August 2009, DLF - June 2007, and Reliance Power - January 2008.
The moral of this story is quite simple. A great IPO story, sold at sky high valuations, is not something to get excited about.
Have you heard about SCOREFASTTM?
Our top chartist and research analyst, Apurva Sheth has been working on a secret project for more than a year.
And he has just revealed it to the world.
This project has the potential to generate returns like 50%, 61%, 109% and even higher in a matter of just weeks to a few months. Needless to say, he's quite excited to share it.
What is it about? Apurva's aim was to build a solid process to identify long-term trends in stocks using technical analysis.
The result was his SCOREFASTTM trading system.
That's right. Technical analysis for long-term trading.
Surprised?
Well, it may come as a surprise to some that technical analysis can be used for identifying long-term trends in the stock market. But Apurva is an expert with a lot of experience and knowledge.
In yesterday's Research Digest, he explained this process and the nine indicators he uses to identify long-term trends and make big returns. In case you haven't read it, you may access it here (subscription required).
But how can you benefit from the SCOREFASTTM system?
Apurva has good news to share.
He has just launched a new trading service, based on the SCOREFASTTM system - Peak Profit Alert.
Curious?
You can click here to know more about the service.
After opening the day on a positive note, share markets in India gave up the gains and are trading flat. Sectoral indices are trading on a mixed note with stocks in the metal sector leading the losses and stocks in the consumer durables sector leading the gains.
The BSE Sensex is trading down by 49 points (down 0.2%), and the NSE Nifty is trading down by 19 points (down 0.2%). Meanwhile, the BSE Mid Cap index is trading up by 0.2%, and the BSE Small Cap index is trading down by 0.1%.
04:55

Today's investment mantra

"It's almost a mathematical impossibility to imagine that, out of the thousands of things for sale on a given day, the most attractively priced is the one being sold by a knowledgeable seller (company insiders) to a less-knowledgeable buyer (investors)." - Warren Buffett

This edition of The 5 Minute WrapUp is authored by Rahul Shah (Research Analyst).
Today's Premium Edition.
AVENUE SUPERMARTS LTD IPO - Our View
Equitymaster analyses Initial Public Offering (IPO) of Avenue Supermarts Limited.
Read On... | Get Access
Recent Articles