Forget the CNBC Gurus...It's Time to Listen to India's Really Successful Stock Pickers
Mar 8, 2017
In this issue:

» What deteriorating Return Ratios for NIFTY Companies tells us
» Why the GDP growth rate of 7% may not be sustainable?
» Market roundup
» ...and more!
I believe in the discipline of mastering the best that other people have ever figured out. I don't believe in just sitting down and trying to dream it all up yourself. Nobody's that smart. - Charlie Munger
Some of the most successful people are shameless copycats.
You don't need to reinvent the wheel every time. Take what others have built and develop it further.
The world's richest person, Bill Gates, understood this.
He setup Microsoft, one of the most profitable enterprises in the world, building on the work of others.
Warren Buffett, too, internalises this philosophy.
Inspired by his mentor, Benjamin Graham, Buffett began investing in statistically cheap and undervalued companies. And later in his career, Buffett added Phil Fisher and Charlie Munger's philosophy of paying up for quality.
Mohnish Pabrai, a respected value investor, copied Buffett's partnership setup and imbibed his investment philosophy. In fact, Pabrai is a self-proclaimed clone aka copycat.
The message from these three giant's is simple: Copy the process of people you admire and then build on it further.
If I have seen further, it is by standing on the shoulders of giants. - Isaac Newton
That's why I made it my mission to meet some of the most successful investors in India.
Riding on Coattails
Imagine this. You are sitting in a sidecar. Warren Buffett is driving. You make a fortune just letting him drive you around.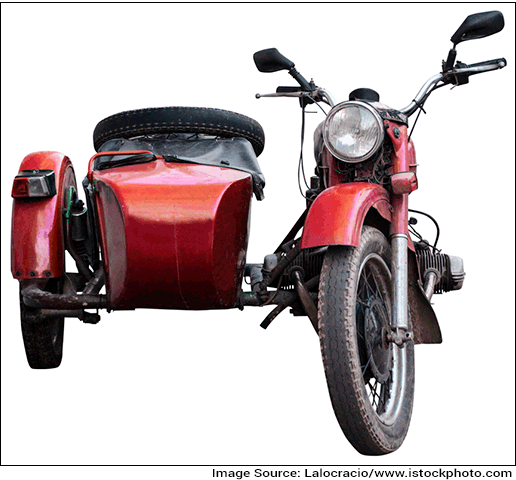 In investing terms, riding on Coattails of the best stock picker involves understanding their investment philosophy and looking to profit from their ideas. yes, including their stock picks.
The driver could be any investor you admire. Wouldn't you just love to ride with your hero and profit along with them?
But who you ride with does matter. You should connect with your driver's investing philosophy. And of course, you wouldn't want a driver who isn't extremely successful.
On my mission to uncover some of the most successful investors in the Indian stock market, I have found a competent and curious partner in Kunal. He's an avid reader who believes it's better to learn vicariously than from experience (that way, you get the lesson without getting the scar). Kunal, a contributor to Equitymaster's Hidden Treasure and Phase One Alert services, brings with him his unique insights on small obscure companies few know about.
Together, we have set out to find and talk to the best investing minds in India, relatively unknown ace stock pickers.
We have spent the better part of the last six months doing this. We reached out to these investors and interviewed them in detail.
Beginning next week, every Wednesday, we will bring you a personal discussion with one of India's finest, yet relatively unknown, stock pickers.
Here is a preview of next week's conversation...
He works out of a non-descript location in Delhi. If he walked by you on the street, you wouldn't know him. And yet, he is one of the best thinkers when it comes to synthesizing stock ideas.
In our conversation, he told me about a new idea that is exciting him...and I think it could be the next big idea for our readers too.
More on that next Wednesday...
--- Advertisement ---
The First Step Towards Notebandi 2.0...

If you believe that Notebandi is over...you're mistaken.

In fact, in my view, the government has already taken the first step towards Notebandi 2.0.

It was a small step, 'hidden' in this year's budget...

But it's something that could have a huge impact on your life!

So, don't delay...

Click here to know all about Notebandi 2.0.
------------------------------
03:10

Chart of the Day

Return on Equity (ROE) is one of the important ratios indicating profitability. It broadly gives us the idea of how efficiently a company uses shareholders' money i.e. how much profit a company earns employing the shareholder's equity.

As our in-house expert, Rahul shah says, 'valuations should more be a function of a company's sustainable ROE than its near term growth rates'.

Higher the return ratios, higher the valuation band. In fact, in the long run, stock returns mimic ROEs.

The same logic applies to an Index. The improvement in the return ratios for an index represents a better valuation for the index.
Return Ratios Sliding Downwards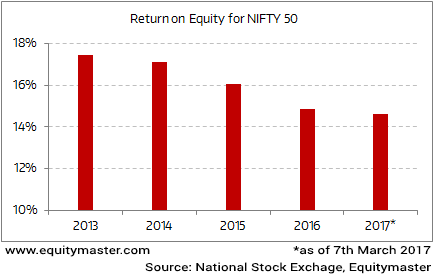 If we look at the data above, the return on equity for NIFTY 50 has not seen any sign of improvement. In fact, it has gone down from 17% in 2013 and is expected be around 15% in 2017. The reason has been simple - no major improvement in corporate earnings.
Currently, the NIFTY-50 is trading at a price to earnings ratio of 23.2 times. The valuations look very expensive. However, one of the reasons of the steep valuation is the depressed earnings of the NIFTY-50 companies.
Our in-house gurus Rahul Shah and Tanushree Banerjee always look out for big picture ideas. And if they are to be believed, profit margins for the NIFTY companies are at a ten-year low and way below their historical averages. The good news is sooner or later, they should revert towards the mean.
Here's Rahul:
The aggregate data we have pulled for Nifty companies suggests that profit margins were at a ten-year low at the end of FY15. Even if they were to rise to the average of the last ten years, not immediately, but three years out, the upside would be close to 70%.

Put differently, markets will go up significantly over the next three years if profit margins revert to the mean.
We think the time is ripe. Download our special report - Sensex 40,000.
Notebandi days have been nothing less than a roller coaster ride. Not only did it lead to long bank queues for exchanging currency, it also led to some slowdown in spending.
That said, the GDP data came in as a surprise last week.
With the economy logging in a neat 7% growth during the quarter, most of the notebandi critics have been forced to eat humble pie. While the pace of growth is certainly slow as compared to the September quarter, it is nowhere as crippling as was expected. And what led to this huge positive surprise?
As per a leading daily, except construction (2.7%) and real estate (3.1%), all other sectors grew at a faster pace in the third quarter compared to the preceding quarter.
However, one need to be prudent to note the real impact would be seen in the next quarter. The reason behind this is simple, the third quarter was almost half done when notebandi was announced.
Mind you, that was festive period. This, along with some extraordinary spending from the government helped the GDP growth.
Vivek Kaul, my colleague, makes a strong point of government driving the GDP growth. Here's Vivek.
One way of measuring the GDP is through the expenditure method. This involves the summing up of private consumption expenditure, government consumption expenditure, investments and finally net exports (i.e. imports minus exports).

Now what happens if we subtract the government expenditure from the GDP number measured through the expenditure method. How much does the remaining GDP grow by?

The GDP growth without taking the government expenditure into account during the period October to December 2016 was 5.6 per cent. This was 140 basis points lower than the overall GDP growth of 7 per cent. Why has this happened?

GDP between the years, for the period October to December 2016, an increase in government expenditure made up for 26.64 per cent of the increase in GDP.

Hence, for every Rs 100 increase in GDP, increase in government expenditure made up for Rs 26.64 on an average. As we can see during this financial year, an increase in government expenditure has been responsible for a greater proportion of the increase in GDP.

If India has to continue growing at greater than 7 per cent, then investment needs to pick up and that doesn't seem to be happening currently due to various reasons.
You can read the complete article in his diary here.
After opening the day on a flat note, the Indian stock markets traded lower. At the time of writing, the BSE-Sensex was trading down by about 140 points, while the NSE Nifty was trading down by 42 points. Sectoral indices are trading on a negative note with stocks in the oil & gas sector, and metal sector, witnessing maximum selling pressure.
04:55

Today's Investing Mantra

"It's better to hang out with people better than you. Pick out associates whose behavior is better than yours and you'll drift in that direction" - Warren Buffett

This edition of The 5 Minute WrapUp is authored by Rohan Pinto (Research Analyst).
Today's Premium Edition.
Is Negative Positive? - Negative Working Capital in FMCG Companies
How FMCG companies use negative working capital for maximum efficiency.
Read On... | Get Access
Recent Articles