Don't Panic if Sensex 25,000 Happens Before Sensex 100,000
Mar 9, 2018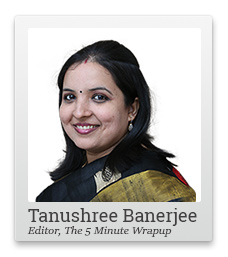 I've made a long-term prediction: the Sensex will rise to 100,000.
But I'm not an eternal optimist. I know the ride will be bumpy.
When the Sensex triples from its current level, many stocks will be left behind.
Some will rise less than the Sensex.
Some will stay flat.
Some will give negative returns.
Some will be kicked out for breaking the law.
Some will go to zero due to bankruptcy.
But then again...many stocks will beat the index too.
A long list of multibaggers will accompany the Sensex to 100,000.
These are the stocks you should be thinking about today.
And that brings me to...
Sensex 25,000
I believe, we are looking at a 30% correction...in the short-term.
The Sensex has already fallen 9% from its life high. Mid and small caps have fared worse.
A 30% correction from the peak would take the Sensex all the way down to nearly 25,000.
Can this happen?
Yes, of course it can. Besides, this correction was long overdue.
There's an old saying on Wall Street...
The bull climbs the stairs and the bear jumps out the window.
So far, the correction hasn't been severe.
The Sensex hasn't fallen sharply. You can't call a 9% fall, in little over five weeks, sharp.
But what if things turn ugly from here? What if the bear jumps out the window?
--- Advertisement ---
5 Potentially Crash-Proof Safe Stocks

For over 15 years, our Safe Stocks recommendation service has recommended solid stocks that have stood the test of time.

Even today, amongst all the chaos and panic in the markets...

We have used the accumulated experience of over 15 years to bring you...

The top 5 safe stocks that could potentially be "crash-proof".

Click here for more details...
------------------------------
Don't Panic
This is the first step. Don't sell in panic if the market falls sharply.
I'm not saying it will be easy. I don't underestimate the power of fear. It can be paralysing. Even experienced investors fall into its trap.
But if you give in to your fear, you will throw out the flowers along with the weeds.
Now, there are some stocks you should consider selling. I wrote to you about these weeds a few days ago. In case you missed it, you can read it here.
Having said that, can you imagine selling stocks like HDFC or TCS, just because the rest of the market is falling?
Sadly, this is exactly what many investors do.
Then, they make the situation worse for themselves.
How?
When the market starts rising again, they don't buy these stocks back.
Like I said, fear can be paralysing.
What's the Solution?
Okay, so let's say the Sensex has fallen to 25,000.
But you didn't panic. You've held on to your stocks. Hopefully, they're of the 'Safe Stocks' variety.
What next?
It's simple. You should consider buying more.
'Look at market fluctuations as your friend rather than your enemy; profit from folly rather than participate in it'. - Warren Buffett
If you've already bought safe stocks, check their valuations. The correction might have bought them to reasonable levels. You can consider adding more.
If you don't have safe stocks in your portfolio or you aren't sure how to go about it, then consider my pick of the top-5 safe stocks in the market today.
Then comes the final step. This is the easiest step in terms of taking action because you don't have to anything. You've already done the hard work. Just wait for the market to return to normal.
These three simple steps are enough to navigate Sensex 25,000...if it happens.
Even if it doesn't and we don't see a 30% correction, they are useful by themselves.
Don't give in to fear.
Buy safe stocks or add more if you already them.
Wait for Sensex 100,000!
Investing doesn't have to be difficult. Keep it simple with safe stocks.
Chart of the Day
One of the most important rules of making a lot of money is to not lose it in the first place.
In the stock market, this can be a serious challenge. Stocks move up and down for all kinds of reasons.
During a market crash, panic sets in and typically, mid and small caps bear the brunt of the fall.
The lack of adequate liquidity is one of the reasons. But it's also because mid and small caps are not considered 'safe'.
There are a Lot of Safe Stocks Among Large Caps
Large caps on the other hand tend to do better. Now, this doesn't mean all large caps are safe. For a good example of this click here.
But it does mean that you should begin your search for safe stocks among large caps.
I believe, dear reader, the number of safe stocks among large caps will be more than enough to build a solid portfolio.
Regards,

Tanushree Banerjee (Research Analyst)
Editor, The 5 Minute WrapUp
PS: You don't need to take unnecessary risks to make solid double or triple digit gains in the stock market. Tanushree's premium report recommending the top 5 safe stocks has the answer. Get it here...
Recent Articles