Stocks to Buy and Avoid in this Market Correction
Mar 11, 2020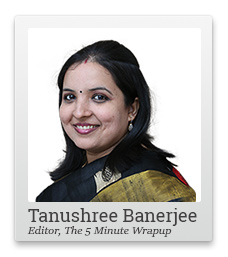 If you can call something a perfect storm, then this might be it.
The world including India is fighting the coronavirus. A war over oil has broken out. Amidst all this, we have our own banking troubles back home.
The stock markets are bearing the brunt of all this. Since Sensex hit an all time closing high on 17 Jan 2020, it is down by 15%.
Naturally, there is panic amongst most investors. I won't be surprised if the thought of selling all your stocks hasn't crossed most retail investors mind yet.
What should you do in such a scenario, dear reader?
Like most things in life, the solution to most problems lies in the simplest of things.
For the coronavirus, most doctors have recommended following the most basic steps. Wash your hands often with soap and water. Cover your face if you have a cough or cold. Cook your food well.
We are anyways supposed to do most of these things right? But do we follow them regular basis?
The same goes with your investing too. One needs to just follow the basics. But we rarely do. I suggest now is the time to have a long hard look at your portfolio. Ask the following simple question and segregate your stocks into the following three types...
Will your business survive if there is a prolonged slowdown due to the coronavirus?
Type 1: Yes
Type 2: No
Type 3: Maybe
Now, if you have Type 3 stocks and they don't make up most of your portfolio, you can leave them as it is.
The main concern is Type 2 stocks. These are the potential virus that can damage your portfolio. It's better if you shift from Type 2 to Type 1. In the long run, you will survive this market and do well.
--- Advertisement ---
We are Bullish on These 3 Little-known Stocks

Our research has uncovered 3 tiny stocks.

You won't hear about these stocks from the mainstream media or your stock broker.

They generally ignore such small size companies.

But our research says, these 3 little-known stocks are set for a massive rally over the coming months and years.

They can potentially offer solid double and triple digit gains to investors.

So, if you are an investor looking to buy good stocks to invest in...when the markets are at all-time high...

Then you must seriously consider these 3 stocks.

You can get the details of these 3 stocks at our free online summit.

We would recommend you to sign-up at the earliest. Because we have limited FREE seats and they are filling up fast.

Click here to sign-up instantly. It's free.
------------------------------
Now, coming on to Type 1 stock. How do you know which is a Type 1 stock? How do you know if your stock will survive if there is a slowdown?
In the Indian stock market, here's how I would define a Type 1 stock or Business...
To summarize it, these are stocks that will be a part of a long-term megatrend.
In a new India that I am sure will come out strong post the coronavirus impact, these are the stock most likely to do well.
If you correctly identify such Type 1 stocks, you should do very well in the long-run.
In fact, with the current market correction, we might find a lot of opportunities in such Type 1 stocks. An opportunity I am closely keeping a close watch on for my StockSelect subscribers.
Meanwhile, I recommend you download our free report - How to Trade the Coronavirus Crash.
BREAKING: Full Details of the #1 Investment of the Decade...
Chart of The Day
It was certainly a black Monday for the Indian stock market. In absolute terms, Sensex saw its biggest single day fall on 9 March 2020.
In fact, this year has seen two of the biggest single day falls in the Indian stock market history. The only time we had seen such a fall was in 2008. Back then, the BSE Sensex had fallen by more than 50% in a year.
Is It 2008 All Over Again in the Stock Markets?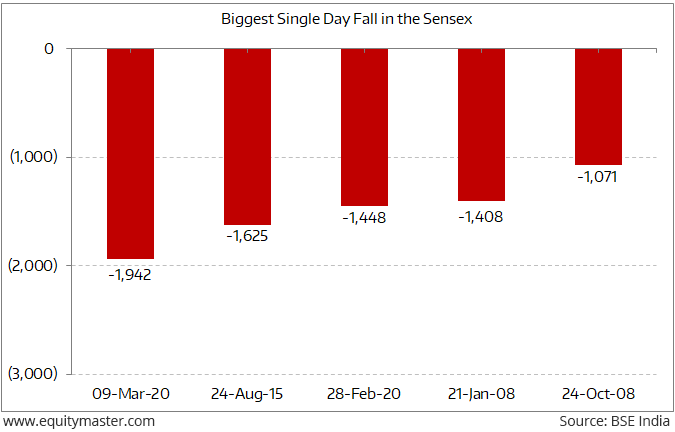 Will we see something similar in 2020?
Trying to predict the direction in such cases is a futile exercise.
As I always say, retail investors would do well to focus on the fundamentals of individual stocks. In fact, such uncertain times gives the best opportunity to look at quality stocks.
Always remember, what has changed is the price of the business but not the value.
Warm regards,

Tanushree Banerjee
Editor, The 5 Minute WrapUp
Equitymaster Agora Research Private Limited (Research Analyst)
PS: Over 12,000 readers signed up for Richa Agarwal's Emergency summit. Did you miss out? Don't worry. The Rebound Riches Summit is still live for a very short time - catch it here.
Recent Articles