What You Need to Do in this Market Crash
Mar 13, 2020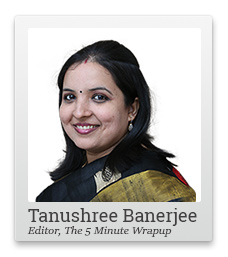 Some are calling it a 'carnage'. Some are calling it a 'bloodbath'.
For the current generation of investors, the over 20% correction in the benchmark Sensex is 'unprecedented'.
The BSE Sensex shed 11,500 points in about 425 days in the market crash of 2008-09.
It shed 5,750 points in about 385 days in the market crash of 2015-16.
And it has shed about 12,605 points, so far, in just 50 days of 2020.
The crash, this time around, has undeniably been the most severe in a decade.
So, finding the best coronavirus crash trade is on everyone's mind.
Listening to the panic stricken 'experts' on TV will hardly get you there. Rather, pay attention to the legends who have weathered such storms for decades. And how!
The legendary Peter Lynch, for instance, still holds one of the greatest track records of beating the index.
--- Advertisement ---
Stocks to BUY During the Coming Market Correction...

What if the market correction gets deeper?

Are you worried it could wipe out all the wealth you've built during this bull run?

If your answer is YES, then you're going to love this.

There's a secret strategy that is not only perfectly positioned to survive a market crash...

But it also stands to gain immensely from it...

This is the PERFECT TIME to master and deploy this secret strategy that has the potential to double your money EVERY 4 years...

LAZY MILLIONAIRE - Build Your Own 4x Millionaire Portfolio
------------------------------
He fetched an astonishing 29% annualised return from 1977 until 1990. That is nearly double of what the S&P 500 index produced in the same period.
And mind you, this was a phase of extreme turbulence in the US stock markets.
So, if we need to know a secret or two on beating the index now, who better to turn to than Lynch?
As if on cue, Peter Lynch offered a simple advice on beating the index, in a late December 2019 interview, just before the crash began.
If you only invest in an index, you'll never beat it.
Lynch's advice was simple. Staying glued to the index can do no good during a market crash. Waiting for the index to go lower, may also not be the best strategy. Lynch says...
More people have lost money waiting for corrections and anticipating corrections than in the actual corrections. I mean, trying to predict market highs and lows is not productive.
So, here is what you need to do:
Prepare a watchlist of your favourite businesses.
Act on the stocks as soon as they offer enough margin of safety.
The way I look at the crash, from my safety prism, is NOT how much lower the Sensex could go.
Rather, I assess how much damage can it do to the moats and profitability of safest bluechips, over the long term.
Well, it turns out that the coronavirus crisis could, in fact, be an inflection point for the irreversible Rebirth of India megatrends.
As companies across the globe seek to diversify geographic risks post this crisis, India could see a big spurt in new factory capacities and fresh fund inflows.
Lazy Millionaire: Stocks to BUY During the Coming Market Correction...
This trend, can, not just widen the moats of the strongest bluechips. But also help multiply their profits 4 to 8 times over the next decade.
Just in case you need more proof; the profits of bluechips (BSE 200 companies) are currently at a decade low. Therefore, a rebound is overdue.
A Rebound in Profits Overdue?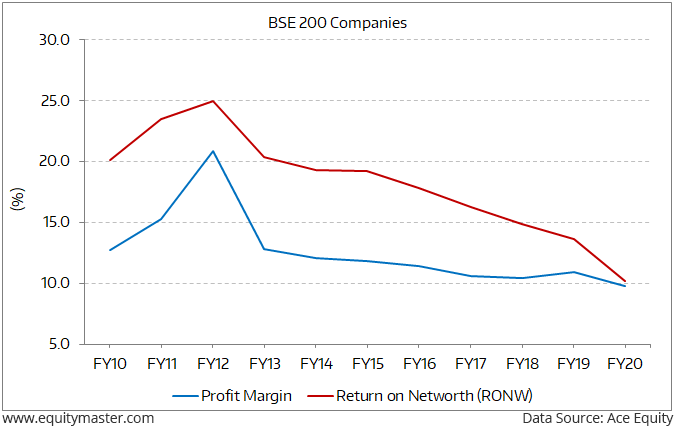 I believe the time is ripe for investors to begin buying some of the safest bluechips, right now.
There is safety in valuations as the market offers them at deeper and deeper bargains.
I have recommended a couple of safe bluechips in the past month. But there are many more on my watchlist.
Following Peter Lynch's advice, using this market crash to pick the choicest bluechips, at bargains, will be the best trade to beat the Sensex.
Stay tuned...
Warm regards,

Tanushree Banerjee
Editor, The 5 Minute WrapUp
Equitymaster Agora Research Private Limited (Research Analyst)
PS: Three smallcap stocks are ripe for buying in this environment of extreme fear - so gather your courage and your cash and learn about them before the opportunity closes down at midnight tonight - click here.
Recent Articles